DANCING WITH COVID-19: PUBLIC HEALTH PRECAUTIONS BEYOND THE MOVEMENT CONTROL ORDER
KUALA LUMPUR, 10 May 2020 – Khazanah Research Institute (KRI) released a discussion paper on 1 May 2020 presenting projections of COVID-19 transmissions post-MCO, and summarises possible public health interventions to be taken to prevent a third wave of COVID-19 infections and deaths.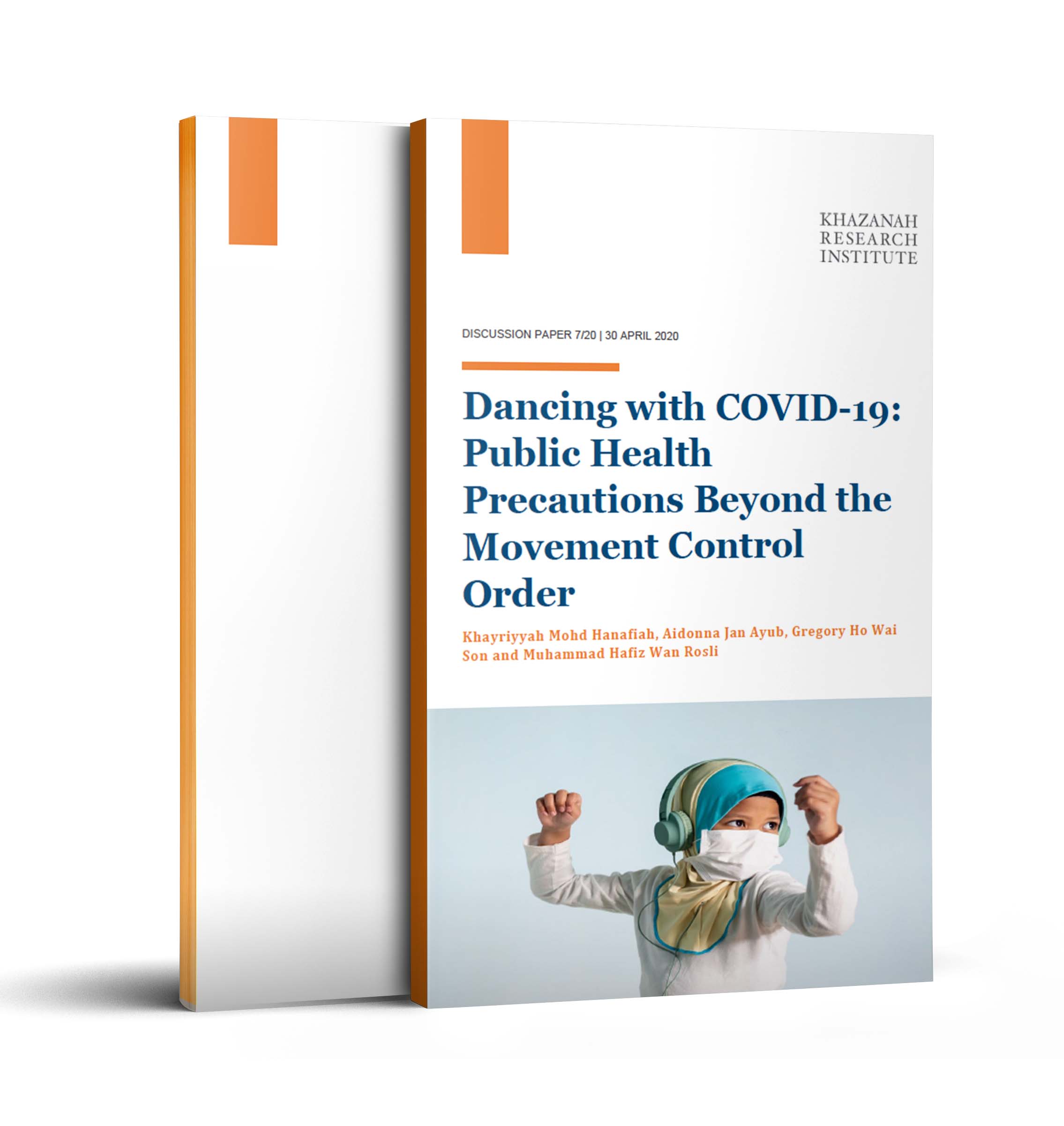 The study entitled "Dancing with COVID-19: Public Health Precautions Beyond the Movement Control Order", was conducted by KRI Deputy Director of Research, Aidonna Jan Ayub and KRI Research Associate, Gregory Ho Wai Son, in collaboration with two senior lecturers from Universiti Sains Malaysia (USM), Dr. Khayriyyah Mohd Hanafiah and Dr. Muhammad Hafiz Wan Rosli.
Here's a SUMMARY of the discussion paper:
The objective of this paper is to raise awareness of possible epidemic trajectories after Malaysia's Movement Control Order (MCO) is lifted or relaxed.
This paper presents a projection about what could happen in the future under various scenarios, but the projections of the model are subject to rapidly developing scientific evidence available about this novel virus (COVID-19). What is certain is that everyone needs to play a role to actively manage this epidemic together.
This paper does not opine on when the MCO should end, but rather, uses mathematical modelling to explore the possible change in trajectory of Malaysia's COVID-19 epidemic once the MCO is lifted.

This paper also provides a brief literature review and summary of evidence-based public health interventions and action items targeted at different roles, as well as tools and resources for managing a long 'dance/tango' with COVID-19.

In general, even if new therapeutics may help with case management and reduce fatalities, there is still a risk of overwhelming the health system should COVID-19 transmission surge again without mitigation.
This study, which models the second wave of Malaysia's COVID-19 epidemic from late February after the MCO is lifted, strongly suggests that widespread relaxing of physical distancing and travel restrictions, and diversion of resources away from COVID-19 detection, isolation and treatment without mass vaccination could lead to a third COVID-19 wave.

This may occur even if the current MCO is prolonged, and there is a possibility that Malaysia may need to reimpose strong restrictions if a new wave of community transmission occurs.

Considering the gains achieved through collective action in flattening the curve during the MCO, there must be concerted efforts by all parties concerned to enhance diagnosis and isolation of infected individuals and to continue precautionary behavioural changes, such as maintaining social distancing, hand hygiene, and proper mask-wearing, until a vaccine to immunise the vast majority of susceptible people is available or the virus threat recedes for other reasons.

This model focuses on the epidemic and associated public health interventions in Malaysia, and it does not include economic considerations related to COVID-19 responses. Ideally, economic, health and welfare considerations should be considered together.

Looking forward, it is important to note that no country has seen the end of the COVID-19 epidemic threat, but the preparedness and readiness of populations to respond to emerging challenges has been shown to alter the course of the epidemic in different countries.
Hence it is imperative that every Malaysian plays their role and brace themselves for a long cautious post-MCO tango with COVID-19.
About the Authors
• Dr. Khayriyyah Mohd Hanafiah is a Senior Lecturer at the School of Biological Sciences, USM, experienced in infectious disease epidemiology and meta-analysis, antimicrobial and diagnostic biomarker discovery, and science communication.
• Aidonna Jan Ayub is a Deputy Director of Research at KRI specializing in international trade; and author of another COVID-19 related discussion paper "Trade During a Pandemic'.
• Gregory Ho Wai Son is a Research Associate at KRI who specializes in complexity economics, mathematical modelling and networks.
• Dr. Muhammad Hafiz Wan Rosli is a Senior Lecturer at the School of the Arts, USM, experienced in computer programming and transdisciplinary research, including using data analytics and new tools to address emerging issues.