USM STAFF TOLD TO CONTINUE WORKING FROM HOME DURING CMCO
USM PENANG, 1 May 2020 – Despite the Conditional Movement Control Order (CMCO) going into force on Monday, Universiti Sains Malaysia (USM) has told both its academic and non-academic staff to continue working from home.
According to a statement issued by USM registrar, Dr. Musa Ali, the university will continue to restrict the movement of staff throughout the CMCO, except for those working in the front line and directly involved in critical services.
"As such, all department heads should ensure that only staff who are really needed to be present physically, to do so. And they have to strictly abide by the standard operating procedure (SOP) set by the university.
"All staff should constantly monitor updates from time to time on numerous platforms such as the university's website, via e-mail and through its Facebook page," he said.
Yesterday, Prime Minister Tan Sri Muhyiddin Yassin announced that Malaysia's focus will be on jumpstarting the economy, but stressed that businesses are subject to requirements and SOPs set by the authorities.
He said that beginning Monday, almost all economic sectors and business activities will be allowed to resume operations, with several conditions and SOPs from the authorities to be in place.
Meanwhile, Musa paid tribute to all USM staff for their hard work, contribution and dedication in carrying out their duties, and also expressed the university's heartfelt appreciation to all its front line workers (medical and non-medical) in all its campuses who have been risking their lives in their fight against the COVID-19 spread.
We wish all USM staff a healthy and happy Labour Day!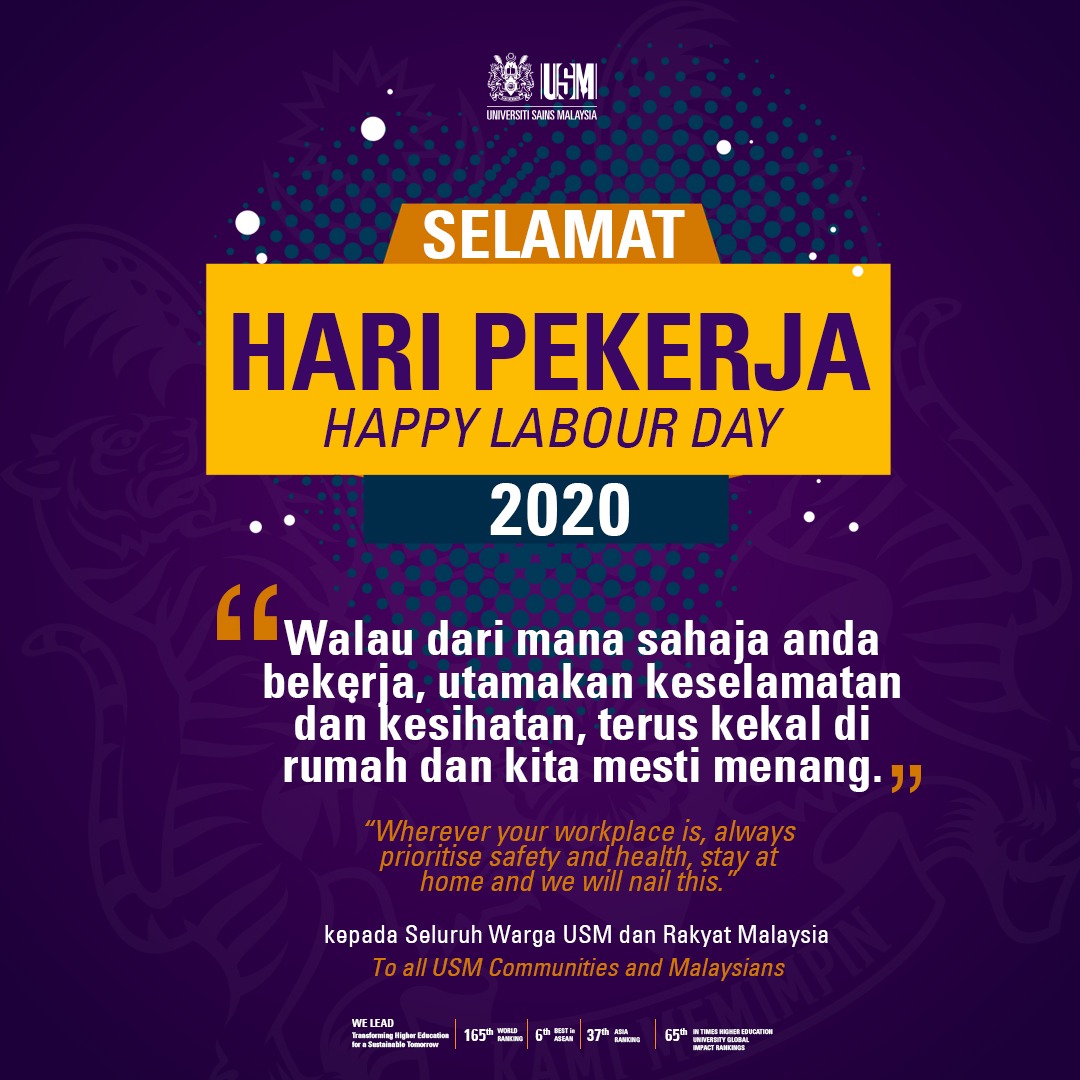 Text: Tan Ewe Hoe