WHAT DEFINES A TRUE HERO: RESILIENCE MOULDS THE CHARACTER OF A FUTURE DOCTOR
Oftentimes it has been said that, 'character, not circumstances, makes the man'. It reflects the importance of character-building from young, and how it will shape and define one's life in the future.
Having a strong character is truly essential for this group of Malaysian students, currently undergoing the USM-KLE International Medical Programme (USM-KLE IMP), the USM offshore programme in Belgaum, India, more so when the world is struggling to deal with the outbreak of the life-threatening COVID-19 pandemic.
This group of students comprised of members from the Medical Society or MedSoc of USM-KLE 2019/2020. Led by its President, Zakry Mustaqim Yahya, the third-year student represents the voice of 365 medical students who have made their 'home' in Belgaum, in the Karnataka district, located in southwest India.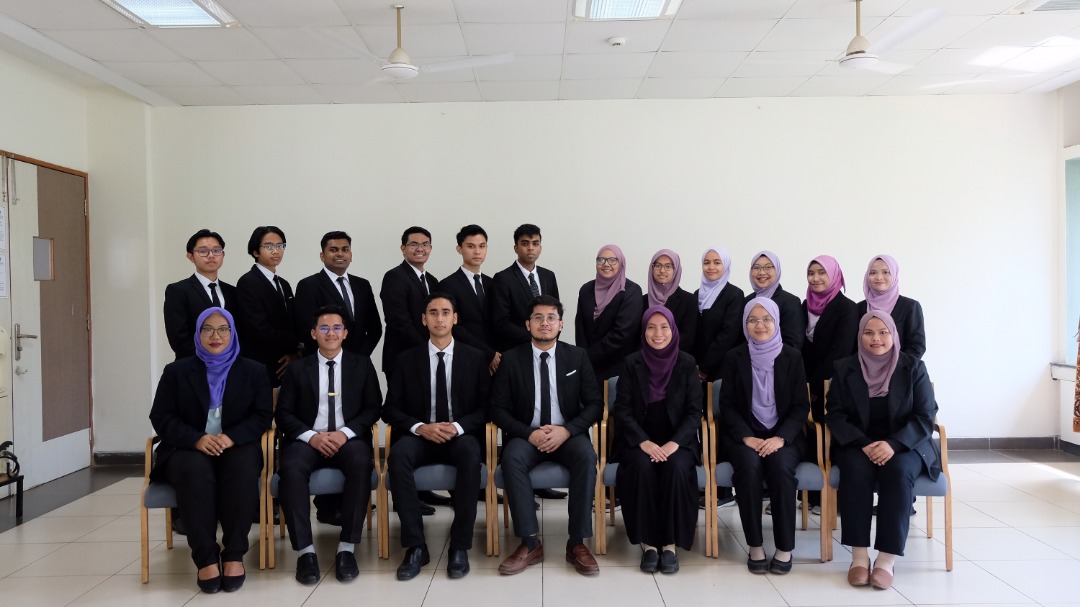 Commonly as with other societies, the MedSoc has 'council members' who provide overall leadership to the Society and several excos/committees, who are in charge of specified portfolios such as academics, welfare, sports and recreation, health, and spiritual growth in managing the wellbeing of the students there.
It is this group also, MedSoc 19/20 that is currently dealing with the effects of the life-threatening COVID-19 pandemic outbreak, which has brought worry and anxiety on to their doorstep.
This has led to reactions of all kinds from within the campus especially among fellow students, and not to mention stirring the feelings of parents and caretakers from far away.
FACED WITH AN ALARMING SITUATION REGARDING COVID-19 OUTBREAK IN INDIA
Zakry Mustaqim when contacted said, his friends along with him were initially worried about the outbreak as it started to spread globally, including in India.
He shared on how the worries were soon cast aside, to allow for more constructive coordination to take place and to avoid widespread panic from occurring among the students, more so when India had initiated a 'lockdown' order in all districts.
"To say that there was chaos on campus was far from the truth; it's only more towards changes in the norms taking place in dealing with the effects of the lockdown set by the Indian government.
"In addition, the total number of students at USM-KLE is quite big (365), made up of First- to Fifth-year students. As such, there would be the need to consider a number of things due to the lockdown situation," he said.
"My MedSoc friends and I scrambled in executing new ad-hoc duties in view of the latest situation here. The most challenging was in managing daily food preparations for the Malaysian students here.
"Nevertheless, we are so thankful to the USM Top Management including the Vice- Chancellor, Deputy Vice-Chancellors, Dean of the USM School of Medical Sciences, Deputy Dean of USM-KLE IMP and others for always keeping abreast and staying in touch on the latest developments here. The same goes to the Director of USM-KLE IMP and the teaching workforce here, they made sure that we were being well taken care of.
"Almost daily we were contacted to find out how we were doing and to voice out any impending problems or issues," said Zakry Mustaqim.
"Providing the best for the KLE students was an unforgettable experience for most of us," he said. "There were minor problems which were unavoidable, one of which was in securing raw/fresh food items to prepare meals at the mess hall.
"The supply of raw items is available, although at times there would be delays to the extent that the raw items ordered became rotten. Still, it was a meaningful experience, and which have taught us on how to be more resourceful in many different ways."
Zakry Mustaqim also talked on how they have succeeded in liaising with the local non-governmental organisation (NGO) in Belgaum to obtain raw food supply such as chicken, rice, flour, onions, eggs and potatoes to ensure that their friends would still be able to enjoy well-prepared meals.
"It was not exactly the easiest thing for us to do, but in the name of upholding the responsibility of caring for our friends, we need to rise to the occasion to provide the best," he said.
He added that, aside from preparing the meals, MedSoc was also in charge of securing medical supplies and health supplements from adjacent pharmacies, and to ensure that the cooperative or sundry shop on campus (Mahesh & Pradeep) will remain in operation to cater to the students' daily needs.
Even until now, the situation in KLE can be considered as under control and without any occurrence of untoward incidences.
Other initiatives done by MedSoc included the preparing of face shields for the janitors and general workers on the premises, assisting of students who were unwell to do 'self-quarantine' and to communicate with the lecturers regarding students' health and other issues.
They have also prepared the Standard Operating Procedure (SOP) to isolate students showing symptoms, readying Student Movement Record (SMR) books, doing weekly body temperature scans and preparing specific health guidelines for students, including on social distancing and the proper steps to take to report any health problem to the authorities.
Such responsibilities he added, have somehow provided them with the idea on what it means to be the frontliners in the future. Indirectly it has become a very meaningful 'hands-on' learning experience.
This experience also taught them on how they should always be calm and how to assure every anxious parent who is constantly thinking about their child's health and wellbeing.
"We are aware of what is happening in many countries around the world. The lockdown imposed in many countries have brought about hardships and difficulties.
"What needs to be considered currently is that the lockdown is initiated to break the COVID-19 chain. We would abide by the ruling, with the hope that life will become better than before and things will return to normal in the immediate future," he said further.
CURRENT SITUATION ON-CAMPUS
"At present, the situation is under control, although there is a slight feeling of worry from the students on the reduced amount of items being sold at the cooperative.
"Local producers also face difficulties to manage their supplies as a result of their restricted movement.
"Still, we are truly grateful as USM is always in touch and has acted swiftly by working together with the authorities from KLE Society to provide daily meals from a caterer at a hotel nearby to the students.
"With regard to this, our duty would now be to distribute the (packed) meals, in addition to communicating closely with the USM Health Campus to ensure that the students could continue with their lessons via e-learning."
The MedSoc has also interacted with the Consulate-General of Malaysia in Chennai and Mumbai to inform the office of the students' wellbeing as well as to receive instructions on students' welfare here," he said while also telling that the USM-KLE students were given some pocket money to ease their financial needs.
Regarding online learning sessions, the students have already started their online classes for the past three weeks.
"Doing clinical assignments would now be a bit different, being done virtually, but considering the current situation on preventing the outbreak of COVID-19 from spreading, we have to adapt to the changes and to 'normalise' ourselves to the unfamiliar."
UNIVERSITY EXTENDS ACKNOWLEDGEMENT
In view of the situation, the USM Vice-Chancellor, Professor Dr. Faisal Rafiq Mahamd Adikan said, the University recognises and is touched by the sacrifices of this group of 'fighters' in their efforts to provide the best for all.
He stressed that, their sacrifices made were truly outstanding, even though they might seem trivial in the eyes of many, but it was definitely an impactful undertaking for the University.
"They should be duly recognised as when others were panicking or in a state of distress, they managed to keep their emotions in check in order to ensure the wellbeing of others.
"We know that the tasks of cooking, securing supplies, managing students and so on are not theirs to perform, as their main reason for being there was to seek knowledge.
"However, their determination to overcome the challenges to perform their duties is something that demands our attention. They are the true heroes. No others words could aptly describe how touched I am and I hope that one day they could see that the sacrifices made would be well-rewarded with success," he said.
Explaining further on the situation of the USM students there, Faisal Rafiq stressed that, USM has always prioritised and followed the developments of the medical students as they went about their online learning sessions there.
USM, via its COVID-19 Nerve Centre even hold discussions daily to plan and review all aspects on health, welfare and safety of students on all campuses, including the offshore KLE campus throughout these difficult times.
USM also admitted that there were demands to bring the students home, but that was a matter for the government to decide.
USM, according to him, is always communicating with parent groups in seeking the best solution to ensure the wellbeing and safety of its students in Belgaum, Karnataka, India.
-------------------------------------
Student Representative Council (MPP) USM-KLE 2019/2020
Muhammad Syafiq bin Zamri
MEDICAL SOCIETY (MEDSOC) USM-KLE 2019/2020
President: Zakry Mustaqim bin Yahya
Vice-President 1: Nurul Fatehah binti Abdul Aziz
Vice-President 2: Aizat Fahmi bin Japar
General Secretary 1: Nik Nurul Aisyah binti Nik Othman
General Secretary 2: Norfatin Sa'diyah binti Mochamad Ali
Treasurer: Farah Syakirah binti Japar
EXCO
Sports Exco
* Mohamad Arif Luqman bin Mohd Sobri
* Uzma Syazwina binti Mohd Kamari
Academic Exco
* Hirresh Sai Suria a/l Surianarayanan
* Siti Juliana binti Jafri
Welfare Exco
* Tengku Zharif Nazrain bin Tengku Mohd Farees
* Nur Aqilah binti Imran
Corporate & Multimedia Exco
* Mohamad Nasrullah Naim bin Mohamad Noor
* Zairul Umairah binti Zairul Isham
Health Exco
* Muhammad Fairuddin Adam bin Ramezan
* Wan Nursyaza Dalili binti Wan Mohd Khairul Azmee
Spiritual Development Exco
* Ahmad Imran bin Shahrel Azmin
* Nur Fazlini binti Mohd Zulkifly
Translation: Mazlan Hanafi Basharudin/BM text: Marziana Mohamed Alias