USM FIRST UNIVERSITY IN MALAYSIA TO DEVISE GUIDELINES AND ACTION PLANS ON COVID-19 PANDEMIC
USM PENANG, 3 April 2020 – Universiti Sains Malaysia (USM) today released a document on the guidelines and action plans in response to the COVID-19 pandemic and other possible infectious disease outbreaks in the future.
Entitled 'Response and Readiness Plan for COVID-19 Pandemic and Other Infectious Disease Outbreaks', this document provides a general guidance on the preparedness, response and communication that are urgently needed against COVID-19 pandemic and other infectious disease outbreaks relating to public health emergencies within the context of the University.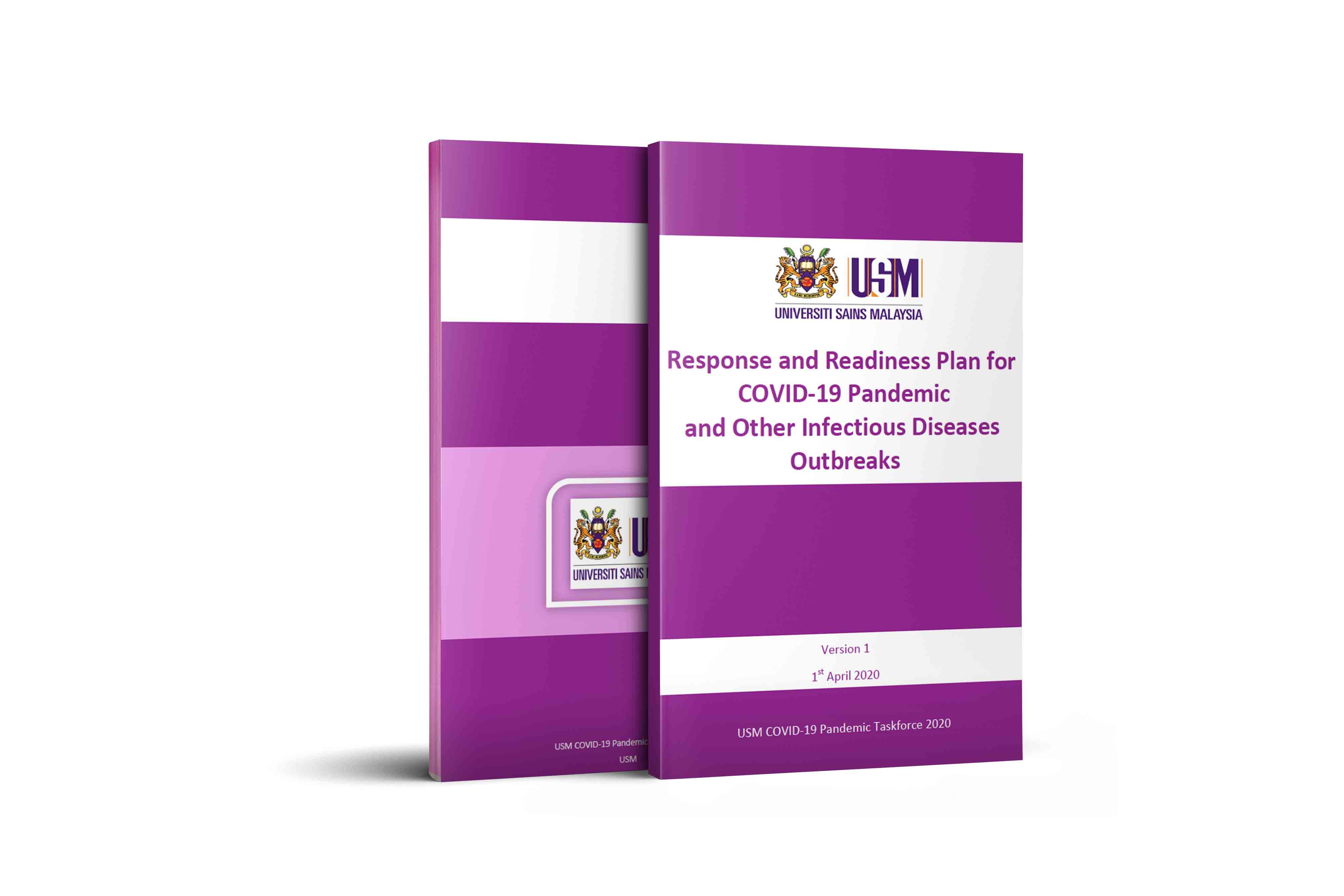 It is believed that USM is the first institution of higher learning in the country to devise such a comprehensive framework of guidelines and action plans towards minimizing the impact of COVID-19 on the health and social wellbeing of students and staff, with emphasis on aspects of public health for the USM community as a whole.
The idea of coming up with this first-of-its-kind document was mooted by the USM Vice-Chancellor, Professor Dr. Faisal Rafiq Mahamd Adikan, together with the University Top Management and brought into fruition by a special taskforce team coordinated by the Institute for Research in Molecular Medicine (INFORMM) and led by Epidemiologist, Department of Community Medicine, School of Medical Sciences, Assoc. Prof. Dr. Wan Mohd Zahiruddin Wan Mohammad, comprising experts from epidemiology, infectious diseases, public health, community medicine, hospital management and lab specialists.
The University's Top Management was very thankful and very impressed with the entire taskforce team who managed to get ready the first version of the document within a short period of time.
We hope the document could serve as a practical guide to minimize the impact of anticipated waves of COVID and other infectious diseases to USM, since the first priority when such a pandemic occurs is to protect the health and ensure the safety of the campus community – staff members and students alike.
We also hope that it will not only benefit USM and its various related agencies but also to be shared and adopted by other institutions of higher learning in the country in the spirit of cooperation and collaboration, in managing and dealing with the third wave of COVID-19 and beyond more effectively.
After all, every institution will need such a plan and they can improvise to suit their specific condition(s).
Being an initial release to meet the current situation, the document is still subject to improvements and we hope to get out an improved version in our next release.
The document is part of a series of initiatives by the USM community – from the staff and volunteer workers manning the USM COVID-19 Nerve Centre to the ones by students, especially the USM Student Representative Council (MPP) - in collectively handling the impact of COVID-19.
These include providing food for those outside of the campus, providing e-counselling sessions and organising various activities for students to do in their respective dormitories for 'de-stress' and 'time-out' moments.
The Top Management further remarked that USM will continue to live up to its motto "We Lead" and rise up to the occasion to be of service to the nation during these troubled times, leveraging on available expertise and resources that it has.
To view the full document, please go to: https://www.usm.my/index.php/covid19.
Text: Tan Ewe Hoe