BETWEEN FERRERO ROCHER AND LIFE – SALINA LOOKS BACK ON UPS AND DOWNS WORKING AT USM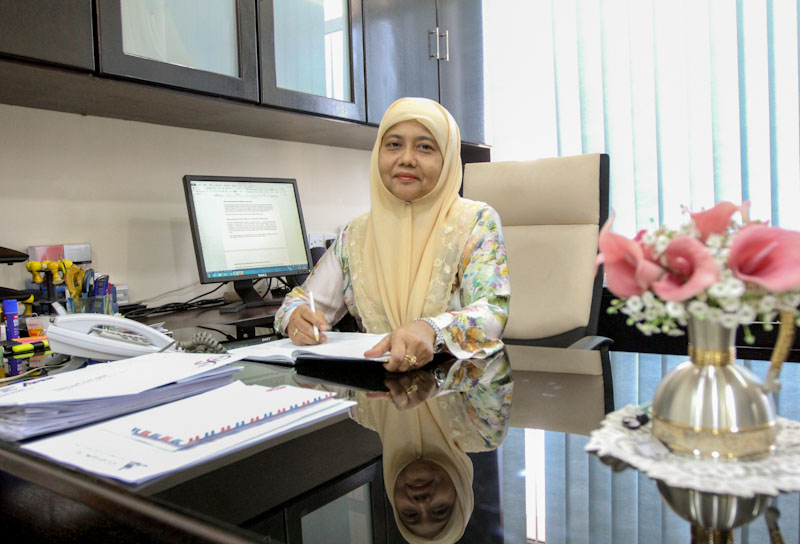 PENANG, 4 March 2020 – "In life, although there are things that we do which we consider as insignificant, it can mean a big difference to others. That is how I remember, looking back at more than 38 years of working at Universiti Sains Malaysia (USM). I have some anecdotes that would tug at the heartstrings and which will forever be remembered," said the Secretary to the Deputy Vice-Chancellor (DVC) of Sustainability and Institutional Development Division, Salina Hassan, 56, as she shares her experience working at USM.
Whenever she sees the Ferrero Rocher chocolates, they would remind her of a physically-challenged (PWD) student who would always frequent the office where she used to work in, then as the secretary to the Deputy Vice-Chancellor of the Division of Industry and Community Network or BJIM.
"The PWD student would frequently visit the DVC of JIM as among the scope of BJIM was to care for PWDs. The student was bright and independent and would only come whenever there was a real need. It was this determination that made me want to really give her some support. After that student has graduated and before leaving the university, the student met me bringing a box of Ferrero Rocher chocolates to say thank you. I was deeply surprised as I did not expect my help all the while would be long remembered.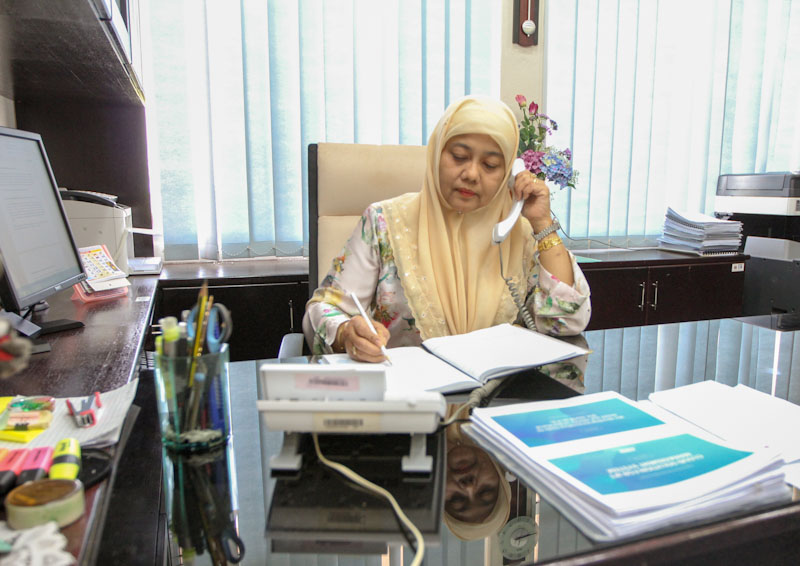 "Apart from that, another account that I could not forget involved a student from the Engineering Campus. The student requested for a change to another course, but it was not approved. Every day for almost a week, the student would come to the DVC Academic's office, skipped classes and was determined to drop out of the university and return home. Feeling pity for the student, I decided to lend an ear and listened to the grouses, and later giving advices to the best that I could. Finally, the student promised to continue with all the classes, and three years later, the student was able to finish and succeed in the studies that he was not interested in initially," she said in a slightly emotional voice.
She admitted that she was affected to an extent by the student's situation, because even though she did not feel that she had done much, it truly made an impact on the life of the student, and was even remembered by some as part of their struggle to achieve success.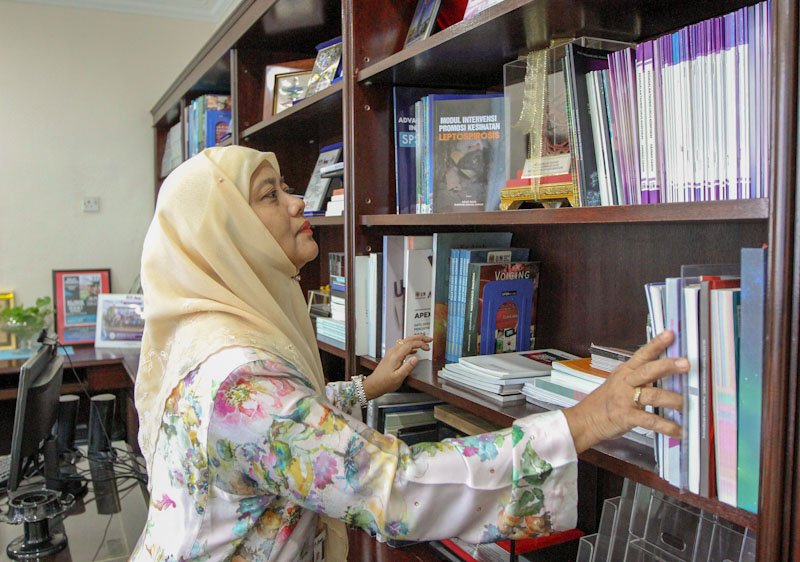 WORK BACKGROUND
Salina has a special date for her birthday, as it falls every year during the Labour Day celebrations, which is 1 May. She began her career as a stenographer at the Personnel Division under the Department of Registrar in September 1981 for 12 tahun. She then moved to the School of Mathematical Sciences and less than two years, she wa promoted as senior stenographer at the Deputy Vice-Chancellor's (DVC) Office (Academic and International Affairs) in October 1995.
While she worked at Personnel, she served under Dato' Hajah Siti Mazenah Saad (2nd Registrar), Mohd. Akhir Abdullah (4th Registrar) and many other pioneering administrators at USM.
Even prouder was the fact that her credibility and capability, in giving the best in her scope of work which allowed her to serve under eight more highly-respected DVCs, among them Professor Emeritus Dato' Dr. Hassan Said, Professor Baharuddin Salleh, Professor Dato' Dr. Syed Ahmad Hussein, Professor Dato' Dr. Rosihan M. Ali, Professor Emeritus Dato' Dr. Lim Koon Ong, Professor Dato' Dr. Susie Ching Mey and a few others.
Salina has served at almost all divisions including Academic & International (12 years), and JIM (12 years) and is currently at a newly-introduced division, which is Sustainability and Institutional Development, headed by Professor Dr. Md Roslan Hashim. Prior to that, Salina had worked under the DVC of BJIM which has now changed portfolios to R&I, Professor Ir. Dato' Dr. Abdul Rahman Mohamed.
Her extensive experience would soon be completed when she officially ends her service and retire on May 1 2020, after a service of 38 years 7 months and 15 days.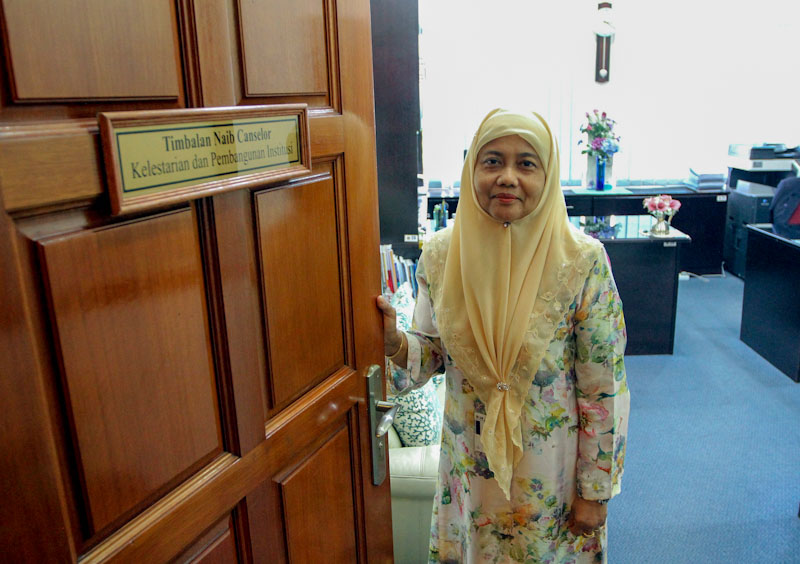 UPS AND DOWNS OF WORK
"When I first started work, it was not yet the era of electronic typewriters – computers, cellular phones were not around. Work could not be done as smoothly as how it is during the time of laptops dan whatsApp. Whenever there was plenty of work to be done, I needed to stay at the office until nighttime, and coming to the office on weekends was the norm. The priority was on completing the work – leave replacements and overtime did not cross my mind. I am quite used to that kind of work and maybe that is why I don't feel losing much when my annual leave days would be unused," she said.
Regardless of that, Salina believes that Allah SWT is fair and just. Any sacrifice that she had made and out of a sense of responsibility in doing her work would be well and truly rewarded. She added that, not many people are able to serve under outstanding key university heads and officials. She has gained a lot of knowledge and various experiences which would be useful throughout her life. A piece of advice from former 1st Registrar of USM, Dato' N.A. Ogle could still be heard until now, where he reminded that, "Do good to all the staff and students. All should be respected as without them, we would be out of job."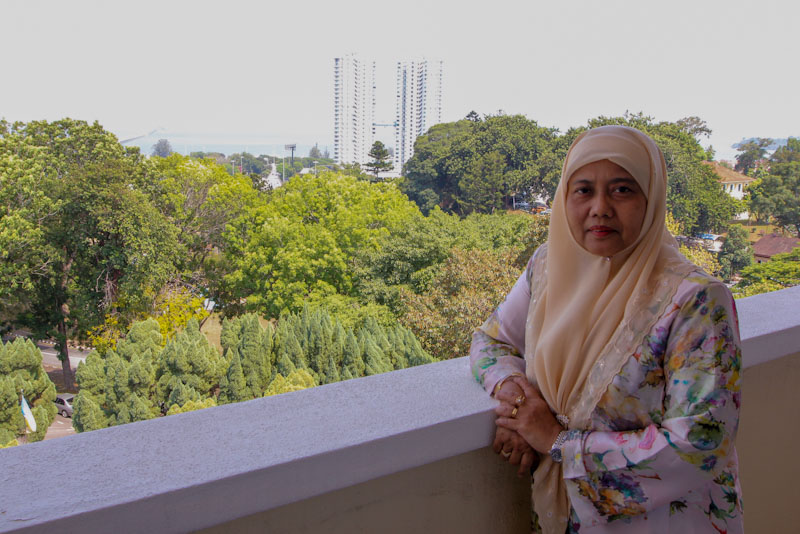 UNFORGETTABLE MOMENTS WHILE AT USM
"I am a 'low profile' person and would be more at ease behind an office table to assist in dealing with problems rather than being involved in the university ceremonies. I am quite "happy" working at the DVC's office, up on Level 6 at the Chancellory Building. It is a comfortable office, with a conducive environment and from the office window, Penang Bridge can be clearly seen.
"USM has provided me with good memories which could never be forgotten. USM has never forgotten me too, as I have been recognised and rewarded for my contributions and sacrifice all these years with 10 certificates of recognition for excellence in service. It has truly provided the encouragement to continue giving my best," she said.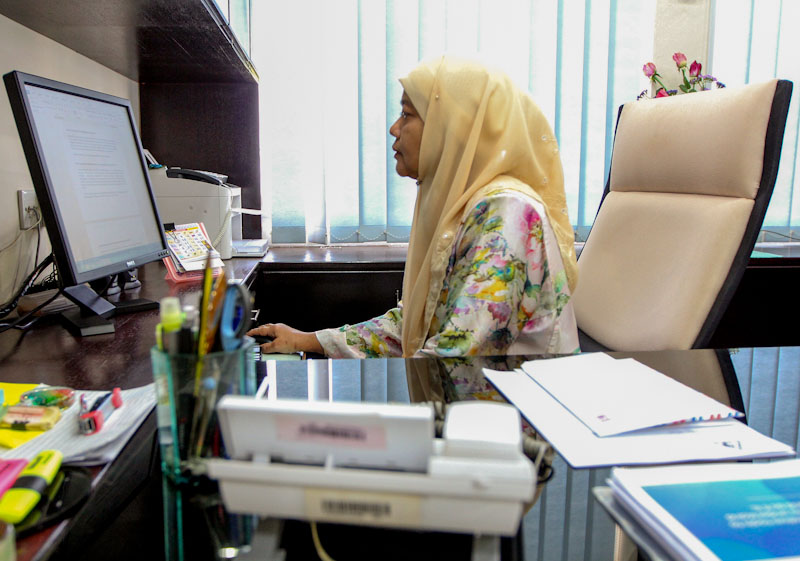 TIPS FOR THE NEW SECRETARIES AT USM TO REMAIN BEING "HAPPY" AT WORK UNTIL END OF SERVICE
"Secretaryship is a profession that offers a minor challenge, but requires dedication, integrity and total commitment. The duty of a secretary is to facilitate the business of the Department Heads. When the dealings could be facilitated, work at the office could be done smoothly and the objectives of the department could be achieved. The job scope and routines of a secretary would be the quite similar anywhere, what differs would be the attitude and commitment towards our duties. There are now more male secretaries too. Even if they would do things differently, each would still have his or her own uniqueness. It would depend on our own initiatives in shaping ourselves to excel as secretaries," she shared her secrets in being able to continue doing her job until now.
She also offered tips, based on her extensive experience serving in various capacities. Among them are:
(i) Work with your heart and give your best as the 'honesty' would be reflected in itself and the work could be easily completed.
(ii) Help one another and share information with your peers. It would be useful as not only it would bring everyone closer, but it would also add on to the knowldge to facilitate in doing the work. Being in doing work and sharing knowledge would only lead to personal loss.
(iii) Mould yourself to become a cheerful person, even though you are actually reserved in nature, as being someone with a positive aura will be welcomed by all. Indirectly, the positive energy would make you healthier and full of vigour.
(iv) Accept whomever your Department Head would be with an open heart. Understand his or her character and learn to adapt yourself. It is the secretary who would need to cater to the needs of the Department Head, not the other way around.
(v) The higher the position of the Department Head, the higher the demands of the job would be. Do facilitate his or her daily running of the affairs and always be at his or her table whenever required. Be a good listener when the Department Head shares his or her views and anecdotes.
(vi) There are times when our work is needed beyond the usual office hours to fulfil an important task that is unavoidable, try to make an effort to complete it. It if cannot be done, find means that would lead to a good solution.
Translation: Mazlan Hanafi Basharudin