USM STRENGTHENS GROWTH THROUGH TRAINING AND MENTORING COLLABORATIONS WITH TWO STRATEGIC PARTNERS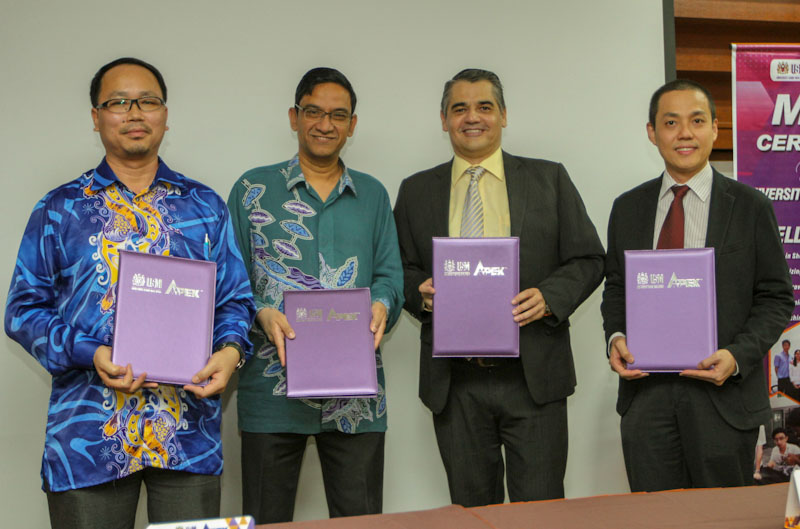 NIBONG TEBAL, 27 February 2020 – Universiti Sains Malaysia (USM) continues to promote excellent teaching and research, ensuring a strong foundation for growth and shared success with the signing of a Memorandum of Agreement (MoA) and a Memorandum of Understanding (MoU) with its two valuable strategic partners here today.
The USM Deputy Vice-Chancellor Research and Innovation, Professor Dato' Ir. Dr. Abdul Rahman Mohamed mentioned this during the sealing of new collaborations on two major projects between USM with Flextronics Systems (Penang) Sdn. Bhd. and with Shell Malaysia Trading Sdn. Bhd.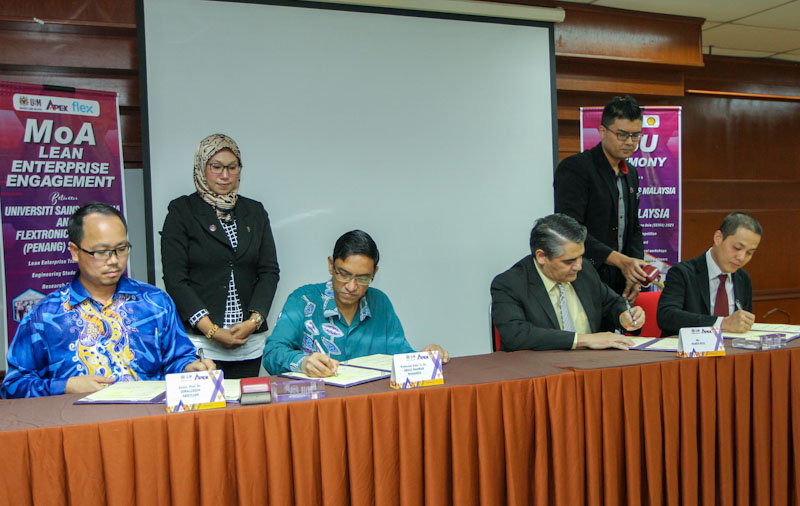 "USM is committed to providing our students with the best possible education to prepare them for their future careers. Research, teaching and employability are central to our programmes and to equip our students to best meet the challenges of the industry, especially in the wake of Industry 4.0," said Rahman.
"We are thankful that USM has risen to become the preferred university by industries, in terms of collaboration with schools and research centres.
"To support these aims, we are proactively seeking partnerships with key industries to strengthen our knowledge base and bringing in valuable exposure to students, to equip them readily before they graduate," he added.
The 3-year collaboration project with Flextronics Systems relates to the Lean Enterprise Training programme, internships and research to nurture USM students to become the next generation of leaders in the Lean Six Sigma managerial enhancement programme.
Flextronics Systems (Penang) Sdn. Bhd. General Manager, Mr. Ruben Nyul said that the MoA signing is significant because FLEX believes in harnessing the power of technology to create a more sustainable world.
"In line with the United Nation's Sustainable Development Goal (SDG) on Quality Education, we believe in helping students gain access to valuable knowledge, skills and lifelong learning opportunities.
"In realizing that, this 3-year MoA will provide short training courses on Lean Six Sigma – Yellow Belt, Black Belt and Advance Lean Practitioner, as well as the opportunity for USM students to participate in internship programmes at FLEX".
Ruben added that, since its inception in 2013, the collaboration has produced 6 waves of Lean Six Sigma graduates, certifying more than 127 USM students and 37 staff. In addition, 37 USM students have undergone internship programmes at its facility and 1 USM staff has been black belt-certified.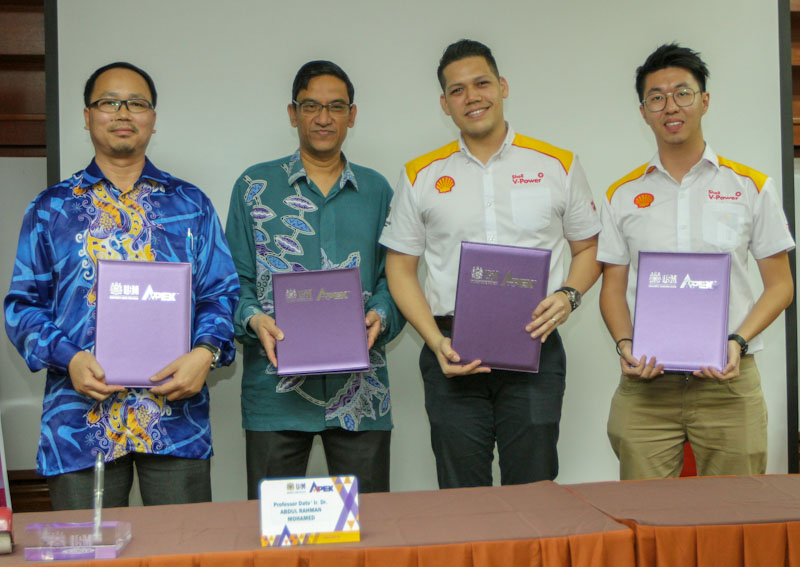 The second collaboration is the MoU between USM and Shell Malaysia, in organizing the annual competition for Shell Eco-Marathon Asia, which is a unique global programme created for science, technology, engineering and mathematics students to design and build ultra, energy-efficient cars to compete on track.
Through this MoU, mentoring support will be provided by SHELL, by organizing technical and non-technical workshops, and facilitating pitching sessions with industry players.
In his speech, Dean of the School of Mechanical Engineering, Associate Professor Dr. Jamaluddin Abdullah thanked FLEX and SHELL for their support, trust and enthusiasm in working together on the two collaborations as they would surely bring benefit to the students and all parties involved for years.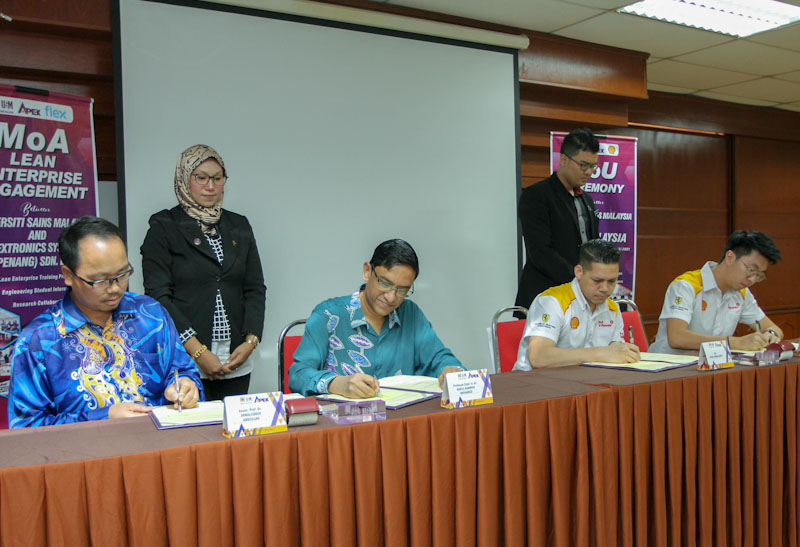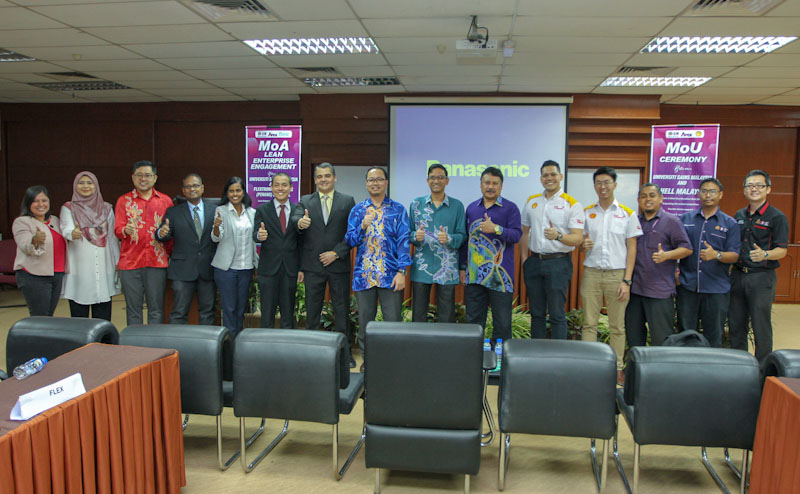 Also present were Director of USM Engineering Campus, Professor Dr. Nor Azazi Zakaria; Flextronics Systems (Penang) Sdn. Bhd Engineering Director, Elanggovan Ramasamy; and Shell Malaysia Trading Sdn. Bhd. External Relations Advisor and Territory Manager, Rezza Mohd Ariff and Ryan Liew.
Text: Siti Faizah Abdul Halim