MESTECC MINISTER VISITS USM, SHARES VIEWS ON R&D ECOSYSTEM AND GREEN TECHNOLOGY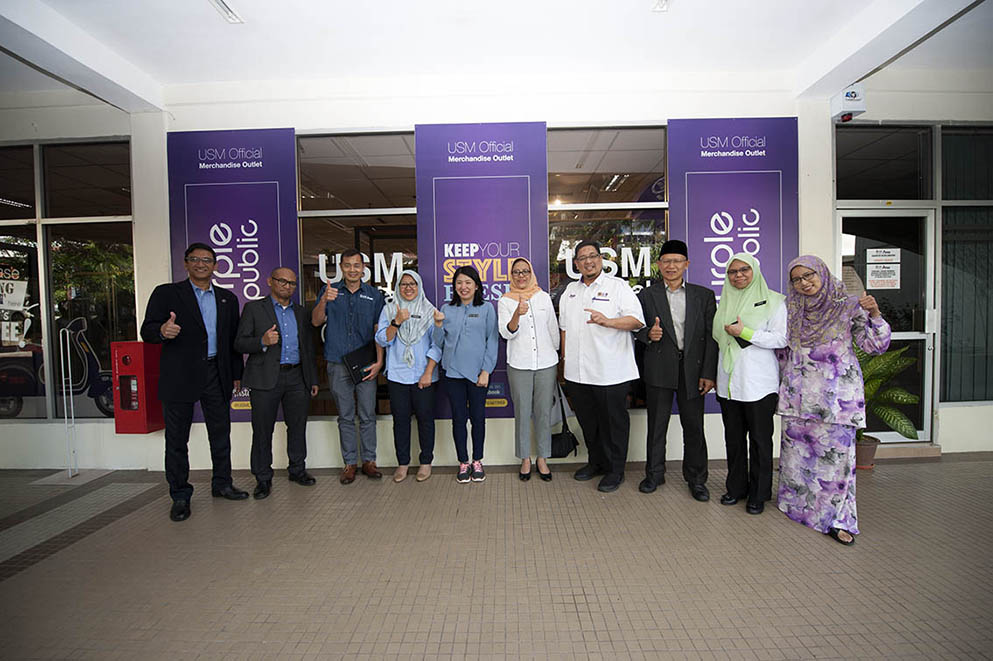 USM PENANG, 22 January 2020 – Universiti Sains Malaysia (USM) recently hosted a visit by the Minister of Energy, Science, Technology, Environment and Climate Change (MESTECC), YB Yeo Bee Yin.
Yeo was on a one-day working visit to a few locations in Penang, one of which was USM.
Organised by the USM Division of Research and Innovation and Division of Industry and Community Network together with MESTECC, she delivered a lecture entitled "R&D Ecosystem and Green Technology," on which she presented an overview of the Ministry and the responsibilities which have been assigned to it.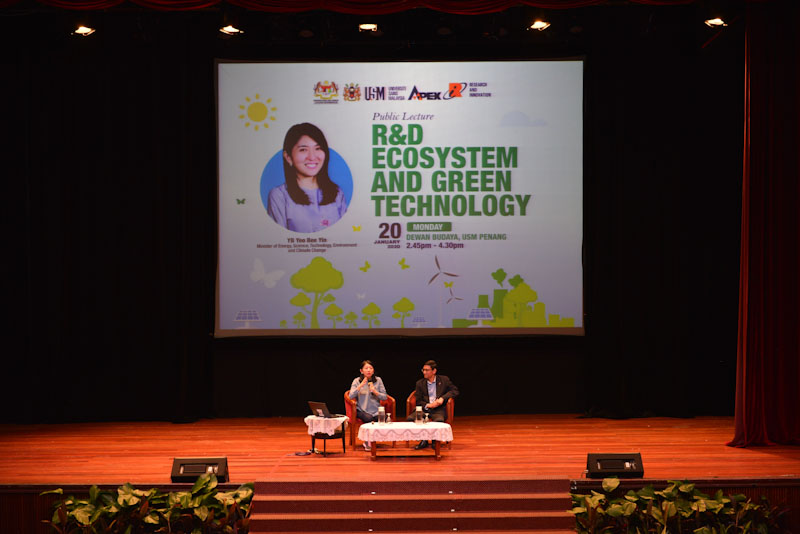 In his introductory speech, the Vice-Chancellor of USM, Professor Dr. Faisal Rafiq Mahamd Adikan, welcomed and thanked Yeo and her Ministry for adding a visit to USM as part of their itinerary.
He mentioned on the current environmental situation and how USM has the expertise to provide solutions to problems which have arisen due to climate change. He also stated that USM is always ready to collaborate with MESTECC.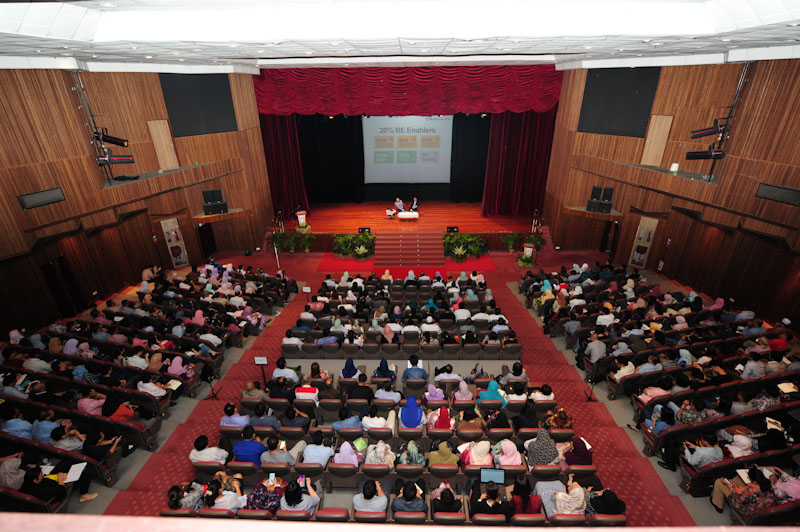 This was followed by the lecture from Yeo, which was moderated by the USM Deputy Vice-Chancellor Research and Innovation, Professor Dato' Ir. Dr. Abdul Rahman Mohamed.
Yeo started off by giving a brief on current environmental issues globally, and the stand of Malaysia on some of the issues.
"Malaysia is progressing well with regard to its commitment to reduce carbon emissions," Yeo said while also mentioning that the United Nations (UN) has urged all countries to increase their commitment on the matter.
"Malaysia is pushing for common but differentiated responsibilities," she added, stating that while all countries should shoulder the responsibility, it would need to depend on the capability of each country.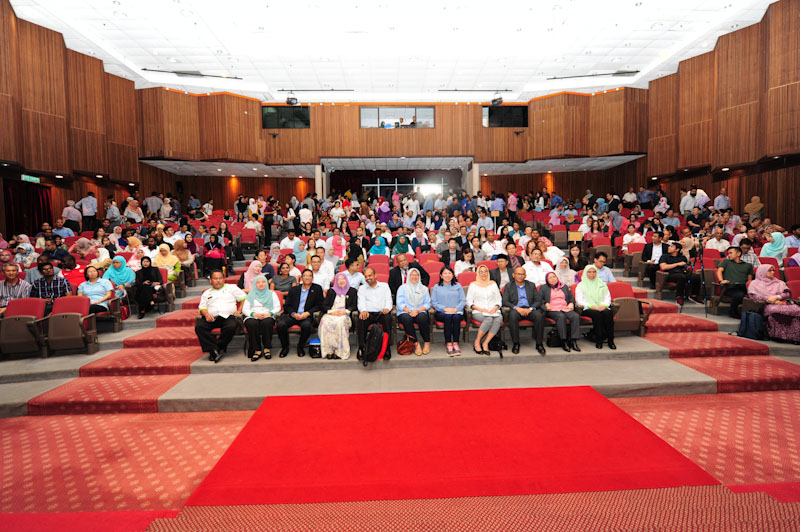 She also highlighted the setting up of the Malaysia Green Technology and Climate Change Centre (MGTCCC), which would serve as a coordinating agency on all related matters.
"Formerly the Malaysian Green Technology Corporation, it would coordinate across different ministries and different agencies, and would be data-driven in dealing with such matters.
"MGTCCC would also oversee the setting up of the National Council of Climate Change Action, as announced by the Prime Minister in October last year," she added.
Additionally, she touched on the potential of harnessing solar energy using solar PV panels, the aim for zero single-use plastics by 2030, promoting 3R (Reduce, Reuse, Recycle) and Replace and the challenges in R&D on renewables and other green solutions.
Her ministry is also giving focus on potentials in the Halal industry, Health and Wellness area, IR 4.0 and Fintech (financial technology).
Other initiatives to be implemented on the Ministry's list include the Malaysian Open Science Platform, the National Scientific Facilities and Equipment Directory and the reestablishment of the National Science Council.
In ending her lecture, she said that there is potential in income generation and job creation in the green technology sector.
At the same time, she is pushing for the Climate Change Youth Movement, to promote greater involvement by the youth on issues regarding climate change.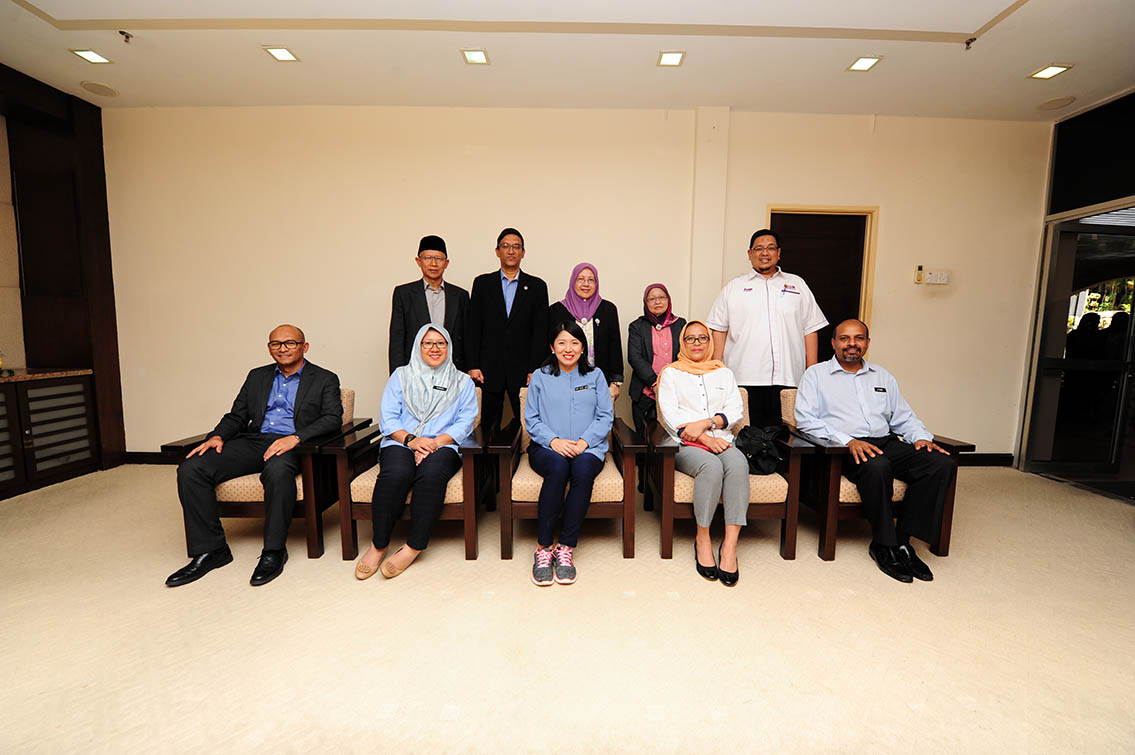 Also present were the MESTECC Deputy Minister, Isnaraissah Munirah Majilis; MESTECC Secretary-General, Datuk Ir. Dr. Siti Hamisah Tapsir; MESTECC Deputy Secretary-General (Environment & Climate Change), Dr. K. Nagulendran; President, Academy of Sciences Malaysia (ASM), Professor Datuk Dr. Asma Ismail; CEO of ASM, Hazami Habib; USM Deputy Vice-Chancellors and senior management; invited guests from the industry and key officers from government agencies and the university.
Text: Mazlan Hanafi Basharudin/Photos: MPRC