USM SCHOOL OF THE ARTS' NEO FEST 19: TELL ME A SCARY STORY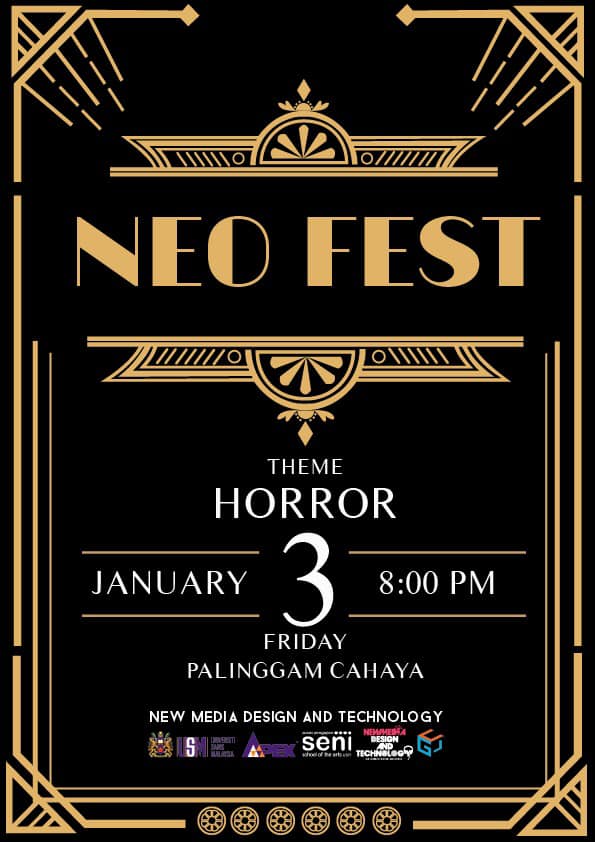 PENANG, 18 January 2020 – The School of the Arts (PPS) at Universiti Sains Malaysia (USM) held a screening of their short films recently.
As part of the VMT105 first semester course, NEO FEST 19 was meant to present and highlight the creative ideas of young directors and actors through the short films they have produced.
The programme was the idea of PPS senior lecturer Dr. Mohd Asyiek Mat Desa, who teaches under the New Media Design and Technology programme. It has been held every semester since 2012.
With a horror theme this time around, all 6 production videos were the work of students from various disciplines within USM, according to Mohd Asyiek.
"The theme was chosen to challenge the students' imagination and creativity in telling stories by manipulating the perception of the viewers.
"The video production course is supported by the directing and acting courses through the USM Drama and Theatre Programme. As one of the cross-curricular programmes within PPS, it provides students with opportunities to work outside their own field of study," he further added.
Mohd Asyiek explained that the objective of this course is to expose students to the actual experience and the technical skills required in the video production industry.
"They would be better prepared when they go out to work in the field, at the same time empowering the arts and new media for the audience in the future," he said.
The screening at the PPS Dewan Pelenggam Cahaya was enlivened with a full house audience.
Mohd Asyiek also expressed his belief that the PPS New Media Technology Design Centre is the place where the fields of art, technology design and science can unite the capable and creative talents of students in the future.
Also present at the NEO FEST 19 short film screening were the USM Vice-Chancellor, Professor Dr. Faisal Rafiq Mahamd Adikan; Dean of the School of the Arts (PPS), Dr. Mumtaz Begum PV Aboo Backer; Dean of the School of Communication, Dr. Nurzali Ismail and the famed director Al Jafree.
Shortfilm - Halusi_Nasi https://youtu.be/iPrgoqU-u2A
Shortfilm - Untitled Project https://youtu.be/89-GakzKpSQ
Shortfilm - The Umbrella https://youtu.be/zoFC7sk7LLI
Shortfilm - Dabus https://youtu.be/bbf771E6xDM
Text: Dr. Mohd Asyiek Mat Desa/Editing: Mazlan Hanafi Basharudin