USM, EQUATOR COLLEGE VENTURE INTO OFFSHORE DEGREE PROGRAMME, HELP INCREASE GRADUATE MARKETABILITY
USM PENANG, 12 January 2019 – Universiti Sains Malaysia (USM) through the School of The Arts has reached another milestone in expanding its academic programme when it inked a Memorandum of Agreement (MoA) with Equator College Penang here recently.
Through the MoA, both parties agreed to collaborate in the offering of USM's Bachelor of Fine Arts (Hons.) (Graphic Communication) as an offshore undergraduate programme in Equator College, leading towards the award of a degree by USM.
This is the second collaboration between USM and Equator College in the offering of degree programmes, after the success of the first collaboration in March 2018 involving the School of Housing, Building and Planning.
USM Deputy Vice-Chancellor (Sustainability and Institutional Development), Professor Dr. Md Roslan Hashim said, this is a very strategic collaboration for both long- and short-term, as it is in line with the University's agenda in contributing our expertise to the country and in enhancing the marketability of the graduates in the field of fine arts and design.
"This field is also among the fields with high employability rate, as it can be seen that 80% of the USM Fine Arts (Graphic Communication) graduates from the academic session 2018/2019 were employed upon graduation.
"As such, I am convinced that this collaboration has much to offer; furthermore it is in tandem with the nation's expectations that demand university programmes and initiatives to be more relevant to industry needs, to be globally recognised, as well as innovative and competitive," said Md Roslan.
He added that, with the capacity and experience of Equator College and its capable lecturers, this will allow more educational ventures to be launched in the market and with promotion of programmes offered to a higher level.
In representing the USM Vice-Chancellor, Md Roslan signed the agreement on behalf of USM while the Chairman of Equator College, Dato' Chuah Kooi Yong signed on behalf of the College, in the presence of the USM School of the Arts Dean, Dr. Mumtaz Begum Aboo Backer and the Principal of Equator College, Dr. Michael Yap Sau Moi.
In his speech, Michael Yap said that he was proud to have the second MoA signed between Equator College and a prestigious public university such as USM.
"We will provide all the necessary infrastructures, learning equipment and facilities for USM through its School of The Arts to conduct the programme at Equator College for students recruited from the 2020/21 until 2024/25 academic sessions.
"This collaboration can vitally enhance the reputation and quality of the college as the programme offered is unique, has a high career market value, and would certainly attract the younger generation in Penang and the northern region to pursue a degree in fine arts," he said.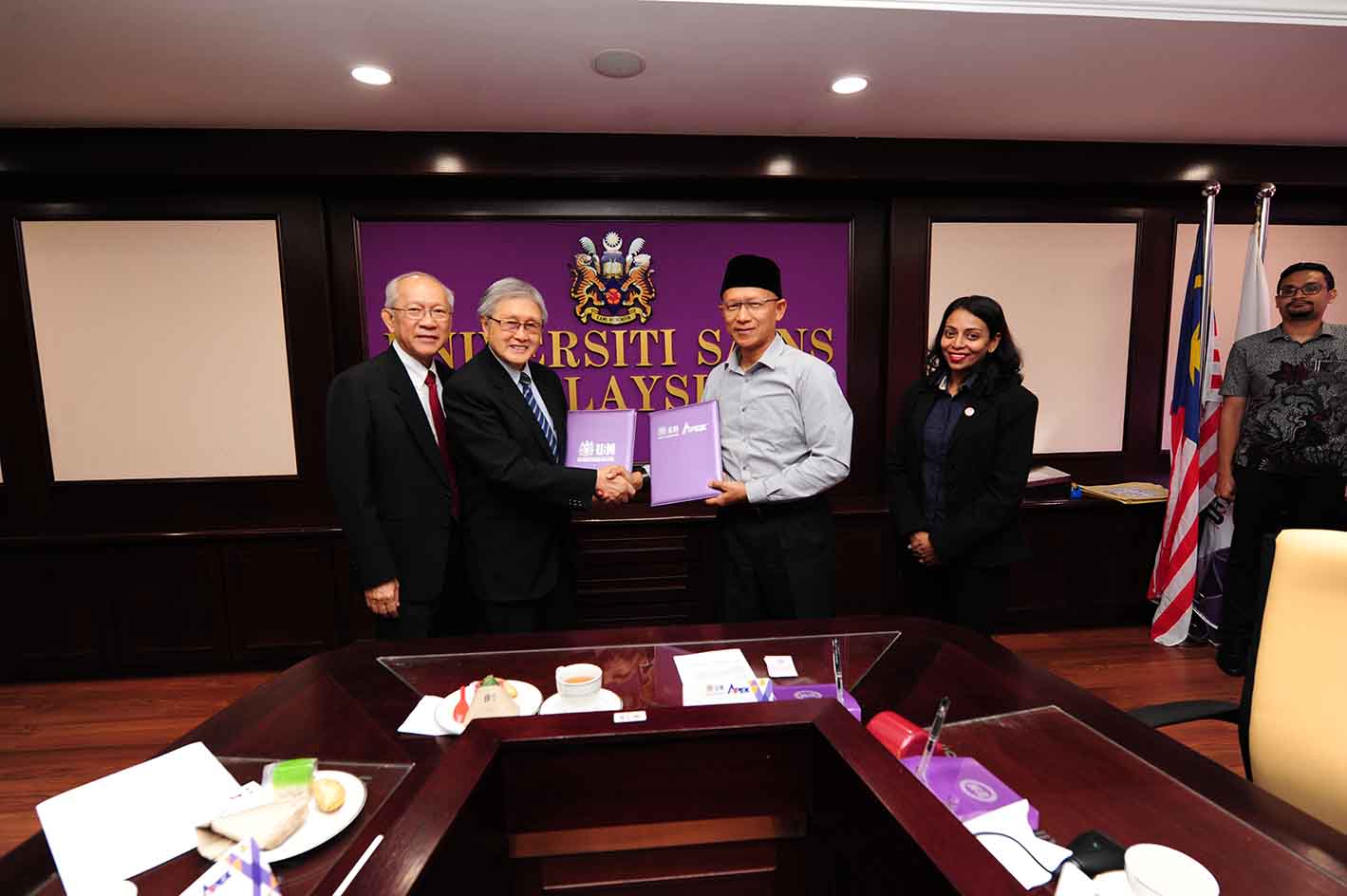 Also present was the Deputy Dean (Academic, Career Development & International), School of The Arts, Dr. Mohammad Khizal Mohd Saat.
Text: Tan Ewe Hoe/Photo: Ebrahim Abdul Manan