USM RECEIVES RM200K RESEARCH FUND FROM LOTTE CHEMICAL TITAN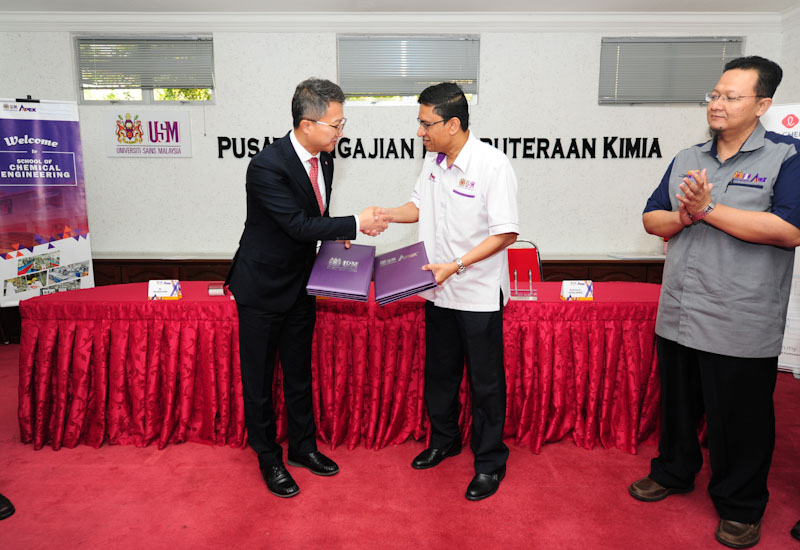 NIBONG TEBAL, PENANG, 28 December 2019 – Universiti Sains Malaysia (USM) through the School of Chemical Engineering (PPKK) continues to strengthen its strategic collaboration with Lotte Chemical Titan Corporation (LCTC) recently with the signing of a Research and Development Agreement (R&D Agreement) to conduct research on plastic waste management.
According to the agreement, LCTC would contribute a research grant of RM200,000 to USM for the collaborative research project within a period of two years, beginning January 2020 until December 2021.
The USM Deputy Vice-Chancellor (Research and Innovation), Professor Dato' Ir. Dr. Abdul Rahman Mohamed who represented the USM Vice-Chancellor said that, the fund would be beneficial to the academic and non-academic researchers and also students studying at PPKK, USM.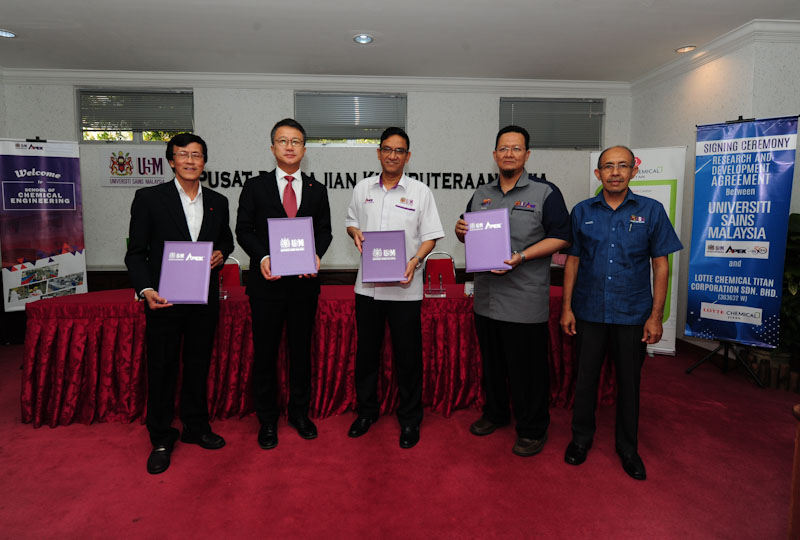 "I am confident that the researchers involved would gain from the exposure and the cutting-edge technology utilized for co-pyrolysis and catalytic co-pyrolysis of plastic and lignocellulose waste into high quality bio-oil, aligning to the needs of the industry.
"This research project is part of a study to explore any additional value of plastic waste in the effort to support and spur the economy further in Malaysia," said Abdul Rahman, who signed the agreement on behalf of USM.
He continued to explain on how the industry relies on universities with the experts and academia, not only with regard to acquiring the expertise from universities, but also in benefitting from the advanced knowledge and discoveries from basic/fundamental researches done.
"The ideas and discoveries could be translated or applied into new product designs or innovations which would be impactful to the industry and society," he added.
Meanwhile, the Dean of PPKK USM, Professor Ir. Dr. Zainal Ahmad said, the signing of the R&D Agreement is important in raising and strengthening the two-way symbiotic relationship between the university-industry, especially with regard to long-term, sustainable plastic waste management efforts.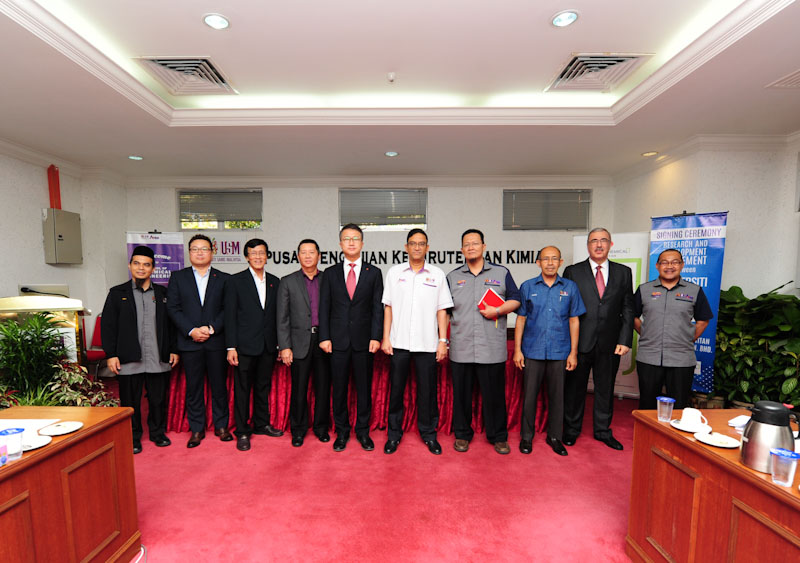 The President and Chief Executive Officer of LCTC, Dr. Lee Dong Woo then said, he hopes that the fund could be channelled to assist in improving the USM research and development capacity in that particular area, more so in dealing with the problem of plastic waste management in Malaysia and around the world.
Also present were the Director, LCTC Plastic Technical Centre, Ng Chon Fook; Dean, School of Electrical and Electronic Engineering representing the USM Engineering Campus Director, Professor Ir. Dr. Fadzil Ain, along with researchers and officers from the respective institutions.
Established in 1991, Lotte Chemical Titan Corporation operates a few production factories in Pasir Gudang and Tanjung Langsat in Johor. It is the first and the biggest integrated petrochemical (olefin) and polymer (polyolefin) production company in Malaysia, and the second biggest polyolefin producer in South-East Asia.
Translation: Mazlan Hanafi Basharudin