USM STUDENT DEBATERS SET TO REPRESENT SOUTHEAST ASIA AT WORLD MANDARIN DEBATING CHAMPIONSHIP 2020 IN CHINA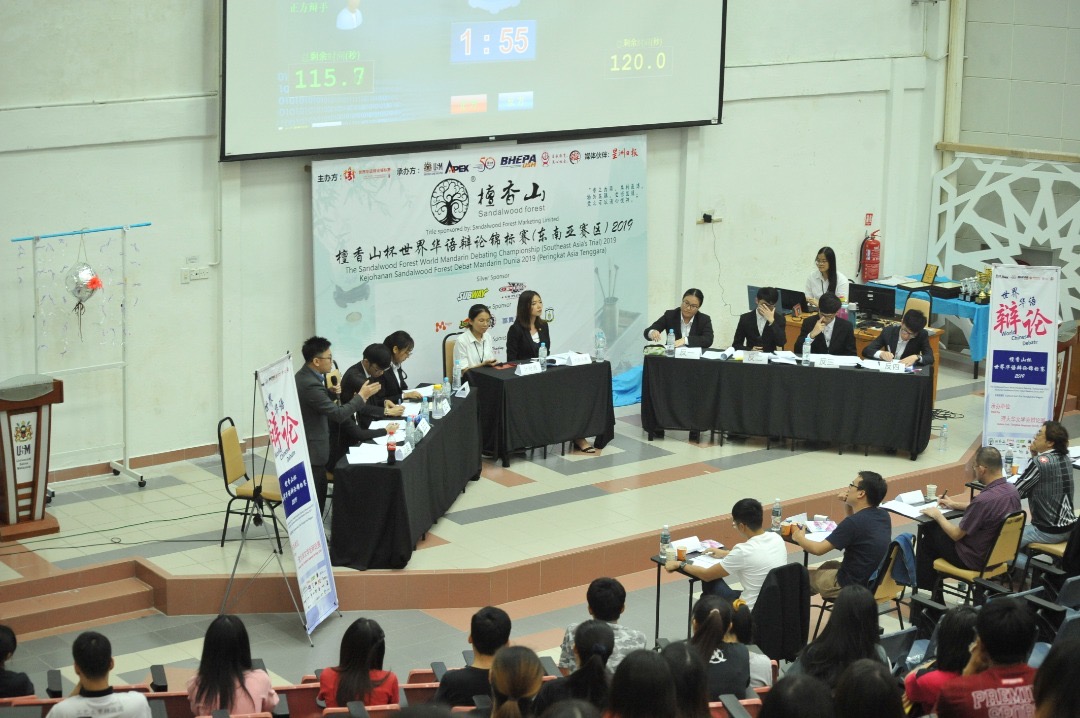 USM PENANG, 11 December 2019 – The Universiti Sains Malaysia (USM) Main Campus debating team triumphed over Universiti Putra Malaysia (UPM) team to emerge champion in the final round of The Sandalwood Forest World Mandarin Debating Championship (Southeast Asia Trial) 2019, held here recently.
As champion, the USM team will represent Southeast Asia at the grand final of The 11th World Mandarin Debating Championship 2020 scheduled to be held in Nanjing, China some time early next year.
The USM team comprised of Chow Wen Lou (21 years old, Pure Physics/Year 2); Ting Heng Nguan, (23, Master of Data Science and Analytics/Year 1); Foo Xu Hui (24, Master of Economic Management/Year 1); Law Boon Kiat (22, Applied Statistics/Year 3); Teo Zhi Zhen (31, Master of Business Administration/Year 1); Tan Tiong Zhi (20, Computer Science/Year 1); Cheah Mee Yee (20, Computer Science/Year 1); and Marilyn H'ng Kai Yuen (21, Applied Biology/Year 2).
On top of that, Teo Zhi Zhen was also chosen as the Best Debater in the final round.
Speaking on behalf of the USM team, Zhi Zhen, who is also the oldest member in the USM team, said: "I am honoured to represent USM and extremely proud of our team's achievement. Despite facing strong opponents from the likes of UTHM (first round), APU (second round), UKM (semi-final) and UPM (final), we managed to maintain our momentum, focus on each round and finally winning the competition."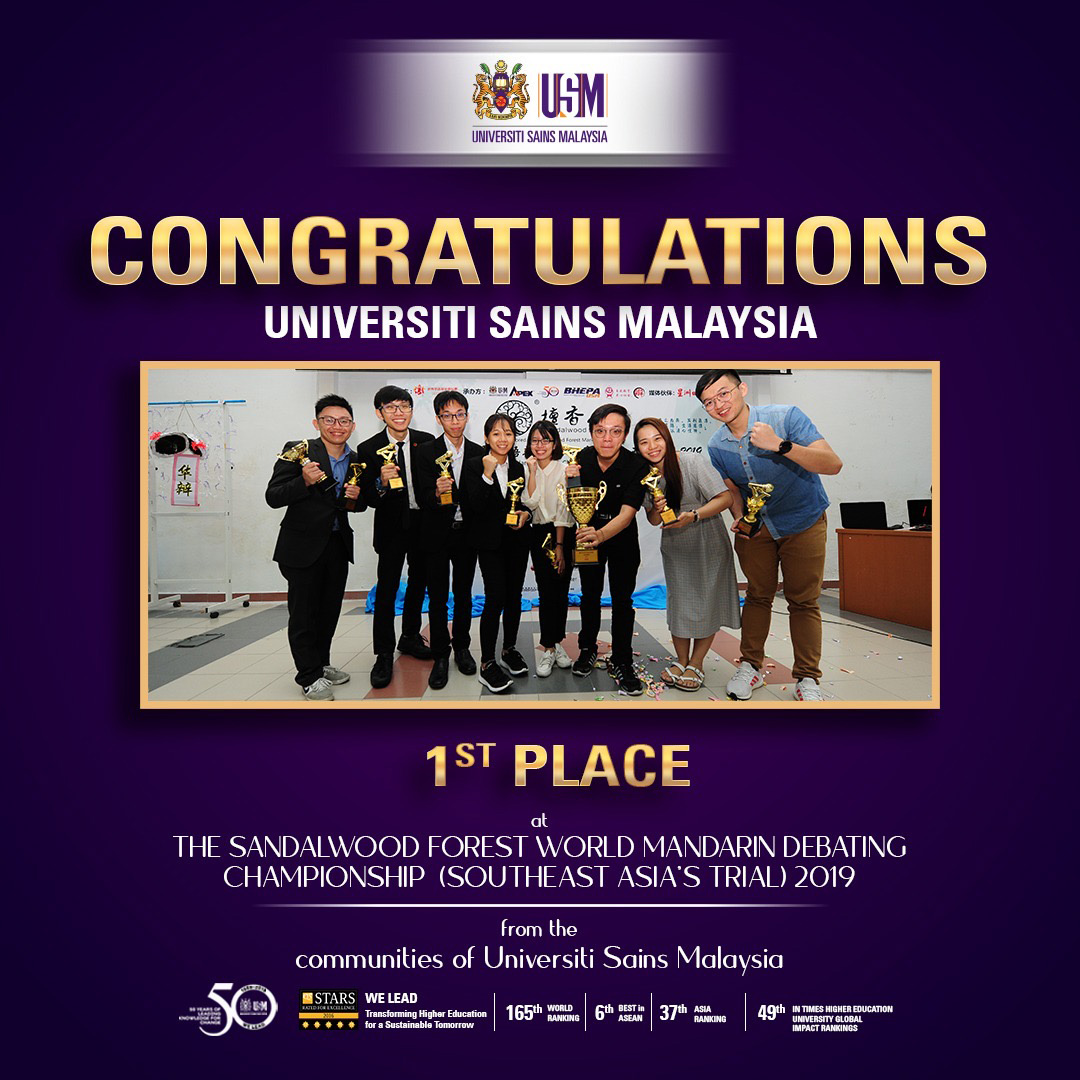 In the closing ceremony held immediately after the final round, the guest of honour, the coordinator of the Ministry of Finance Malaysia, Ng Wei Aik, praised and congratulated the organiser for successfully organising the international competition and appreciated the hard work put in by all the committees.
"I have been told that it was very challenging on the part of the organiser as they had only one month to plan and prepare for the event and was operating with limited funds," added Wei Aik, who also gave away the prizes to the winners.
The Senior Deputy Registrar, USM Student Development Affairs and Alumni Division, Mohamad Abdullah meanwhile considered the accomplishment of the PBT debate team a sweet victory for USM.
"The Student Development Affairs and Alumni Division has always been supportive of any public speaking activities or programmes involving USM students," he said.
A total of 13 teams from public and private institutions of higher education participated in this Championship which ran from 6-8 December 2019, organised by the Debate Unit of USM Chinese Language Society (Persatuan Bahasa Tionghua, PBT) and sponsored by Sandalwood Forest Marketing Ltd.
They were [8 IPTA] Universiti Kebangsaan Malaysia, Universiti Putra Malaysia, Universiti Teknologi Malaysia, Universiti Utara Malaysia, Universiti Tun Hussein Onn Malaysia, Universiti Tunku Abdul Rahman (Kampar), Universiti Sains Malaysia (Main Campus), Universiti Sains Malaysia (Engineering Campus); [4 IPTS] Taylor's University Lakeside Campus, Asia Pacific University, Xiamen University, Brickfields Asia College and Singapore Management University.
In the World Mandarin Debating Championship organised by Nanjing Audit University, China in 2020, the USM team will be competing with teams from other regions including Europe, China, Hong Kong and Australia, for the honour to be crowned the world's best debating team.
The World Mandarin Debating Championship is an international debating competition which was started in 2011. Over 9 years, it has grown into the largest international Mandarin debating competition that attracts worldwide participation.
The purpose of this competition is to provide a stage for debaters all around the world to compete with each other and to promote the usage of Mandarin across the globe.
Over 200 debate teams, more than 6,000 debaters from Asia, Europe and Australia, participated in this event.
Here's wishing the USM team all the best in Nanjing!
Text: Tan Ewe Hoe/Photo: Ebrahim Abdul Manan