USM SCIENTIST AMONG NINE RECEIVES PRESTIGIOUS 2019 TRSM AWARD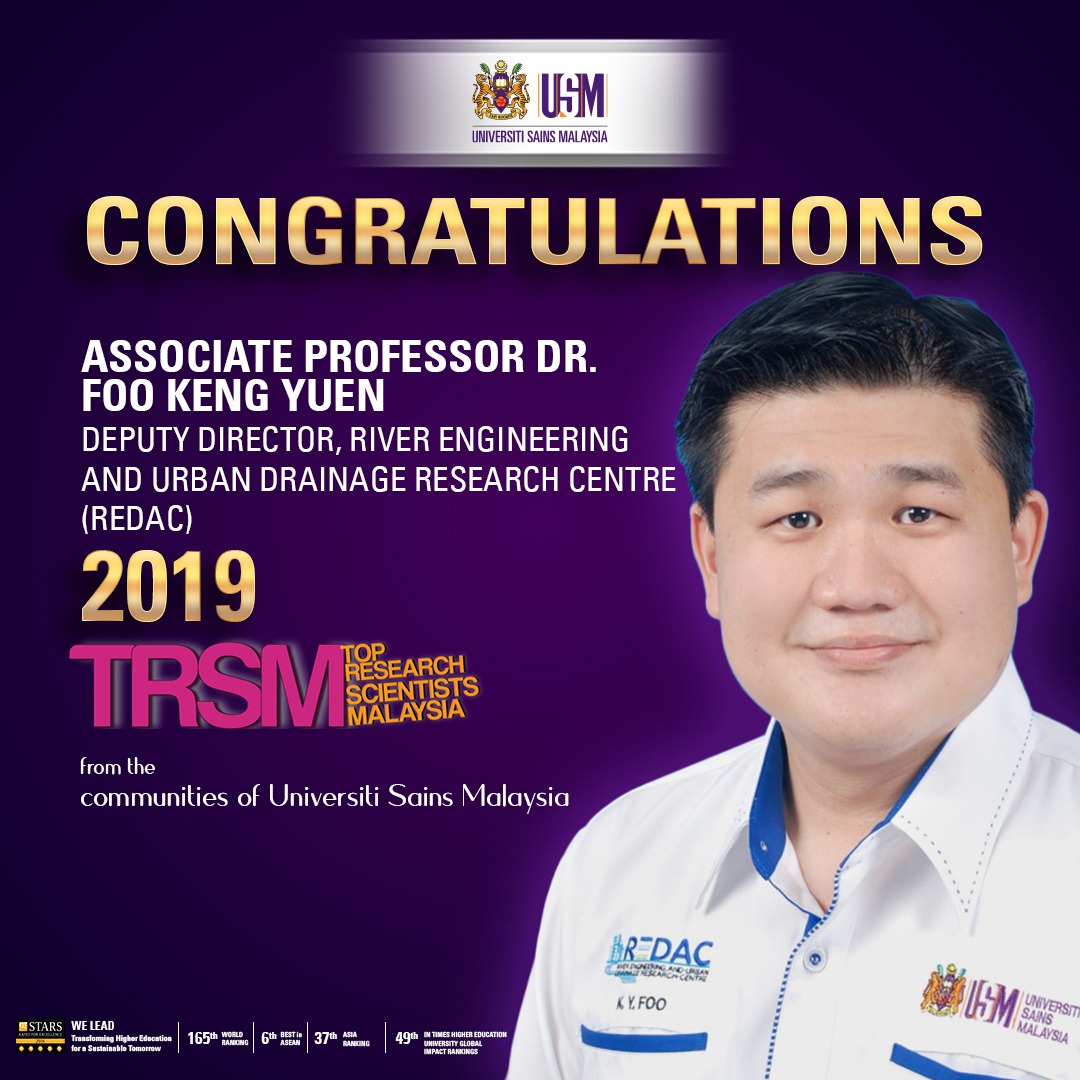 PENANG, 9 December 2019 – The Deputy Director of River Engineering and Urban Drainage Research Centre (REDAC), Universiti Sains Malaysia (USM), Associate Professor Dr. Foo Keng Yuen was selected as a Top Research Scientists Malaysia (TRSM) by the Academy of Sciences Malaysia (ASM) this year.
Foo, along with eight others, received the TRSM award from the Deputy Minister of Energy, Science, Technology, Environment and Climate Change (MESTECC), YB Pn. Isnaraissah Munirah Majilis at the 2019 Conferment of ASM Fellowship and the Announcement of the 2019 Top Research Scientists Malaysia ceremony held on 4 December 2019 in Kuala Lumpur.
Lecturing in the School of Chemical Engineering, his areas of expertise are in environmental engineering, waste utilization, water treatment technology, catalysis, food security and toxicology, and environmental health.
He has involved in different kinds of university, national and international research grants, amounting to approximately RM 8.8 million. His aptitude for high quality research of international standing has been supported by the consultancy projects of exceeding RM 2.6 million, more than 100 international publications with a total citation of exceeding 6,000, and an author h-index of 40.
Foo was also the proud recipient of the National Young Scientist Award 2017, International Young Inventor Award, Marquis Who's Who in the World, Top100 Engineers, an Honorary Doctorate of Letters by International Biographical Centre Cambridge England, and special award or medal winners in International Inventions, Competitions and Exhibitions.
The TRSM project, launched in 2012, was developed as part of ASM's efforts to foster a culture of excellence in science, technology and innovation (STI). It aims to accord recognition and showcase the accomplishments of Malaysian research scientists that contribute significantly to the economic growth of the nation via generation and dissemination of knowledge, wealth creation and productive pursuit of scientific excellence for the benefit of humanity; as role models of excellence, mentor to the next generation and leaders to forge ahead with STI agenda of the nation.
At the same ceremony, two outstanding USM scientists, Professor Dr. K. Sudesh Kumar C. Kanapathi Pillai FASc. (School of Biological Sciences) and Professor Dato' Ir. Dr. Eric Goh Kok Hoe FASc. (School of Materials & Mineral Resources Engineering) were elected as Fellows to the prestigious academy.
Sudesh was conferred the title of ASM Fellow in recognition of his many years of consistent and significant scientific performance and contributions in the field of Biotechnology > Genetics and polymer chemistry of microbial polyester > Development of biodegradable plastic, whilst Eric Goh was honoured for his stellar contributions to the field of Mining Engineering > Occupational Safety and Health, Environmental Management > Mining and Quarrying.
Text: Tan Ewe Hoe