WATCH RARE SOLAR ECLIPSE OVER PENANG SKY AT USM MGTF ON DEC 26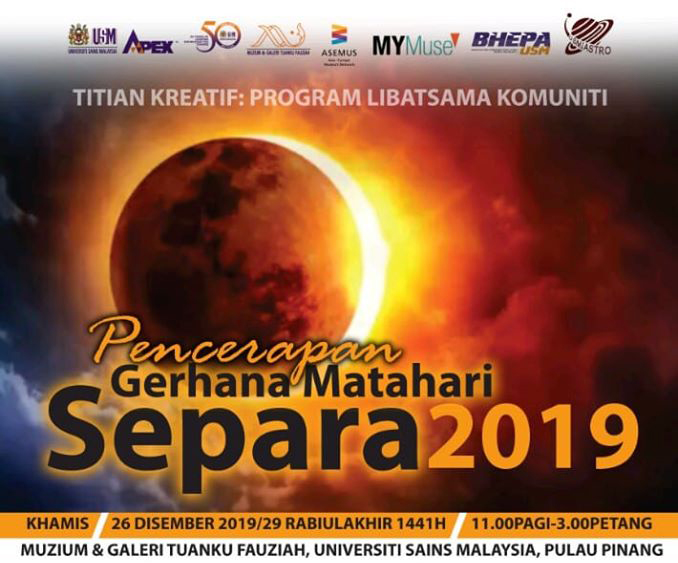 USM PENANG, 25 December 2019 – Universiti Sains Malaysia (USM) community in particular and Penangites will be able to enjoy an extra special Boxing Day this year as they will be able to view the annular solar eclipse, which is a very rare phenomenon, in the campus tomorrow.
USM Tuanku Fauziah Museum and Gallery (MGTF) in cooperation with the USM Astronomy Club will hold a partial solar eclipse observation programme for the public at MGTF on Thursday, 26 December 2019, beginning at 10.30 a.m.
A solar eclipse occurs when the Moon passes between the Earth and the Sun, thus totally or partially obscuring the Sun for a viewer on Earth.
An annular solar eclipse occurs when the Moon's apparent diameter is smaller than the Sun's, blocking most of the Sun's light and causing the Sun to look like an annulus ("ring of fire").
This time around, the annular eclipse will be visible in Saudi Arabia, Qatar, United Arab Emirates, Oman, India, Sri Lanka, Malaysia, Indonesia, Singapore, Mariana Islands and Guam.
In USM and Penang, it can be seen as a partial solar eclipse. It will begin at 11.15 a.m. and will end at 3.06 p.m., with the maximum eclipse occuring at 1.08 p.m. when 83% of the Sun will be covered by the Moon.
An annular solar eclipse happens once every 20 years, with the last annular solar eclipse occurring in Malaysia 21 years ago on 22 Aug 1998, where it was seen in Mersing, Johor.
Several activities have been lined up at USM MGTF during the Partial Solar Eclipse, which include the observation of the eclipse by using telescopes equipped with solar filters, astronomy talks, astrophotography of the eclipse and observation of special effects caused by the crescent shadows of the Sun on the Earth's surface.
The public is advised not to look directly at the Sun during a solar eclipse with naked eyes as it can cause permanent blindness. Only eclipse glasses that have a certification with "ISO 12312-2 international standard" are safe for use, according to NASA. Other options are the number 14 welder's glass, or a pinhole projector that allows a user to project the image of the sun on paper or cardboard.
It is also learnt that besides MGTF, the USM Islamic Centre is also hosting an observation programme in the campus.
While at Tech Dome Penang in KOMTAR Geodesic Dome, Georgetown, the USM Asia-Pacific University - Community Engagement Network (APUCEN) in collaboration with several strategic partners will be holding similar observation programme, but with a difference, whereby the visually impaired community has been invited to attend and experience the annular solar eclipse fenomenon via their sense of hearing with the aid of an apparatus that can convert the brightness of light to sound.
Text: Tan Ewe Hoe