USM-ITD WORLD-FLEX PRODUCE FIRST BATCH EMICL GRADUATES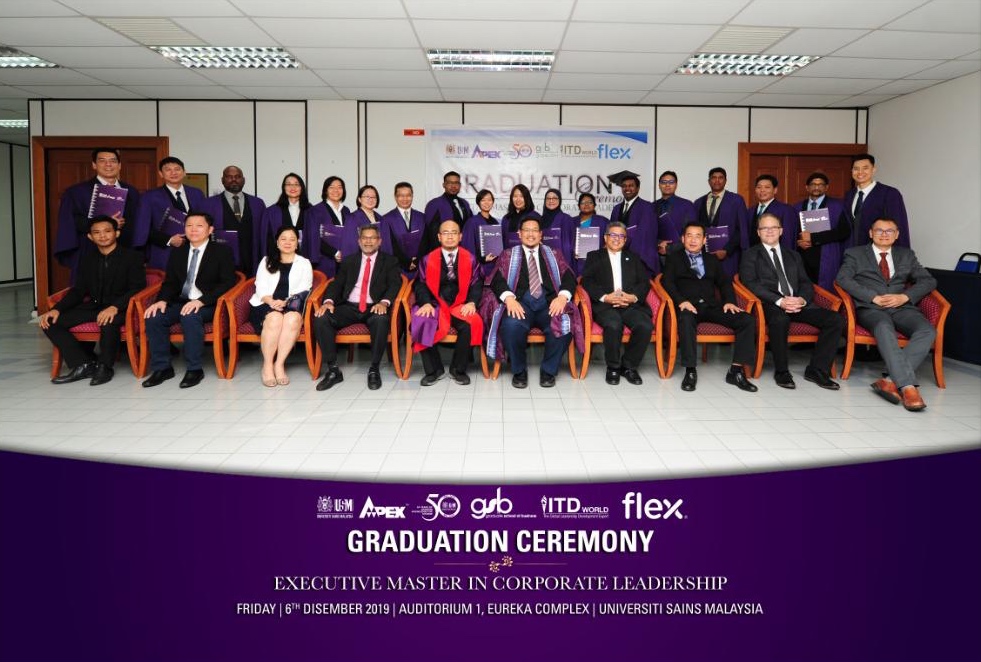 USM PENANG, 6 December 2019 – The first batch of the Executive Master in Corporate Leadership (EMICL) programme, comprising of 18 graduates, received their scroll recently here after completing a rigorous 15-month journey.
This unique EMICL programme, was a joint initiative between a public university: Universiti Sains Malaysia (USM) through the Graduate School of Business (GSB) in collaboration with private entities: ITD World (global leadership development expert) and Flex Ltd Penang.
The GSB Dean, Professor Dr. Azlan Amran, in his welcoming speech, said the programme was designed to be the bridge between theoretical learnings and real-world practical applications.
"I am well pleased with my colleagues at GSB for sharing their expertise and knowledge in formulating the modules and working with our strategic partners to deliver this programme, and in the process, helped to fulfil the nation's quest in enhancing the knowledge and skills of the workforce," he added.
Meanwhile, Chu Hor Ho from Flex Ltd, who spoke on behalf of the graduates, said the lessons provided a solid foundation for learning and application in life and the workplace, and he would strongly recommend others to enrol for the programme.
EMICL which began in September 2018, was custom-designed for executives at Flex Ltd who wanted to enhance their leadership and management capabilities to take them to the next level of performance and achievement.
Leaders who enrolled were required to complete 11 subjects and one (1) case study. Among the areas covered were strategic communications; ethical principles in decision making; attitudes and behaviour of individuals and groups; the power of mindset and how it influences creative thinking; the importance of vision, mission, and strategy for business sustainability which leads to a competitive edge; Big Data and Enterprise Risk Management.
Throughout the programme, these leaders were being assessed individually. Methods of assessment included short tests, individual and group assignments, presentations and written case studies.
All the phases were conducted by experienced management experts who have years of academia and industry experience.
The momentous event was graced by USM Deputy Vice-Chancellor Academic and International, Professor Dato' Dr. Ahmad Farhan Mohd Sadullah who presented the certificates to the graduates; Flex Vice-President, Mr. Viswanathan Paramasivam; the top management of FLEX and their staffs, ITD World officers and the GSB community.
Original text: Assoc. Prof. Dr. Junaimah Jauhar (GSB)/Editing: Tan Ewe Hoe