USM HOSTS PUBLIC TALK 'REASONS FOR HOPE' BY THE WELL-RESPECTED DR. JANE GOODALL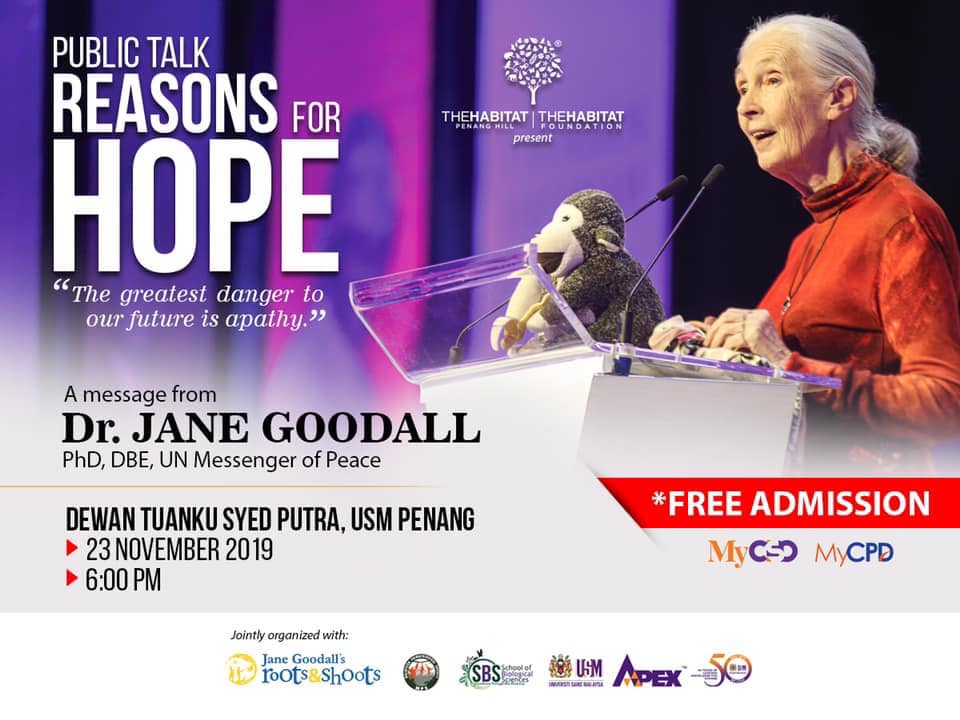 What's coming up on this Saturday (23 November 2019) evening at DTSP, USM Penang? "What you do makes a difference, and you have to decide what kind of difference you want to make." Does this sound familiar to you? If your answer is 'yes', something big is coming up for you in (George)town on 23rd Nov! Dr. Jane Goodall will be right here with us that evening in our very own USM for the very first time! With the collaboration between USM School of Biological Sciences, The Habitat Foundation, Malaysian Primatological Society and Roots & Shoots Malaysia, we will have a special public talk 'Reasons for Hope' by our well-respected Dr. Goodall.
Who's Dr. Jane Goodall? Dr. Jane Goodall is a world-renowned English primatologist and anthropologist who ventured into the realms of jungles since 1960. Spending her time and dedication in a near to 60-year study on social and family interactions of chimpanzees, Dr. Goodall brought the little-known world of humans' closest living relatives to light through her groundbreaking work.
What has Dr. Goodall done? As the world's leading primatologist with her expertise in chimpanzees' interactions, she redefined traditional conservation by introducing the approach of involving people in the well-being of animals and habitats. Dr. Goodall believed that humans are the major threats to endangered animals. However, it is also only humans can play significant roles to gather and aid the wildlife conservation especially involving the primates.
An iron lady that deserves all respect! As the founder of the Jane Goodall Institute and The Roots & Shoots movement, Dr. Goodall circled the globe 300 days a year to empower the younger generations in environment conservation and animal welfare issues. She also writes, speaks and spreads hope through actions to inspire young people from all over the globe to make the world a better place. Named as UN Messenger of Peace in 2002 and accorded the honour of becoming a Dame of the British Empire in 2004, Dr. Goodall indeed is a beacon of hope when it comes to biodiversity conservation.
Age is just a number! Living for almost near to nine decades, Dr. Goodall doesn't allow age to slow her down. Despite being 85 this year, Dr. Goodall is still actively seeking for opportunities to foster our youth to be aware of the environmental crisis and take actions to cope with the challenges. If Tarzan deserves to be the King of Jungle in fairytale, Dr. Goodall definitely deserves to be the Queen of Jungle in real life for her much-respected eye-opening contributions!
So, what are you waiting for? With Dr. Jane Goodall here on the 23rd Nov evening with us in her public talk 'Reasons for Hope', it is something you should never miss! Give your weekend a golden opportunity to be filled with knowledge! There's no doubt that you will be inspired by Dr. Goodall after listening to her public talk. Do remember that opportunity only comes knocking once! Hesitate no more, see you at DTSP, USM at 6.00 pm!