WAY FOONG RECEIVES WOMEN L'OREAL-UNESCO AWARD 2019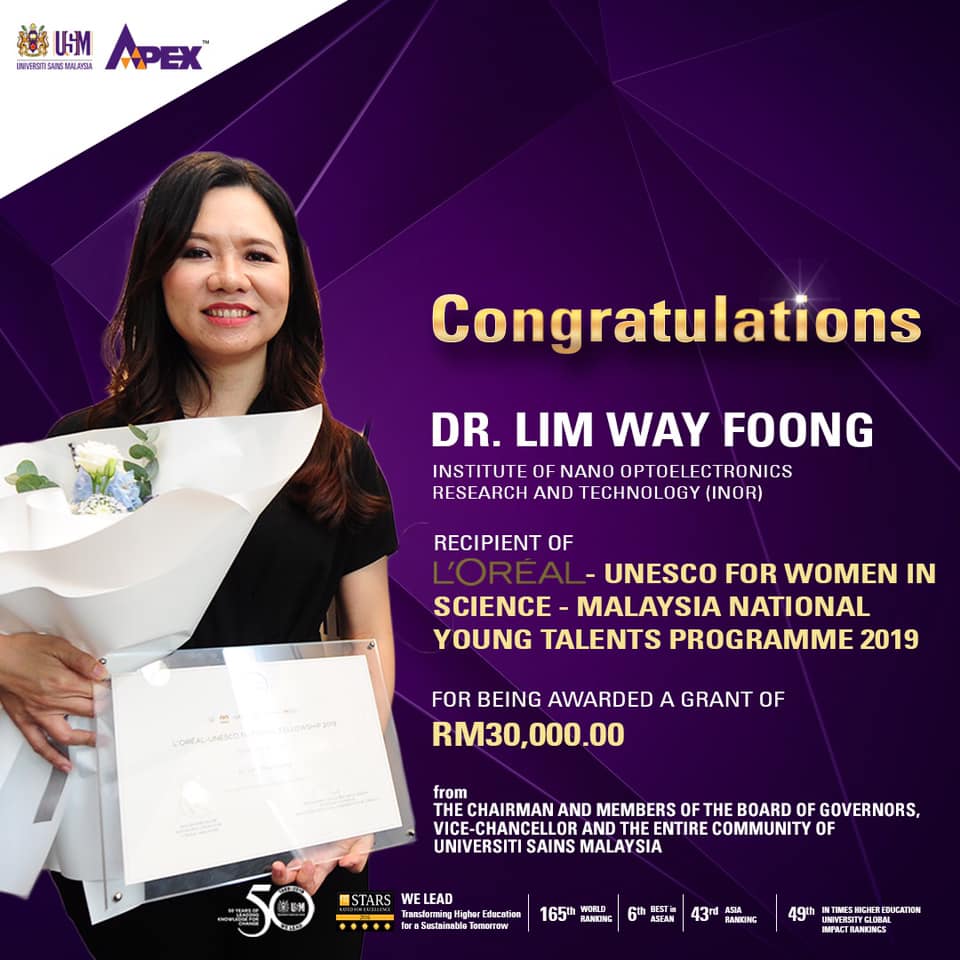 KUALA LUMPUR, 17 October 2019 – Dr. Lim Way Foong, a scientist from the Universiti Sains Malaysia (USM) Institute of Nano Optoelectronics Research and Technology (INOR) was selected as a recipient of the L'Oreal-UNESCO For Women in Science – Malaysia National Young Talents Programme 2019 Award announced here today.
"I was really surprised and excited when I was informed by L'Oreal to be one of the recipients of the grant," said Way Foong.
Way Foong, 35, who is conducting a study and research on LED with the title "VioLEDs - Healthy Artificial Lighting', will receive a grant totalling at RM30,000 to continue her research while assisting the community in the said field.
"This award serves as a platform for women scientists to further express their talents in science while providing the motivation to continue with the study and research towards improving the wellbeing of society locally and globally," added Way Foong, who started her academic career at USM a year ago.
According to USM Vice-Chancellor, Professor Dr. Faisal Rafiq Mahamd Adikan, "USM will continue to be the melting pot of academia, a fertile ground where seeds of innovation and excellence are nurtured and grown to maturity."
"Way Foong's achievement, as acknowledged by the award, is a testament to USM's support and commitment. I would also like to thank the previous Vice-Chancellor as this is part of the result from the commitment of the previous leadership," he added.
The prestigious award was presented by the Deputy Minister of Energy, Science, Technology, Environment and Climate Change (MESTECC), YB Isnaraissah Munirah Majilis.

Way Foong is selected among the three recipients of the award, from a total of 193 women scientists from all over the country who were vying for the award.
Text: Mazlan Hanafi Basharudin