USM HONOURS MALAYSIA'S PM WITH FIRST-EVER SUSTAINABILITY AWARD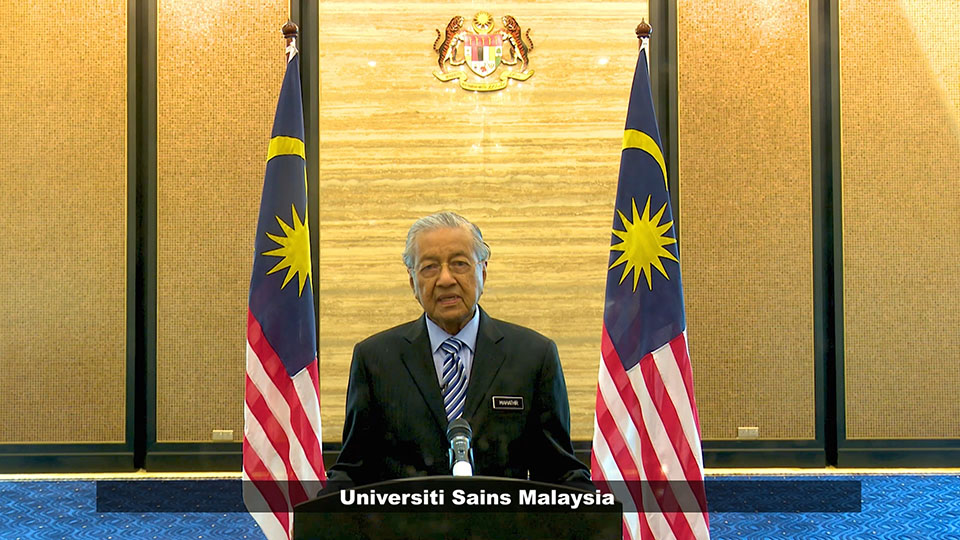 USM PENANG, 23 September 2019 – The Prime Minister of Malaysia, YAB Tun Dr. Mahathir Mohamad was honoured today at the Universiti Sains Malaysia (USM) 50th anniversary Commemorative Convocation.
The convocation saw Tun Dr. Mahathir being conferred the first-ever USM Chancellor's Sustainability Award. The award was presented by the USM Chancellor, HRH Tuanku Syed Sirajuddin Ibni Al-Marhum Tuanku Syed Putra Jamaluallail, who is also the Raja of Perlis.
Tun Dr. Mahathir was honoured for his style of leadership throughout his service as Malaysia's Prime Minister, upholding values such as integrity, charisma and dignity, based on legal-rational principles.
Through a pre-recorded video speech screened at the convocation ceremony, Tun Mahathir thanked USM for selecting him to be the first recipient of the university's highest award.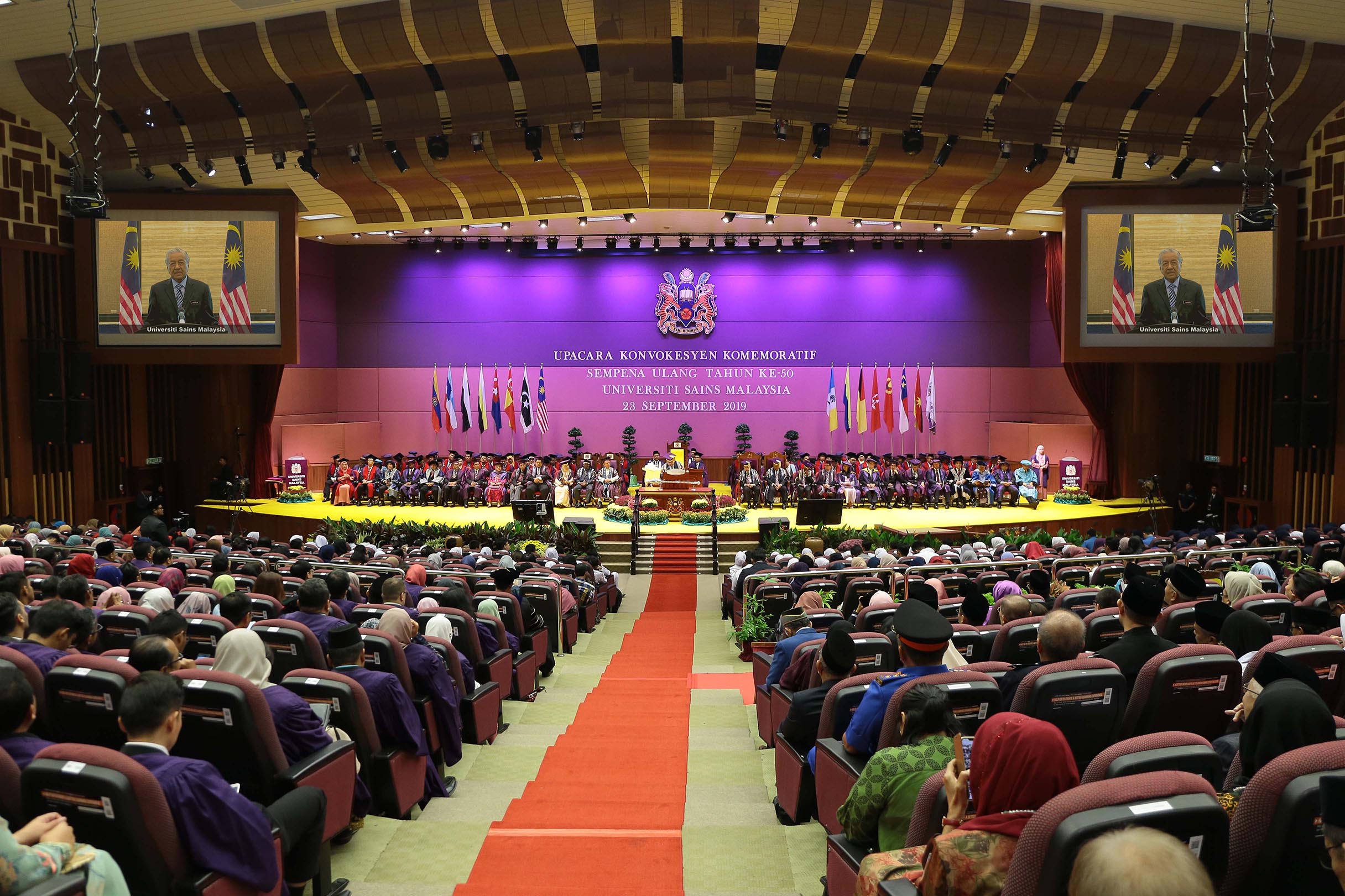 Mahathir said he was humbled and thankful for the consent of the Raja of Perlis to confer the inaugural special award.
He added that he accepted the award with full responsibility and would uphold its honour, filled with realisation and humility.
He reminded the USM community that as the university reaches its 50th year, it needs to look into its past achievements and shortcomings in moving forward into the future.
The university needs to be consistent in the discovery of new knowledge that could lead to change and to sustain its realisation from concepts and philosophies.
The Prime Minister also emphasised the need for USM to be able to understand and move ahead together with the public and private sectors, and bringing improvements to the quality of life of the people through the use of Science, Engineering, Technology and Big Data.
Tun Mahathir then reminded the students to be more involved in developing the knowledge culture, while having a high sense of confidence, independence and freedom for them to go further and higher globally.
Three other recipients were conferred Honorary Degrees by the Chancellor at the ceremony. They were honoured for their achievements and for being the 'first' in their respective fields.
The recipients were Datuk Nicol Ann David (Doctor of Sports Science), Nobel Laureate Professor Dr. Shuji Nakamura (Doctor of Science) and Dato' Hajah Siti Mazenah Saad (Master of Public Administration).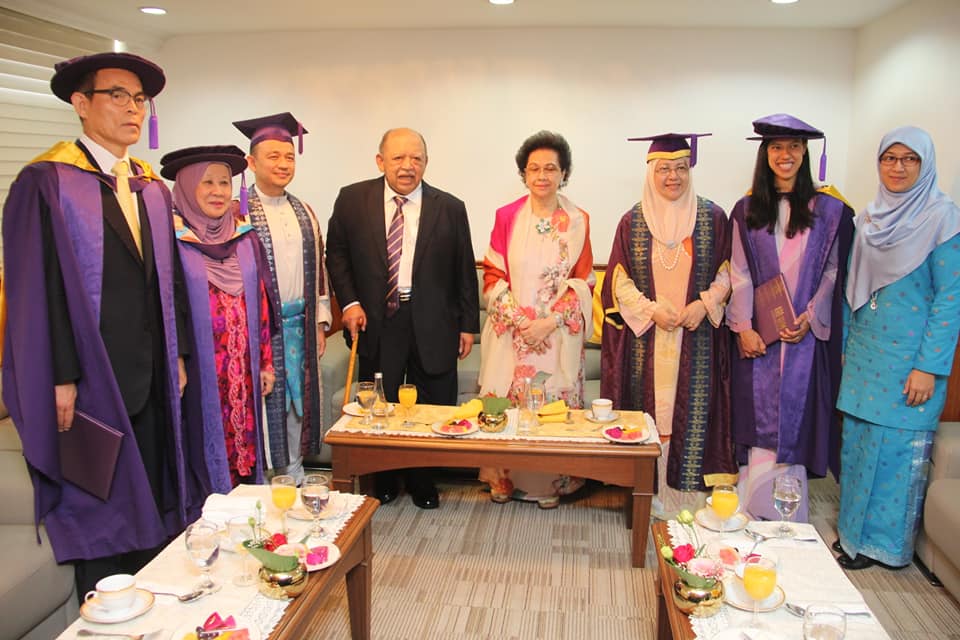 Others present at the ceremony were the Minister of Education Malaysia, Dr. Maszlee Malik; Penang Deputy Chief Minister 1, Dato Ir. Ahmad Zakiyuddin Abdul Rahman; USM Pro-Chancellors; USM Vice-Chancellor, Professor Datuk Dr. Asma Ismail; USM Deputy Vice-Chancellors, representatives of local and foreign universities and university officials.
Throughout the week-long convocation ceremony, USM will be awarding degrees to 6,338 recipients, including Honorary Degrees (three), Emeritus Professor (four), Doctorates in Philosophy (508), Master's Degree (1,564), Bachelor's Degree (4,266) and Nursing Diploma (45).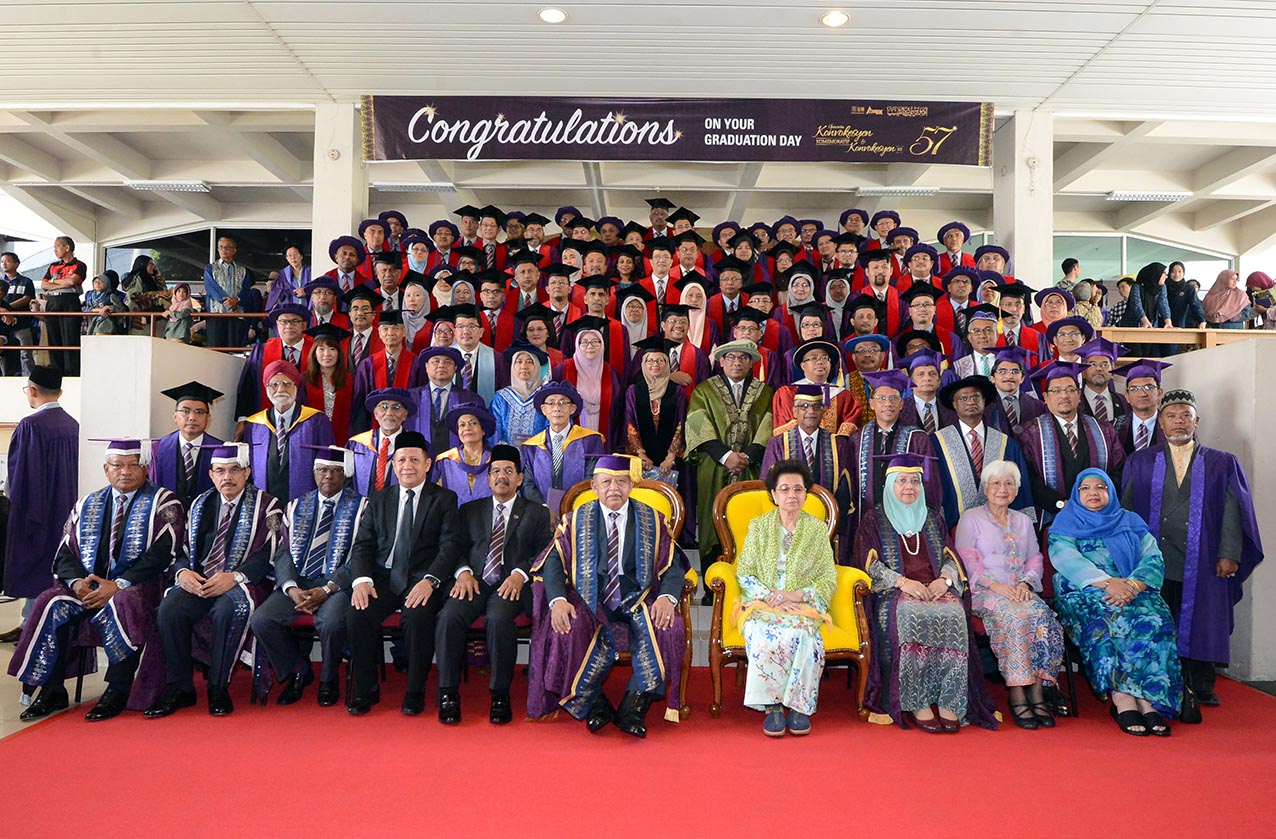 Following the 50th Anniversary Commemorative Convocation ceremony, the 57th Convocation will commence the next day, and will run until 29 September 2019.
Text: Mazlan Hanafi Basharudin