INTERNATIONAL STUDENTS THRILLED TO PURSUE STUDIES AT USM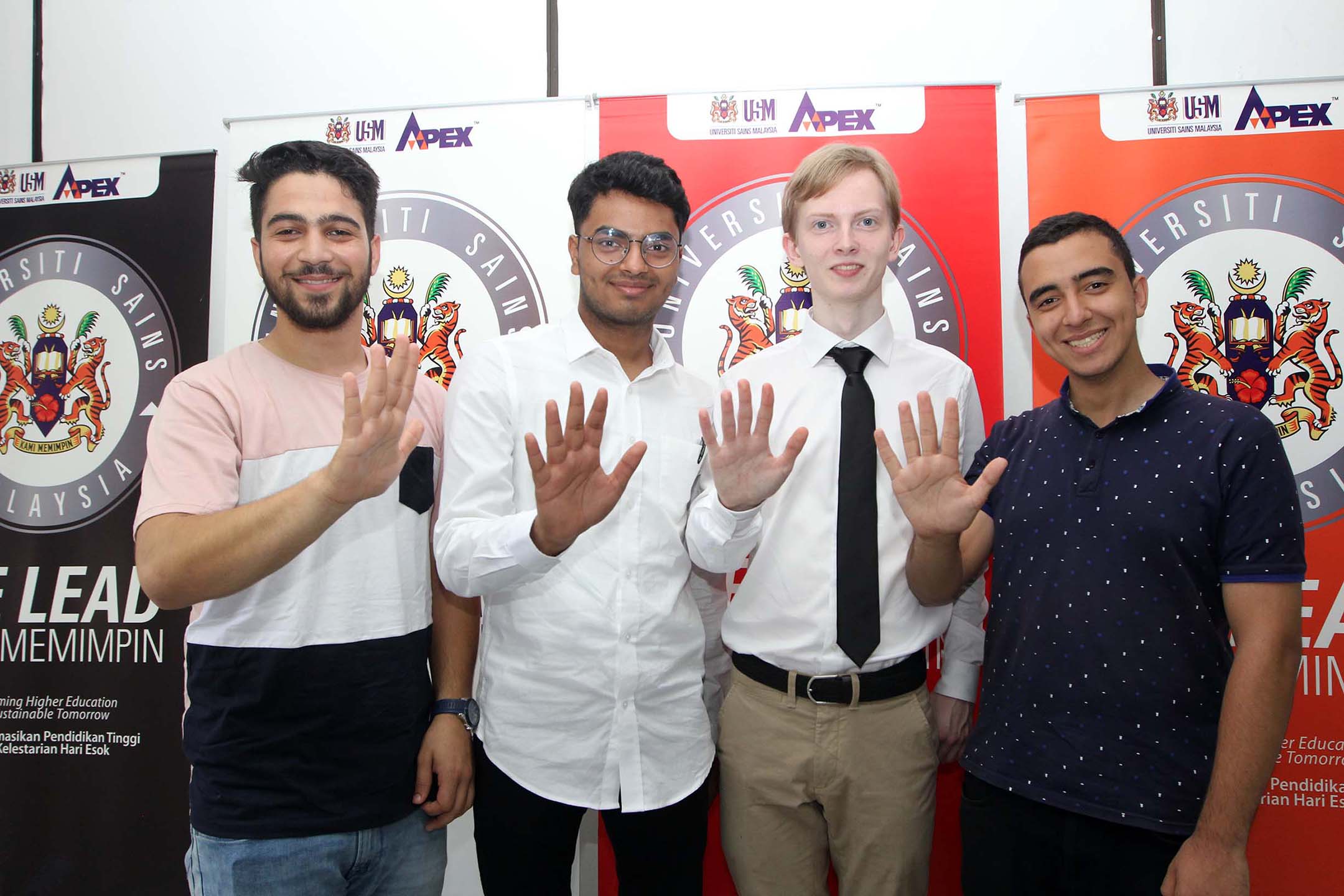 PENANG, 2 Sept 2019 - The unrest in Kashmir, India did not deter Arslan Mushtaq from leaving his beloved family and continuing his studies at Universiti Sains Malaysia (USM) in Penang.
He believes that God would oversee his family there, and he would get in touch with them as often as he could, even though they do not have access to a cell phone line or the internet, a land line being the only form of connection they rely on.
"I chose USM as I've heard about all the positive aspects of USM from my brother who studies here too, in addition to having an uncle who lectures at USM," said Arslan, who has enrolled for the English for Professionals course at the USM Main Campus.
For Max Aidan Mulhall-Biseth who hails from Norway, he is confident that his mother fully supports his choice to come to USM, as he has read and heard of personal experiences from his high school alumni members who have pursued their studies at USM.
"USM is among the top higher education institution in the world, with its many different fields of study," added Max Aidan.
"I purposely chose to continue my studies beyond the European countries to gather new and more challenging experiences, and having initially done some research on USM and Penang before applying for further studies here," said Max Aidan, 19, who has registered for Applied Mathematics studies at USM.

Although he needed to acclimatise himself to the Malaysian weather and environment, Max Aidan fully believes in his choice and would do his best in his studies.
"My mother also likes to challenge herself and she has travelled to many parts of the world at a young age, and I would like to follow her steps too," said Max Aidan further.

In addition to them, a student from Algeria, Taki Eddine Torki shared his experience being for the first time in Malaysia, especially in Penang, and felt that he was right in making the choice to study here.
"This country is rich in its beauty and greenery. Its people are also friendly and welcoming. The only slight challenge for me would be the spicy food. Maybe I need to adapt quickly to the different types of food so that I can enjoy them soon," he said.
Eddine would undergo his studies in the field of Computer Science, focusing on the option of Cyber Security.
Arslan, Max Aidan and Eddine are among the 237 international students from 38 countries who have registered at USM for the 2019/2020 Academic Session. Students coming from other nations include those from Egypt, Russia, Italy, Sri Lanka, Taiwan, Canada, China, Saudi Arabia, Indonesia, Bangladesh, Iran, Thailand and the United States of America.
They were introduced during the press conference on student admission, chaired by the USM Vice-Chancellor, Professor Datuk Dr. Asma Ismail.
For the record, a total of 4,684 candidates who have fulfilled their STPM/Matriculation/Foundation/Diploma/Equivalent requirements would register at the three USM Campuses for their undergraduate programmes (Full-time) for the 2019/2020 Academic Session. The breakdown of student enrolment numbers according to the campuses are 3,268 at the Main Campus, 754 at the Engineering Campus and 662 at the Health Campus.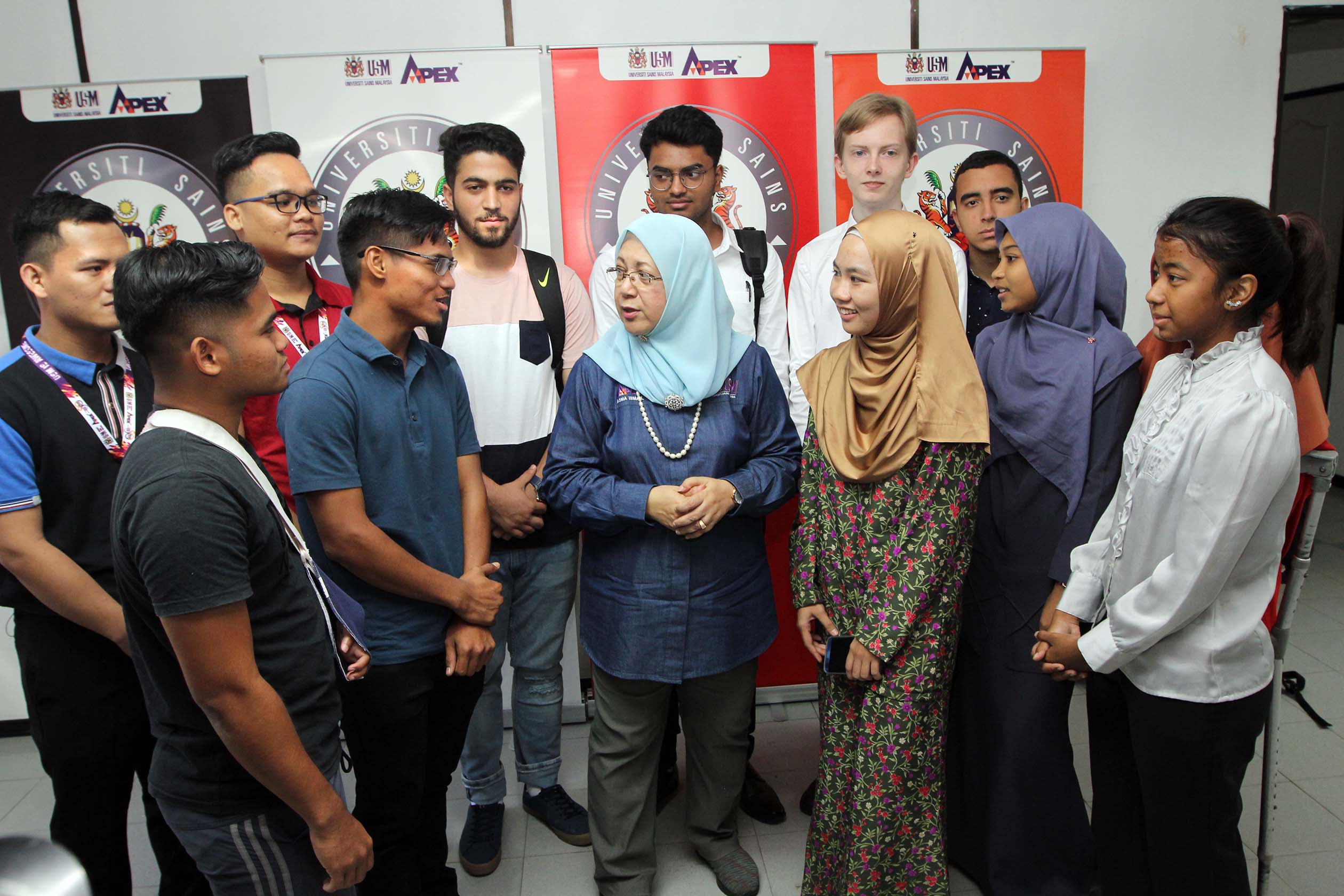 The numbers show an increase of 1.5% (69 students) compared to 2018. The latest new student intake showed that 68% are females and 32% are males.
Others present at the press conference include the Deputy Registrar, Media and Public Relations Centre, Izam Fairus Kamaruddin; Senior Deputy Registrar, Student Development Affairs and Alumni Division, Mohamad Abdullah; Director, Student Character Development Centre, Dr. Nazarudin Zainon and Head of Cahaya Gemilang Harapan Students' Residence, Mohd Shafie Ariffin.
Text: Nor Rafizah Md Zain & Marziana Mohamed Alias / Translated by: Mazlan Hanafi Basharudin