LET'S MAKE THE MOST OF USM 50th YEAR CELEBRATION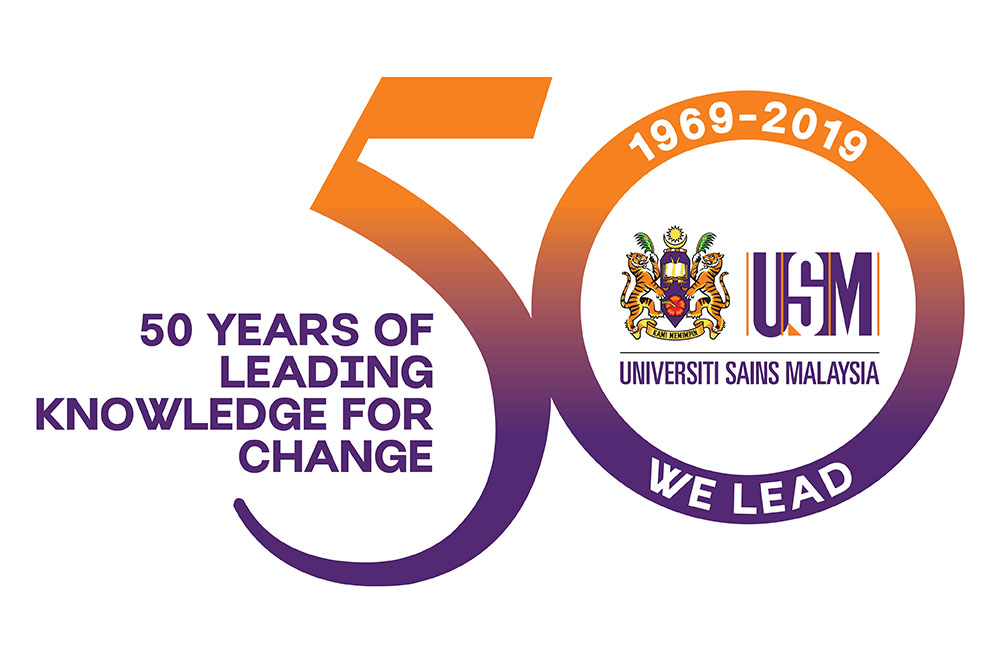 USM PENANG, August 2019 – When Penang was chosen by UNESCO as a World Heritage Site in July 2008, it brought excitement to Malaysians. Chosen together with Melaka, the selection brought pride and excitement to the locals especially, as they now have their very own cultural sites to be enlisted by UNESCO.
Universiti Sains Malaysia (USM), located in Penang, was selected in the same year (2008) to become the APEX university by the (then) Ministry of Higher Education. The APEX (Accelerated Programme for Excellence) status was an initiative by the Ministry, acknowledging the university's unique and far-reaching vision and mission in driving higher education further ahead.
Located within the vicinity of Georgetown, the capital of Penang, USM has just as much local history too. In an earlier talk on USM by Dato' Dr. Anwar Fazal, Director of the Sweden-based Right Livelihood College, he said that USM was established among other things to become a CHAMPION OF CELEBRATION.
Currently, there is a list of days throughout the year observed by the United Nations (UN). Known as International Days, they are celebrated to mark or highlight particular events or topics as effort by the UN to promote awareness and action. Among them are World Cancer Day (February 4), World Wildlife Day (March 3), International Day of Families (May 15), International Day of Friendship (July 30) and International Day of Peace (21 September).
You may be wondering why a 'science' university needs to celebrate (selectively, of course) such meaningful occasions or moments throughout the year. From his talk, Anwar explained that USM needs to REFLECT THE DIVERSITY OF SUBJECTS STUDIED, WHICH ARE CONDUCTED IN A SCIENTIFIC MANNER.
This would also highlight the fact USM highly values the diversity which are evident in the lives of its various communities and subjects studied.
USM since then has created many FIRSTS and pioneered many initiatives among institutions of higher learning from the time it was first set up until now. Such examples include the School of Distance Education (PPPJJ), Research and Education for Peace Unit (REPUSM), Centre for Research on Women and Gender (KANITA), volunteerism and social work to name a few.
Even the idea of setting up a second university in Penang prior to 1969 was truly welcomed by mostly everyone from all walks of life.
The late Tun Abdul Razak, Malaysia's 2nd Prime Minister, stated that education is most important in this country when referring to the second university.
They celebrated the idea of having another higher learning institution in the country; from the man on the street to reputable individuals and groups; even the University of Malaya alumni then.
That institution came to be known as USM. Penang, also known as the 'Pearl of the Orient', is the ideal location for USM, as it's a celebrated heritage site that welcomes and accommodates almost all aspects of the different cultures' myriad practices.
Ideally, as USM reaches its 50th year, it should be a microcosm of what Penang has to offer.
So, in that spirit of celebration, let us continue to rejoice and show our appreciation for who we are and what we have achieved as we arrive at this juncture.
Let's celebrate our past, our present and our future.
Let's make it a wonderful 50th year celebration.
And let's celebrate to 50 more years ahead.
Text: Mazlan Hanafi Basharudin