USM SIGNS MOU WITH SHIRAZ UNIVERSITY OF TECHNOLOGY, IRAN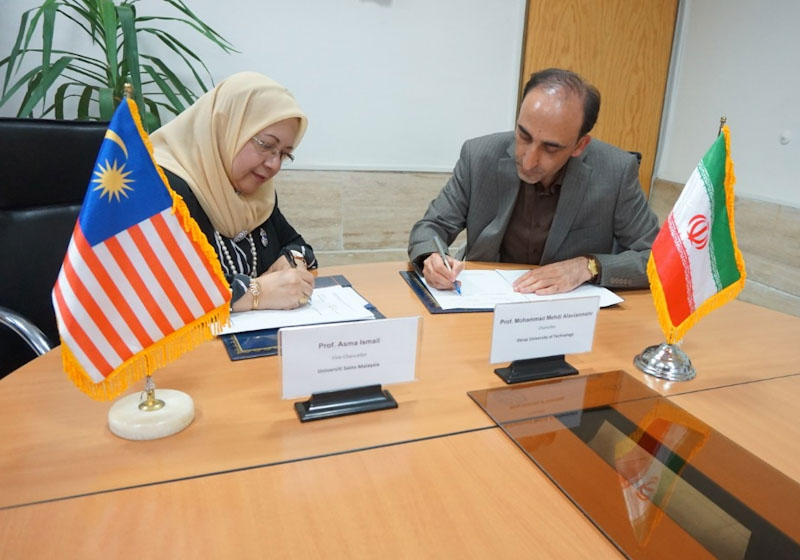 SHIRAZ, IRAN, 10 June 2019 – Universiti Sains Malaysia (USM) and Shiraz University of Technology have signed a Memorandum of Understanding (MoU) to establish and develop academic and research collaborations in science and technology, especially in engineering technology.
The MoU was signed by the USM Vice-Chancellor, Professor Datuk Dr. Asma Ismail and the Chancellor of Shiraz University of Technology, Professor M. M. Alavianmehr.
World-renowned researchers and academics in Engineering Technology from both USM and Shiraz University of Technology will work together in bridging the knowledge between both parties.
The final aim would be the creation and transfer of new knowledge and sharing of expertise in mutually-identified areas.
Asma believes that this partnership will yield outcomes that will further strengthen the ties not only between Malaysia and Iran, but also between the Organisation of Islamic Cooperation (OIC) that will ultimately contribute towards the betterment of humanity.
She also hoped that there will be more intensive exchange of lecturers and students between both sides, as USM continually looks forward to send students to Iran and receive more Iranian students in order to nurture and develop more 'Global Citizens' through its own 'One Student, One Passport' programme.
Asma would also be attending the first Islamic World Science Citation Centre (ISC) Executive Committee (EC) Members Meeting as well as the 2nd International Conference and 13th National Conference of Quality Assessment in University System in Shiraz, Iran from 11 until 13 June 2019.