SITI KHAYRIYYAH PROUD RECIPIENT OF NATIONAL YOUTH AWARD 2018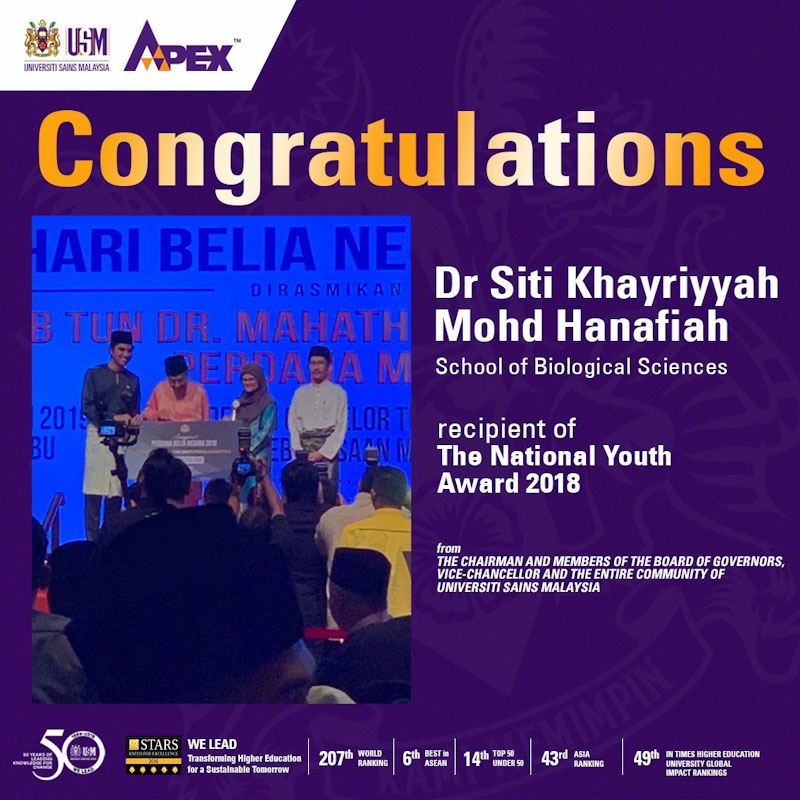 BANGI, 15 May 2019 – Dr. Siti Khayriyyah Mohd Hanafiah once again made Universiti Sains Malaysia (USM) proud when she was conferred the National Youth Award 2018 (special category) at the National Youth Day 2019 celebration at Dewan Canselor Tun Abdul Razak in Universiti Kebangsaan Malaysia (UKM) yesterday.
The USM School of Biological Sciences lecturer received the award for winning the 2018 FameLab International Championship and being named the World's Best Science Communicator through her research in the use of antibody antigens to diagnose tuberculosis.
She received her award from the Prime Minister Tun Dr. Mahathir Mohamad, which also came with a prize money of RM10,000.
Also present were Tun Dr. Siti Hasmah Mohd Ali, Youth and Sports Minister Syed Saddiq Syed Abdul Rahman and Malaysian Youth Council President Jufitri Johar.
When asked whether she has any advice for the youth today, Siti Khayriyyah has this to say: "Find something you like to do that you are good at (this means trying out or explore lots of new things, like me joining a competition because a friend suggested it!) and try to get better at it.
"Don't let anyone else determine your self-worth and never forget how worthy you are. As long as you are here and you can breathe, it is an opportunity – so seize it and make the best of it.
"Find things to be grateful for and try not to waste anything. Believe that God is always watching you and watching out for you," she added.
And, on who inspired her most, she said, "Throughout my young adulthood, I observed my widowed mother raised five children and do amazing things in the everyday battle, even when the odds were against her because she is the most determined person I know."
"Whenever I felt like people looked down on me because of my gender or appearance, I used it to my advantage to motivate me to do my best and surprise them by being more than what they thought of me.
"I hope more Malaysian youths can strive to seize if not create opportunities; aim to do their best even when the odds are against them," she concluded.
Text: Tan Ewe Hoe