APUCEN ADVOCATES IMPACTFUL AND SUSTAINABLE GLOBAL ENGAGEMENT THROUGH UNIVERSITY-COMMUNITY PARTNERSHIP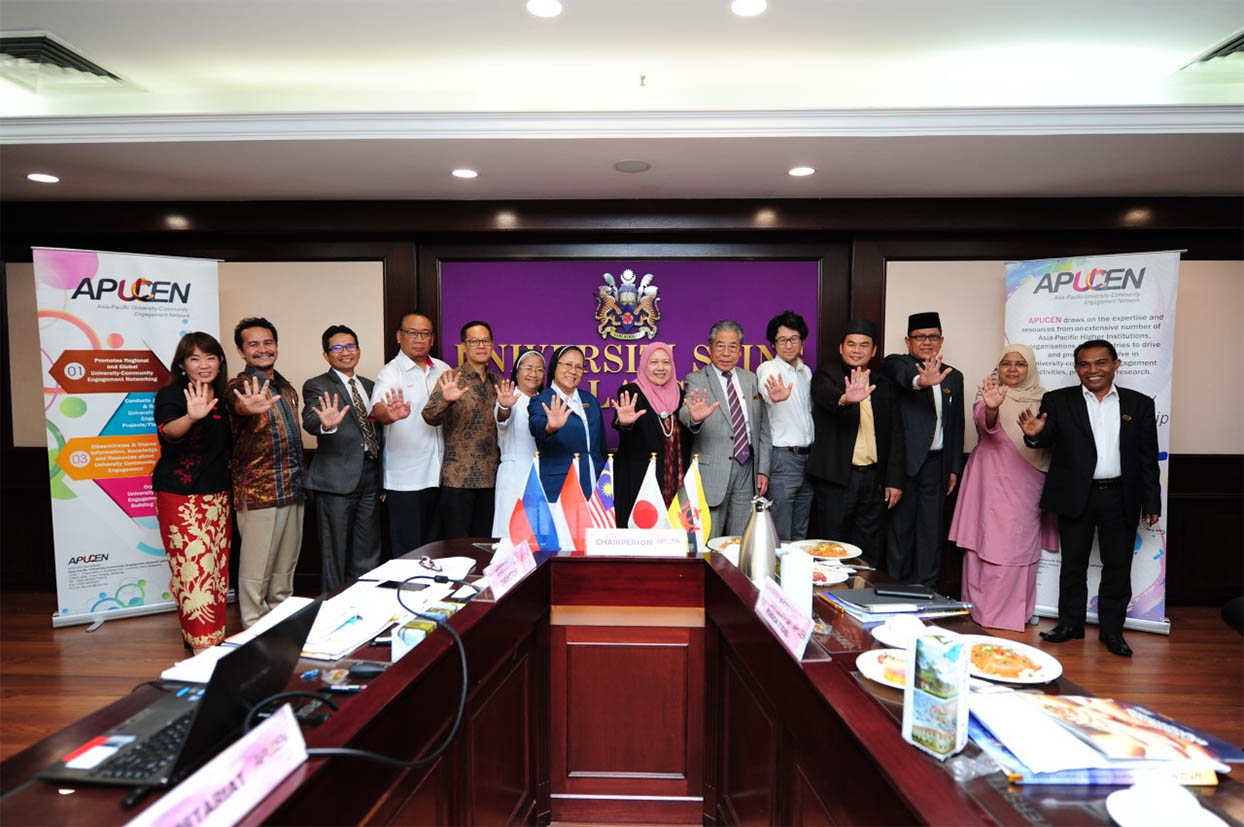 USM, PENANG, 3 May 2019 – The Regional Council of the Asia-Pacific University-Community Engagement Network (APUCEN) is committed towards creating a better future through global community engagement.
The President of APUCEN, who is also the Vice-Chancellor of Universiti Sains Malaysia (USM), Professor Datuk Dr. Asma Ismail said, today's challenges on disruptive changes can be solved through community engagement partnership between members from different countries.
"I strongly believe that the combined strength of all APUCEN members will be able to create a future generation with inter-cultural competence and the mindset of moving towards impactful and sustainable global engagement to solve global issues.
Asma said, APUCEN believes strongly in "unity in diversity and celebrating our differences towards the same goal".
"Hence, through trust and trustworthiness, APUCEN is able to create inter-cultural competency and collaboration among members through community engagement without losing the national identity of each country involved," she added at the 14th Regional APUCEN Council meeting here, which was attended by 10 of its 14 Council members.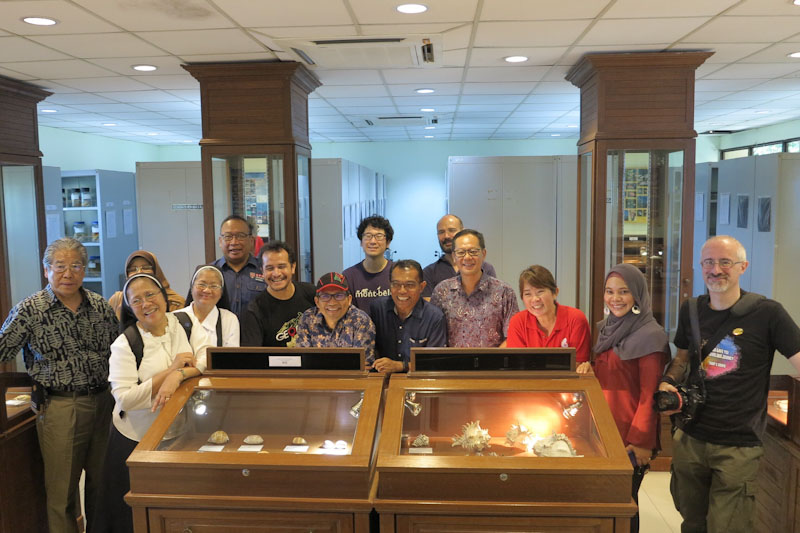 Asma, who chaired the meeting said, APUCEN will work closely with all member institutions, NGOs and corporate members, and it is all about "us" together in moving the Global Engagement Agenda, where each university having a unique strength would now come together as one entity.
"It is all about inculcating values such as unity, global mindedness and global citizenship. Working together as one provides opportunity to marry science and arts, creating a global community engagement that is impactful and sustainable, addressing many of the UN Sustainable Development Goals (SDGs).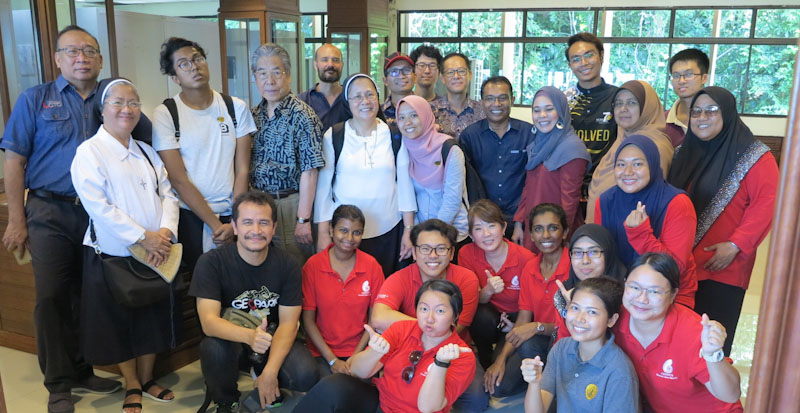 "Through the combined efforts from different institutions and countries, APUCEN is moving towards sustainable solutions for global problems," Asma emphasised.
The other important matter raised was APUCEN's support for Experiential Learning and Volunteerism, where students will play a more significant role in making changes in selected communities through the guidance from their supervisors. The future is all about flexibility, adaptability and being agile in responding to changes.
The meeting was attended by representatives from Universiti Sains Malaysia (USM), Universiti Putra Malaysia (UPM), Universiti Sains Islam Malaysia (USIM), Universiti Utara Malaysia (UUM), Kyoto University of Foreign Studies (Japan), Universitas Pendidikan Indonesia, Universitas Andalas, Universitas Surabaya (Indonesia), Kolej Universiti Perguruan Ugama Seri Begawan (Brunei Darussalam) and San Pedro College (Philippines).
APUCEN has been moving actively and had conducted community engagement projects both nationally and internationally with its members since 2011.
Following that, Asma expressed her sincere thanks and congratulations to all the institutions and members involved in all these projects, serving either as leaders or partners in the projects.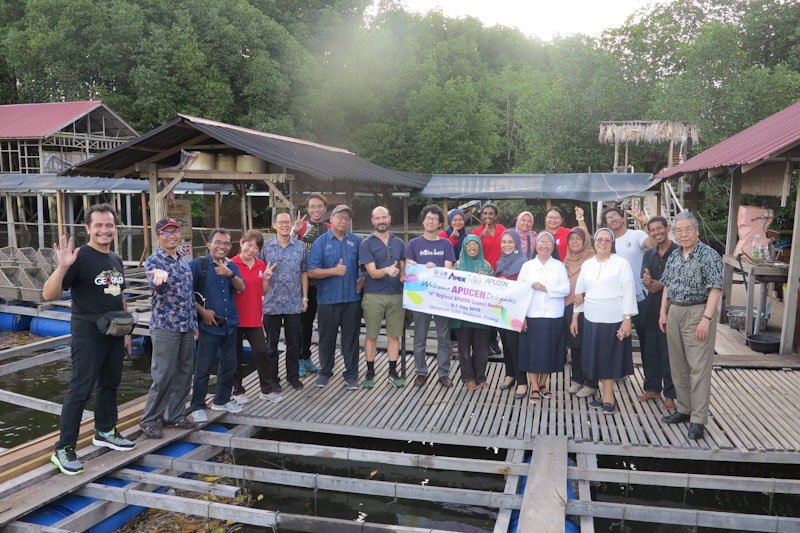 "This is the spirit of APUCEN in moving forward together through partnerships," she concluded.
APUCEN now has 96 members from 20 countries, expanding beyond the Asia-Pacific region. This is a reflection that APUCEN has grown from strength to strength, partnering with institutions focusing at similar aims and interests.
APUCEN is actively encouraging more corporate sectors as well as NGOs to be members, aiming to work together to conduct Corporate Social Responsibility (CSR) exercises.
In conjunction with USM's 50th Anniversary and USM's commitment for a sustainable tomorrow, all APUCEN members were treated to a site visit of the Centre for Marine & Coastal Studies (CEMACS), the oldest marine centre in the nation, which is committed in its research to be in-line with the UN Sustainable Development Goals (SDGs), as well as applying research findings to community needs.
APUCEN Executive Director and also CEMACS Director, Professor Dato' Dr. Aileen Tan Shau Hwai said, the Council members had the opportunity to understand how science can be translated to the community when they visited the community oyster-farming site at Sungai Merbok, Kedah.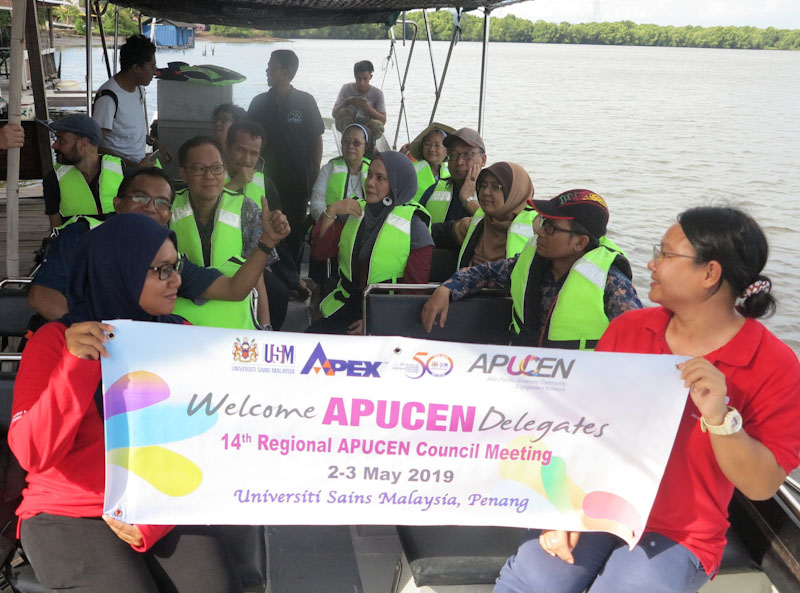 "They were able to witness how science can transform and make changes in the community's lives, and it is all about trust and trustworthiness between the university and the community," added Aileen Tan, a renowned marine biologist.
Original text: Professor Dato' Dr. Aileen Tan Shau Hwai/Editing: Tan Ewe Hoe