ARCHITECTURE AND CIVIL ENGINEERING STUDENTS COMBINE TO WIN RM15,000 IN NATIONAL DESIGN COMPETITION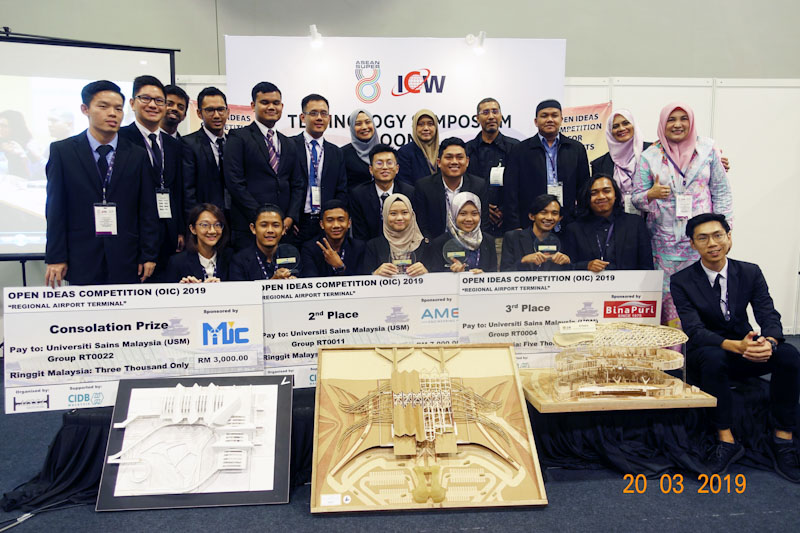 PENANG, 30 March 2019 – Universiti Sains Malaysia (USM) students took home RM15,000 when they bagged three top prizes in the prestigious jointly organised Malaysian Structural Steel Association (MSSA)-Construction Industry Development Board (CIDB) Open Ideas Competition (OIC) 2019.
The smart partnership this year once again saw the students from USM School of Housing, Building and Planning (HBP) and School of Civil Engineering (CE) winning the 2nd Prize (RM7,000), 3rd Prize (RM5,000) and Consolation Prize (RM3,000) in the MSSA-CIDB OIC with the theme 'Regional Airport Terminal Design.'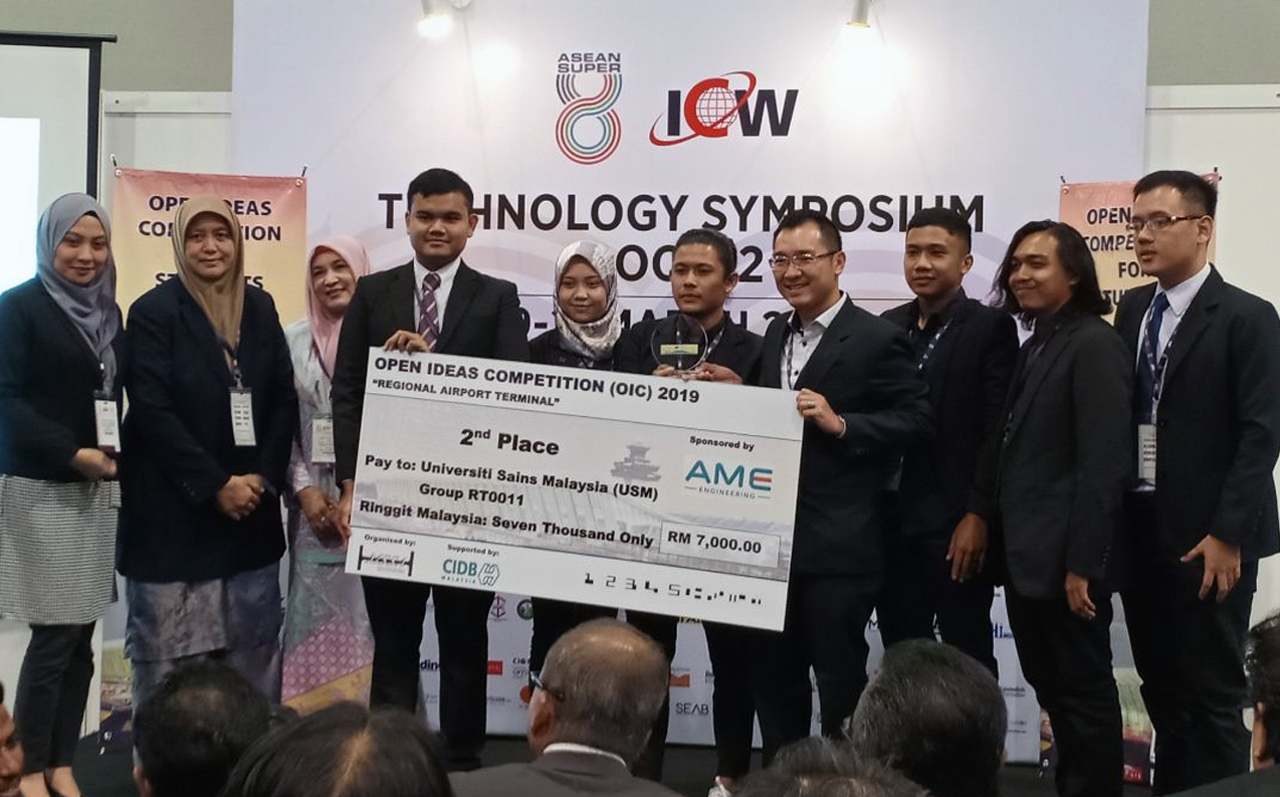 The USM team that won the 2nd Prize was led by Azuary Asyraaf Abdullah as the group leader, Mohd Pirdaus Beddu, Muhammad Haikal Abdul Hamid, Nur Afiqah Azmi from HBP and Muhammad Khuzaimi Aziz with Ho Kar Meng from CE. The team was co-supervised by Farhana Mohd Razif (architecture) and Associate Professor Dr. Fatimah Denan (civil engineering).

Another USM group won the 3rd Prize, led by Lee Jing Yang Justin with Muhamad Azwan Marzuki, Siti Khadirah Abdul Kadir and Muhamad Hisham Zainal Aznam from HBP, as well as Lio Shu Ni and Tng Kah Lok from CE. The supervisors were Dr. Mazran Ismail (architecture) and Associate Professor Dr. Fatimah Denan (civil engineering).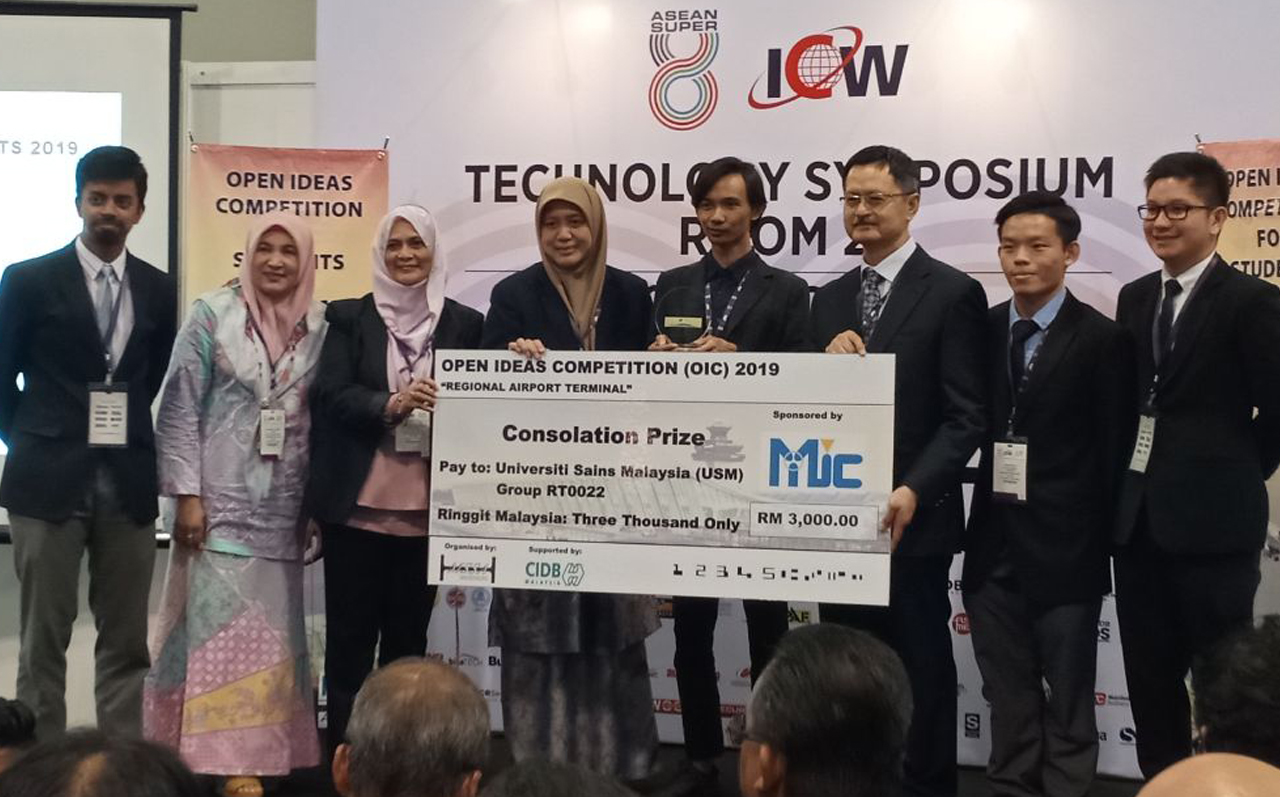 While the consolation prize went to the team made up of Mohd Nazli Karamazaman from HBP (team leader) along with Brahmayudan Thirunavukarasu, Lee Choon Wei and Phoon Kok Kin from CE. The architecture supervisor for this group was Assoc. Professor. Dr. Muna Hanim Abdul Samad while its civil engineering supervisor was Associate Professor Dr. Fatimah Denan.
All main prize winners received their prizes from the Director-General of Public Works Department Malaysia (JKR), Dato' Sri Ir. Dr.Roslan Md.Taha who is also the President of MSSA, at the prize-giving ceremony held at the Malaysia International Trade and Exhibition Centre (MITEC), Kuala Lumpur on 20 March 2019.

This year's USM win was also due to the strong support from the Deans of both Schools, namely Associate Professor Ir. Dr. Abdul Naser Abdul Ghani (HBP) and Professor Dr. Taksiah A. Majid (CE).
The MSSA-CIDB OIC 2019, which is in its 12th year running, is the only design competition in Malaysia that combines students in the fields of architecture and civil engineering as participating teams.
A total of 335 students forming 55 groups from 12 universities all over the country took part in this year's competition.
This competition offered a platform for the architecture and civil engineering students to work together in building design competition, where the goal of the design strategies was geared towards modernisation with regards to sustainability, constructive ability and functionality in employing steel as the main structural and finishing material.

The collaborative effort between the two disciplines has helped students notice that building design neither lies within the individual jurisdiction of the architect nor the civil engineer separately. Instead, by working together, they can enhance both architectural fascination and structural manifestation to the maximum.
Notably, the competition has also helped to bridge the gap between the training of architecture and civil engineering communities and has encouraged multidisciplinary collaboration.
Fatimah, who was also the USM representative in the MSSA-CIDB OIC 2019 Organising Committee and MSSA Education Committee, hopes that the strong cooperation between the School of HBP and School of CE will be maintained to ensure that USM would continue to excel in the upcoming competition in 2020.
Original text: Associate Professor Dr. Fatimah Denan/Editing: Tan Ewe Hoe