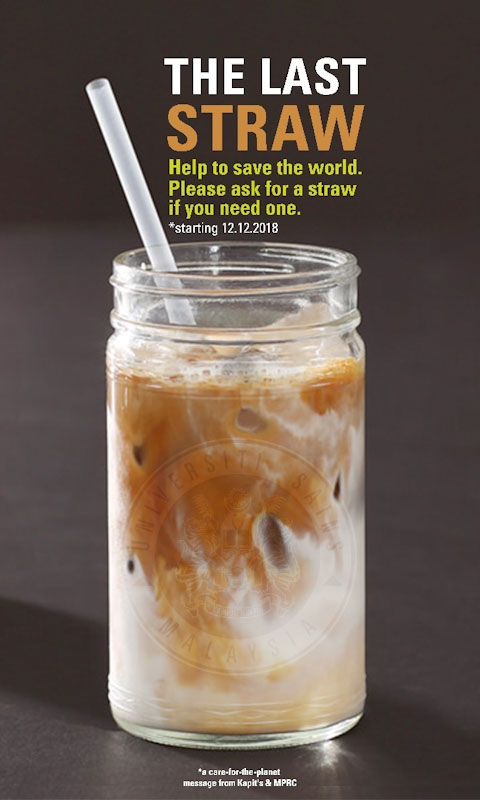 Plastic has now become a 'necessary evil' in many modern societies.
Plastic in general has been utilised more as a single-use item, in the form of straws, bags and for packaging purposes, which would then be discarded as rubbish once it has served its purpose.
It is how we dispose the plastic amongst the rubbish that is causing worry to many environment activists nowadays. More so when the plastic that is thrown away would break into smaller bits and pieces.
Director of Universiti Sains Malaysia (USM) Centre for Marine and Coastal Studies (CEMACS), Professor Dato' Dr. Aileen Tan Shau Hwai said that "we are now eating plastic, without us actually knowing."
She also stated the probable fact that by 2050, there would be more plastic in the water than fish.
"Plastic thrown away as rubbish would usually end up in landfills. Plastic is non-degradable, and it would remain as it is for a long period of time. From the landfills, bits and pieces of plastic would be compacted and would remain in the ground for a long time and releasing toxic elements.
"Other plastics thrown indiscriminately would end up in rivers and oceans, where they would either clog the waterways or swallowed (mistaken as food) by marine life. When marine life such as fish is consumed by man, plastic (along with its toxic contents) will make its way into our stomachs," said Aileen Tan.
However, foregoing the use of plastic is not as easy as snapping our fingers. Plastic provides the convenience in many aspects of our lives since it was invented in 1907. Plastic, which originally meant 'pliable and easily shaped', started to replace clay and glass as the favoured material to be moulded into many different forms and shapes, and which could be used in many practical ways.
Professor Dr. Sudesh Kumar, the RIKEN1 Programme Coordinator at USM pointed out that 'plastic (within the above context) is a very useful material and you can make almost anything using plastic.'
"One way to solve the problem of plastic polluting our environment would be to produce a more environment-friendly plastic," he further suggested.
Sudesh is working on his research with partners from Japan in synthesizing this new type of plastic with enzymes that would provide the plastic with improved properties.
He hopes to produce biodegradable plastic, which in turn could be made into everyday items, which is more environment-friendly and which society could continue to use.
Maybe by then, this new type of plastic would no longer be seen as 'evil'.
Text: Mazlan Hanafi Basharudin