USM EMERGED VICTORIOUS AT ROBOCON MALAYSIA 2019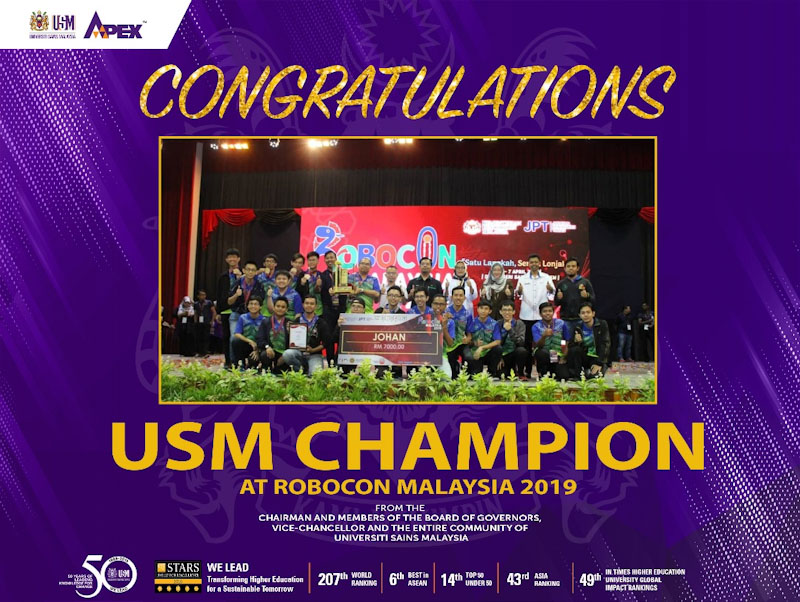 BANGI, 7 April 2019 – 21 Engineering students from Universiti Sains Malaysia (USM) emerged victorious at the Robocon Malaysia 2019, beating their 'arch rival' Universiti Teknologi Malaysia (UTM) in the competition which was held from 5 - 7 April 2019 at the Dewan Seri Sarjana, Universiti Tenaga National (UNITEN) here.
They welcomed the win as the perfect gift for USM as the university celebrates its 50th anniversary this year.
They took home a trophy, gold medal and cash prize totalling RM7,000.
USM would represent the country at the World Competition in Mongolia this coming August.
Their entry was themed 'Great Urtuu - Sharing the Knowledge'. The exact theme would be used in the upcoming world competition.
"We would surely work harder to enhance the quality of our robot at the international competition and we hope to bring glory to the nation in the competition," said the USM Team Manager, Dr. Anwar Hasni Abu Hassan.
According to him, the main objective of the competition was to impart knowledge among the universities in Malaysia on the fabrication of robots and which could bring about the competitive edge and raise the production standards of robots in the country.
Robocon Malaysia 2019 was organised by the Ministry of Education Malaysia in collaboration with the International Islamic University Malaysia (IIUM), attracting participation from 34 universities with the theme 'Satu Langkah, Seribu Lonjakan' (One Step, A Thousand Leaps).

Congratulations USM.
Translation: Mazlan Hanafi Basharudin