WHAT MALAYSIA WOULD BE LIKE: WHEN DRIVING MEANS FLYING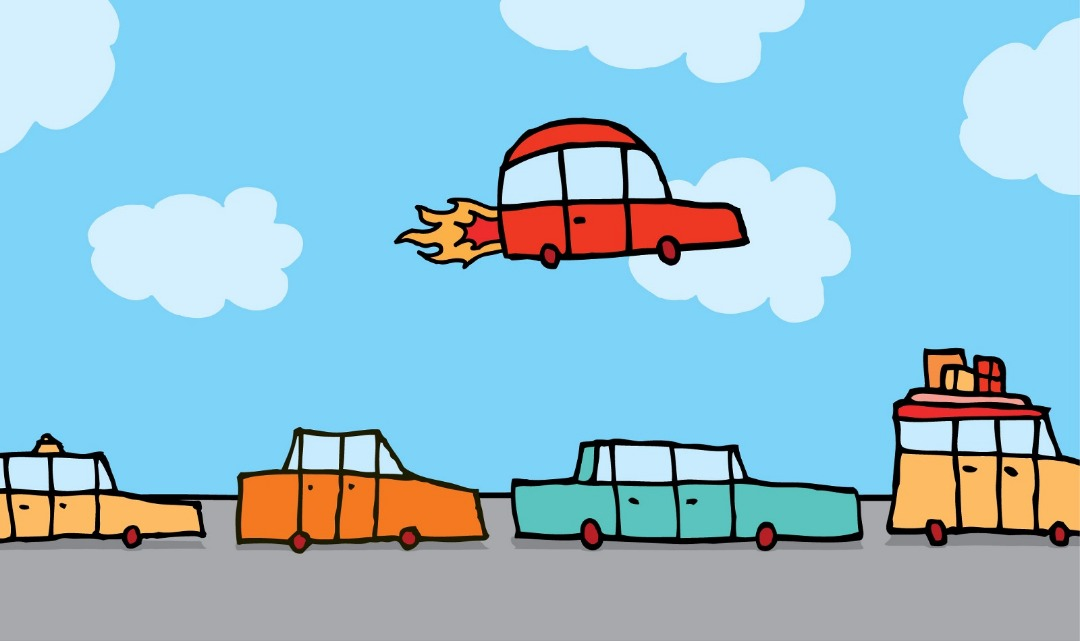 "Now Everyone Can Fly." That would be the case if you're taking AirAsia, a Malaysian low-cost airline which is now widely-known as the world's best, making it the choice of many frequent air travellers.
However, flying is not for everyone.
It's understandable if you are going on a flight, faced with the hassle of check-ins, delays and ensuring that your luggage makes it onboard with you. Becoming airborne has always been a nightmare for those who are afraid of heights, or also from the fact that there's no safety net provided for the aircraft in case of emergencies in mid-air.
A recent announcement made by a Minister has made many people wondering on the feasibility of the project. In February this year, Entrepreneur Development Minister, Mohd Redzuan Yusof said that an initiative utilising local technology to produce the country's first- ever flying car will be announced soon. He said that the project is aimed at developing and utilising the technology already available in the aerospace, drone, unmanned aerial vehicle (UAV) and automotive sectors.
Prior to this, an announcement was made by the Malaysian Prime Minister, Tun Dr. Mahathir Mohamad in August 2018, whereby the country will have its third national car project, set to be launched in 2020.
So, amidst the excitement, worry and confusion on whether each household should have a flying car, we sought the opinions of a few individuals on the matter.
Professor Dr. Sivamurugan Pandian from USM School of Social Sciences said that "I don't think we are ready for flying cars. The disparities between the masses in the stratification of society are getting wider especially between the lower, middle and upper classes. Rather than focusing on a project which will only benefit a few, the policy-makers may want to prioritise their focus to uplift and reduce the gap in order to improve the well-being of the society."
Another USM academic, Professor Ir. Dr. Md Azlin Md Said from the School of Civil Engineering stated that there are several issues that would need further considerations. Such issues would be on the type of propulsion system to be used, the control systems, aerodynamics, propellants and so on. Other related issues include regulating the safety standards, airworthiness and the legal aspects, he stated in his email.
The Ford Motor Company has a rich heritage in large-scale automobile production and management. The founder of Ford Motor Company, Henry Ford is commonly-known in automobile history for introducing the assembly line technique for the mass production of cars.

Historical archives have shown that Mr. Ford had also tried predicting the future. He said, "Mark my words: a combination motorcar and airplane is coming. You may smile, but it will come."

Ford predicted that in the future, 'aerocars' would be a common sight. He went ahead by acquiring an airplane company which later designed the Ford Tri-Motor transport plane. Ford then selected an engineer to design a flying car, known as Ford Flivver. He also picked a test pilot to test the Flivver for the next two years.
Short distance test runs were successful, but a tragic accident due to a technical fault in a long-range attempt stopped the project. The Economic Depression and competition in the automotive industry later buried the promise by Ford to make us all pilots for good.
Piloting your very own vehicle may one day be a dream come true. Reliving scenes of the flying DeLorean from 'Back to the Future' or Luke Skywalker's Landspeeder from 'Star Wars' would turn auto and tech geeks into insomniacs.
Turning the dream itself into reality of course is another matter altogether. You can dream as high as you can, but the dream needs to be grounded in reality too. Until then, keep looking at the stars.
Text: Mazlan Hanafi Basharudin