EYE-ING THE FUTURE WITH NEUROSCIENCE KNOWLEDGE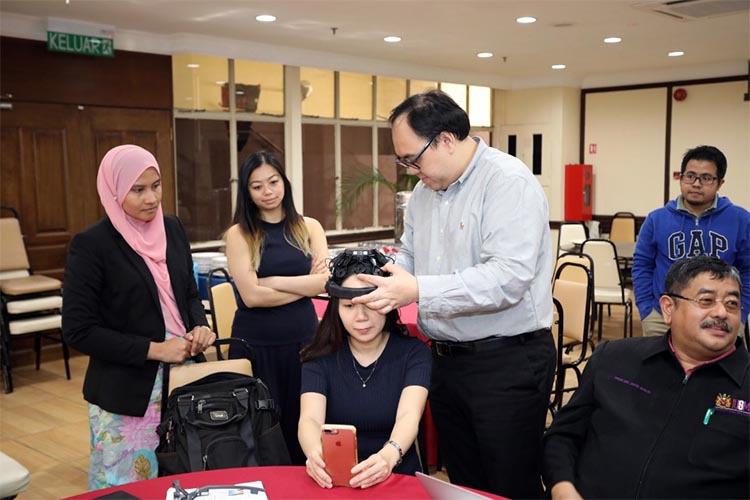 PENANG, 7 March 2019 – A painting by Leonardo Da Vinci was sold a few years ago in an auction by Christie's New York at $450 million, three times the price of a Picasso in 2015.
'Beauty is in the eye of the beholder,' so goes the saying. Let's imagine and think; what if painters nowadays have the means to predict what is seen as beautiful in the eyes of art-lovers around the world. It could inspire or guide them to create artwork that would be sure-fire hits to art aficionados everywhere.
Now at Universiti Sains Malaysia (USM), we have the means to do so.
Tun Mahathir once pointed out in a meeting, that in facing Industry 4.0, Malaysia needs to have strong foundation in knowledge and skills on several types of technology. They are digital technology, green technology, nanotechnology, neurotechnology and biotechnology.
In heeding this call, USM through the Department of Neurosciences at the School of Medical Sciences has introduced the Master of Cognitive Neuroscience programme, which commenced in September last year at the USM KL branch campus. It is the first programme of its kind to be offered at a public university, integrating aspects of the Arts and Sciences.
Led by Professor Dato' Dr. Jafri Malin Abdullah, a Professor in Neurosciences and Senior Consultant Neurosurgeon, a team comprising academicians from a broad range of fields have started to explore and expand the future of neuroscience further.
Jafri Malin said that the programme hopes to provide value-driven knowledge, which would have a bright future in the country and abroad.
"The knowledge would be useful in the future, for jobs which have no name yet," he added.
Text: Mazlan Hanafi Basharudin