USM INKS MOU WITH AGILENT TO DEVELOP GROUNDBREAKING TECHNOLOGY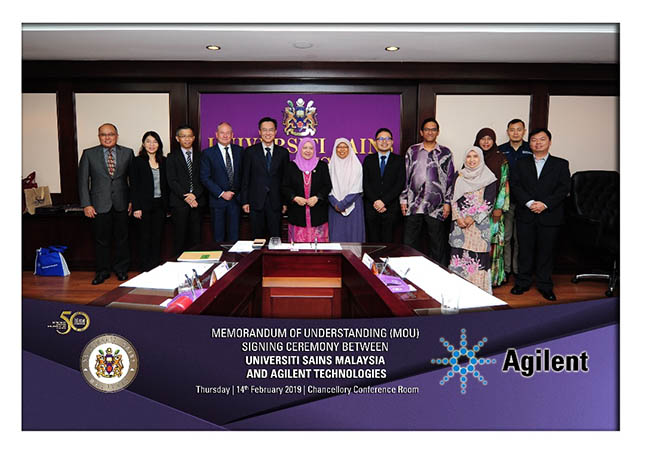 USM, PENANG, 14 January 2019 – Universiti Sains Malaysia (USM) and Agilent Technologies Sales (M) Sdn. Bhd. have agreed to partner on developing the integrated three-dimensional gas chromatography-mass spectrometry (3D-GCMS) technologies for metabolomics research applications in the country.
The USM Vice-Chancellor, Professor Datuk Dr. Asma Ismail stated in her speech that the future is about the convergence of technology and technology-sharing.
"The 3D-GCMS project, reportedly being the only one available outside of the USA and Australia, is estimated to be valued at RM1 million," she said at the Memorandum of Understanding (MoU) signing ceremony between both parties, held here today.
The key person of the project is Dr. Wong Yong Foo, a senior lecturer at the School of Chemical Sciences USM.
"It is a project that could assist in a wide range of research at the molecular level, from narrowing further the causes of cancer to whether certain types of food are HALAL-compliant," he said.
Wong added, applications in other fields include oil and gas, forensics, archaeology, food safety/security/authenticity, life sciences, and biomedical research.
Prior to that, the Academia & Collaborations Manager, South East Asia Laboratory Solutions Sales of Agilent Technologies, Robin Philp said the signing of the MoU would establish the starting point of the 3D-GCMS project.
"Such collaboration can greatly accelerate innovation and the signing of this MoU is a good example of academia and industry coming together to develop something with global applicability," he added.
Agilent Country General Manager, Chai Meng Fee then added that the project would have large social benefits, with the aim of producing research outcomes towards making a better world.
With the signing of the MoU, Asma also thanked Agilent for the recognition and entrusting USM to develop the MGCS technology.
"Agilent would be providing USM with the core system. The long term plan would be for USM to spread the use of the technology and its benefits to other parties in the future," she added.
Also present were the USM Deputy Vice-Chancellor Research and Innovation, Professor Ir. Dr. Abdul Rahman Mohamed; Dean of USM School of Chemical Sciences, Professor Dr. Rohana Adnan; Director of USM Research Creativity and Management Office (RCMO), Professor Dr. Lee Keat Teong; Professor Dr. Afidah Abdul Rahim; the Deputy Deans of USM School of Chemical Sciences as well as key Agilent and university officials.
Text: Mazlan Hanafi Basharudin