USM, IPB SIGN MOU TO ESTABLISH INTEGRATED MARINE ENVIRONMENTAL MONITORING SYSTEM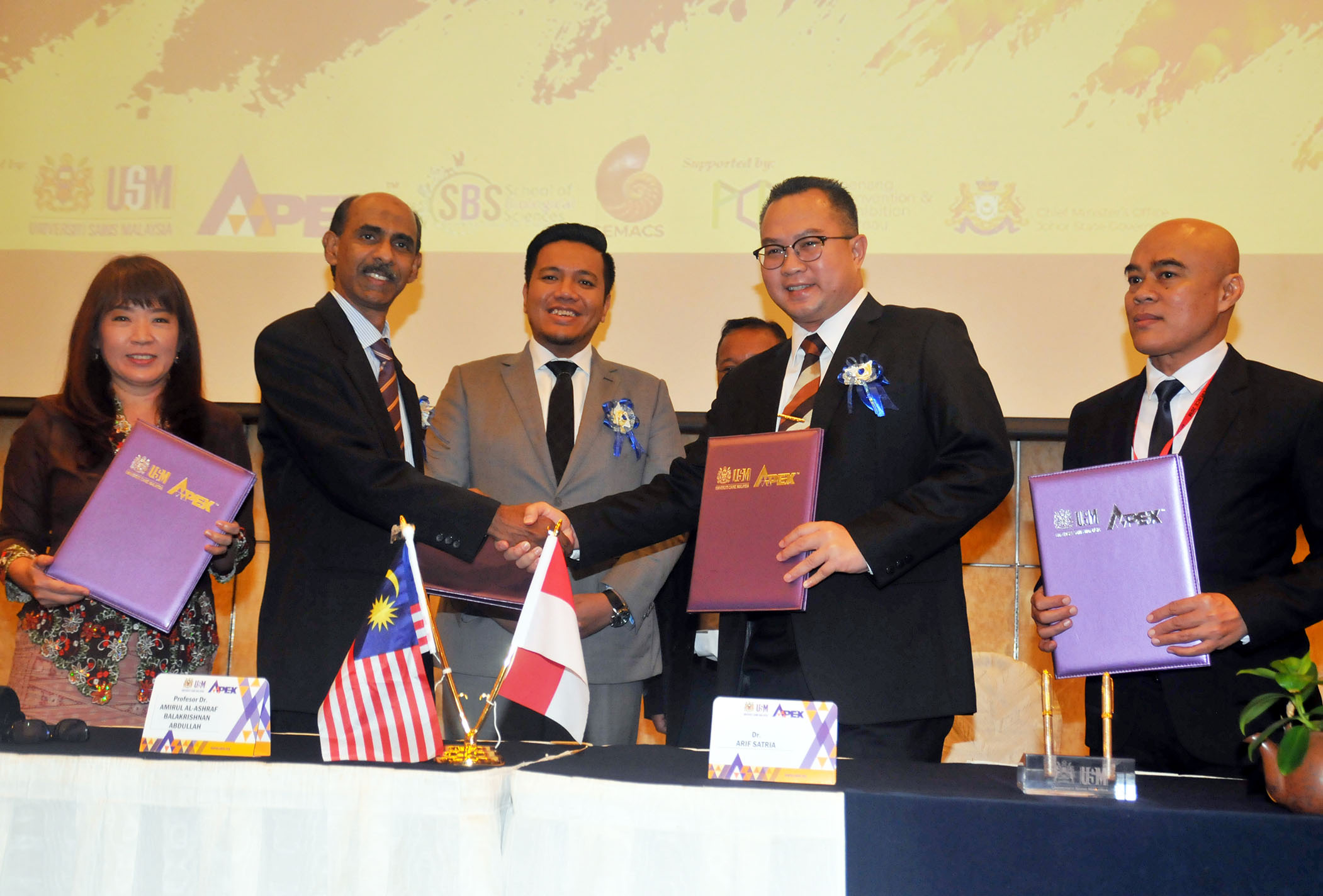 PENANG, December 2018 – Universiti Sains Malaysia (USM) and Bogor Agricultural University (IPB), Indonesia have signed a Memorandum of Understanding (MoU) to establish an integrated marine environmental monitoring system to help boost the regional and local aquaculture and tourism industries.

The USM School of Biological Sciences Dean, Professor Dr. Amirul Al-Ashraf Abdullah said, via the MoU, the two institutions aimed to create a more efficient and effective monitoring system to gain a better understanding of the marine environment and to replace the current traditional approaches to marine environmental monitoring which were deemed expensive, slow and relatively inaccurate.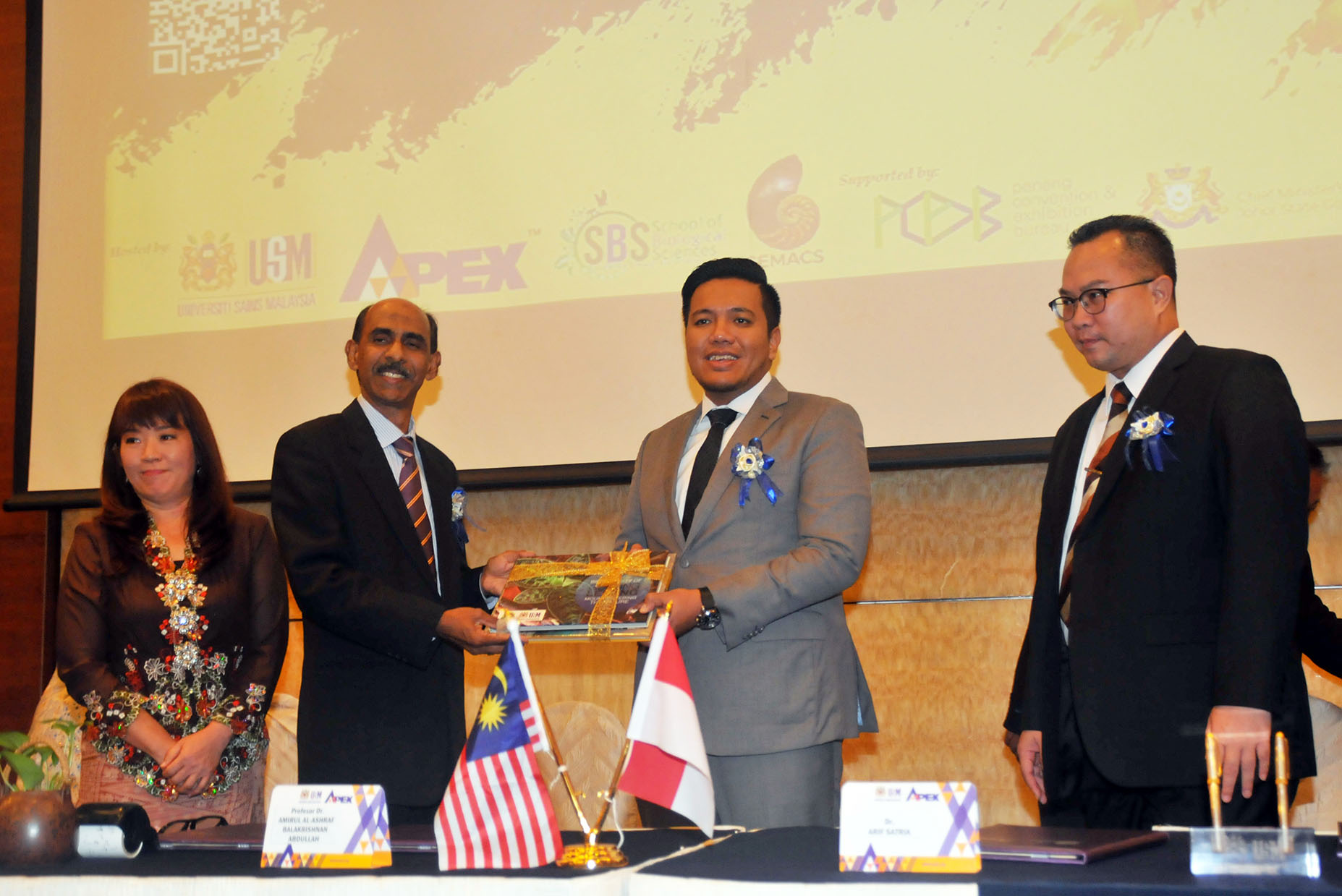 "This agreement is also timely and is very much in line with the National Policy on Industry 4.0 known as Industry4WRD that was launched by Prime Minister Tun Dr. Mahathir Mohamad recently as a call to the manufacturing sector and its related services to embrace Industry 4.0," said Amirul in representing the USM Vice-Chancellor at the signing ceremony, which was held in conjunction with the opening ceremony of the 11th Indonesia-Malaysia-Thailand Growth Triangle University Network (IMT-GT UNINET) Conference 2018, held here recently.

Representing USM were Amirul and the Centre for Marine and Coastal Studies (CEMACS) Director, Professor Dato' Dr Aileen Tan Shau Hwai, while IPB were represented by its Rector, Dr. Arif Satria and its Centre for Coastal and Marine Resource Studies (CCMRS) Director, Dr. Ario Damar.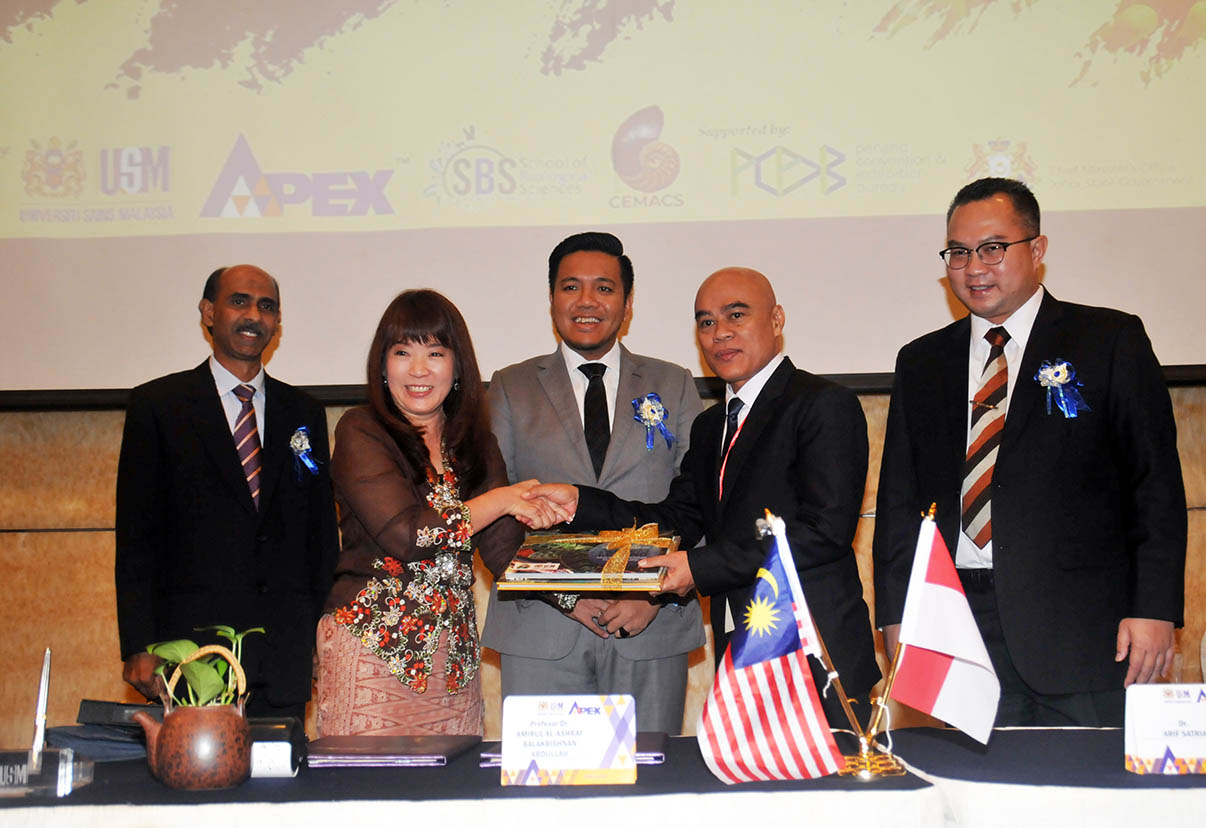 It was witnessed by the Penang Agriculture, Agro-based Industries, Rural Development and Health Committee chairman, Dr. Afif Bahardin.

Meanwhile, Arif said they hope to empower the fishermen through improved skills and knowledge, innovation and technology to enhance their productivity and efficiency for the aquaculture and fishery sector as well as to sustain the marine ecosystems, especially in this region.

"This is in line with IPB's mission, being one of the oldest public higher learning institutions in Indonesia (1963), to become a foremost techno-socio entrepreneurial university in partnership with prestigious universities in this region such as USM, in providing excellent higher education in tropical agriculture, marine and biosciences," he added.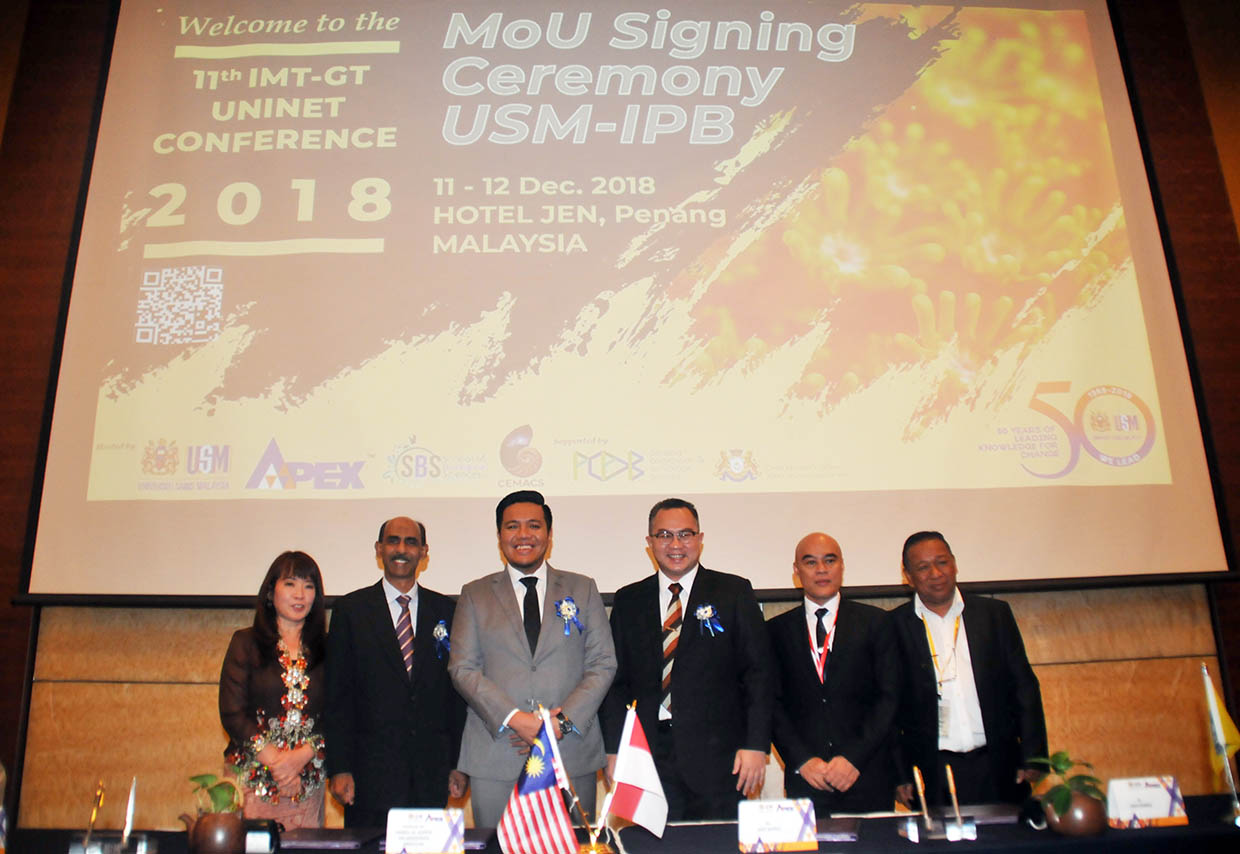 Earlier, Dr. Afif Bahardin officiated the opening ceremony of the 11th IMT-GT UNINET Conference 2018, hosted by USM School of Biological Sciences in collaboration with CEMACS and its strategic partners, Prince of Songkla University, Thailand; Universitas Utara Sumatera, Indonesia and IPB.

The conference, with the theme 'Bioscience for A Sustainable Future,' served as a good platform for the participating universities in the IMT-GT region to address the various challenges and advancements in the field of biological sciences in sustainable development to meet the needs of the present without compromising on the well-being of the future generation.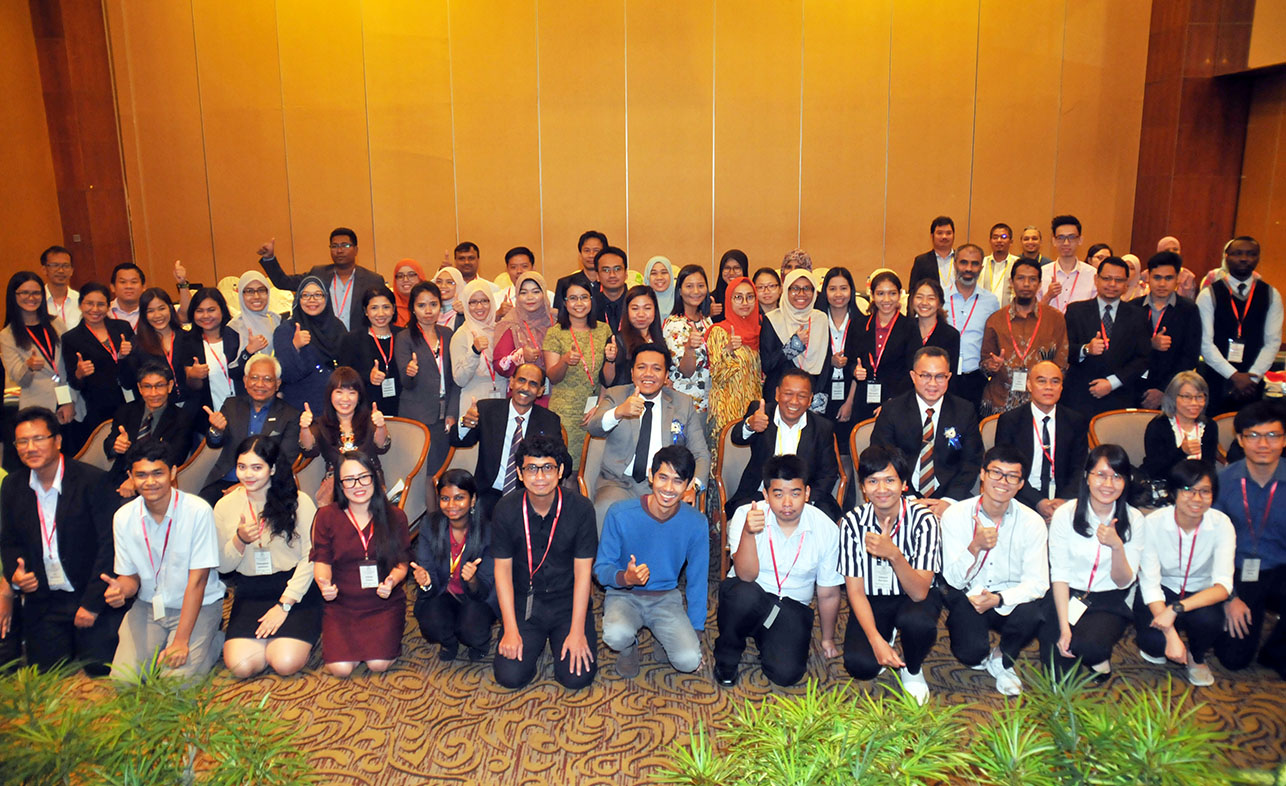 Among those present were the IMT-GT UNINET Conference 2018 Chairperson, Professor Dr. Zulfigar Yasin from the USM School of Biological Sciences as well as the keynote and plenary speakers.
Text: Tan Ewe Hoe