IPPTN AMONG THE FIRST TO BE RECOGNISED AS ATLAS.TI CERTIFIED TRAINING ORGANIZATION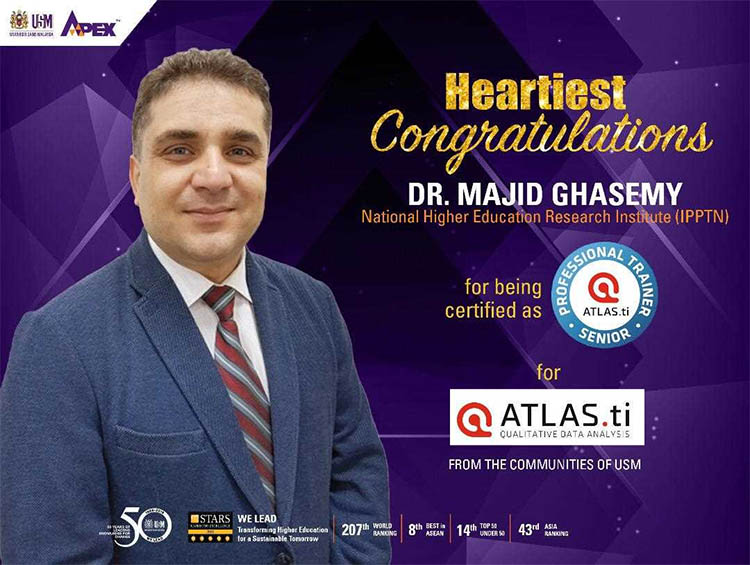 PENANG, 5 December 2018 – IPPTN, a center of excellence at USM, has been recognized as one of the ten centers in the world which has been awarded Certified ATLAS.ti Training Organization (CATO).
This recognition was achieved after Dr. Majid Ghasemy, an academic staff from the National Higher Education Research Institute (IPPTN) at USM, was certified as ATLAS.ti Professional Senior Trainer as well as meeting other requirements such as running successful ATLAS.ti workshops and close cooperation with ATLAS.ti company in Germany.
ATLAS.ti, headquartered in Berlin, is one of the leading software packages for Qualitative Data Analysis (QDA) that is widely used by social science researchers.
Not only the software can be installed on Windows- and Mac-based systems, but it also supports analysis of the data that has been stored in clouds.
In relation to data type, it supports the analysis of an inclusive range of data which include textual, audio, video, photo to Twitter, EndNote, SPSS, Google Map, and Evernote data.
According to Majid, so far, only 10 centers around the world have managed to get this certification and now IPPTN has been globally recognized as the certified training and consultation center for qualitative data analysis using ATLAS.ti."
He added, in other words, IPPTN will be able to plan and deliver ATLAS.ti workshops and provide consultation services not only to scholars from Malaysia, but also to scholars from other countries in this region.
The Director of IPPTN, Associate Professor Dr Hazri Jamil said that this is an international recognition to the institute as a globally-recognized certified training center for ATLAS.ti. Notably, the list of certified centers will be published at www.atlasti.com and IPPTN will be among the first 10 certified centers.
Text: Marziana Mohamed Alias