USM SIGNS MOU WITH CHIBA INSTITUTE OF TECHNOLOGY TO ENHANCE ACADEMIC, RESEARCH AND CULTURAL COLLABORATION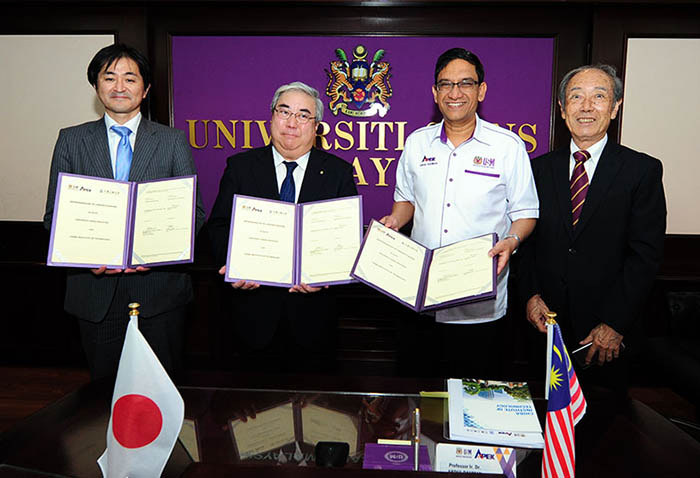 PENANG, 1 December 2018 – Universiti Sains Malaysia (USM) signed a Memorandum of Understanding (MoU) with Chiba Institute of Technology (CIT), Japan to further affirm and formalise the commitment of both organisations in providing better opportunities for USM students and staff members in strengthening its education programmes with the initiatives taken to complement its educational excellence.
"This collaborative arrangement is aimed to enhance the research content and explore opportunities to develop, support and enrich those educational activities," said USM Deputy Vice-Chancellor, Research and Innovation, Professor Ir. Dr. Abdul Rahman Mohamed in representing the Vice-Chancellor.
"USM highly treasures the value of mutual understanding and close relations that has been established with many of its collaborative partners and institutions from Japan.
"Over the years, USM has forged strong working relationship with Kyoto University of Foreign Studies (KUFS), Nagoya City Board of Education (NCBE), RIKEN Institute, Toray Industries, Sumitomo Foundation and Japan Advanced Institute of Science and Technology (JAIST), to name a few," he added.
"From this collaboration, CIT and USM are preparing for further cooperation globally, whereby both parties would mutually contribute to an exchange of knowledge and information, focusing on personal, academic, linguistic and cultural activities for the staff and students from both organisations," said the President of CIT, Professor Dr. Kazuhito Komiya.
Also present were the Vice-President for Academic and International Affairs of CIT, Professor Dr. Takahiko Saba; Deputy Director for Academic Affairs Department of CIT, Kazuo Chiyoda; Director of KUFS-USM Japanese Cultural Centre, Masatoshi Soeda and several other Heads of Department.
Teks: Nor Rafizah Md. Zain