ICF 2018 GALA NIGHT – A NIGHT FILLED WITH FUN AND EXCITEMENT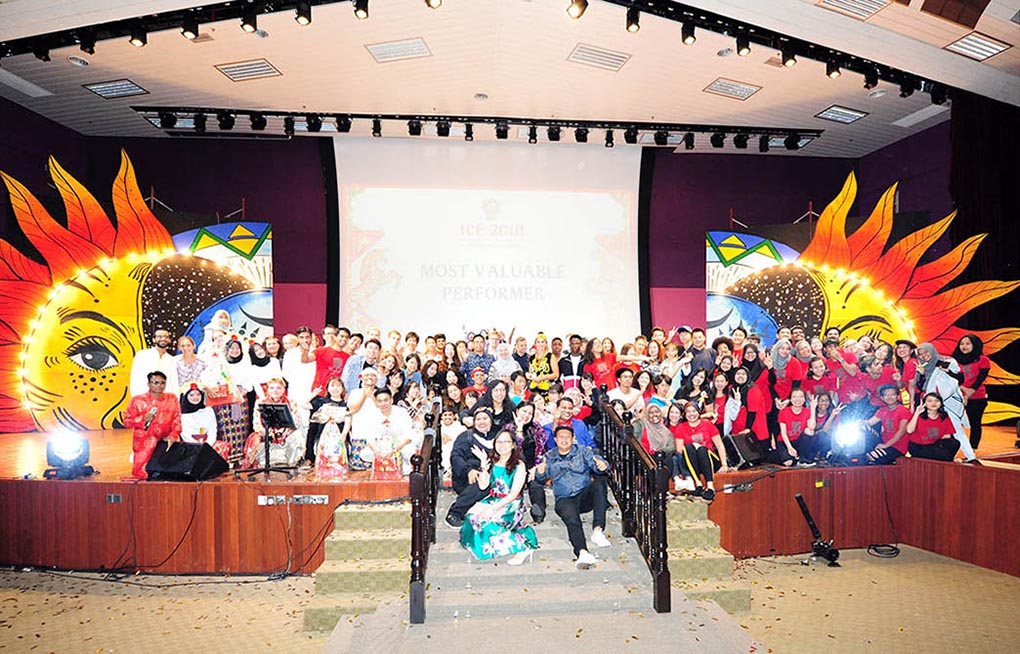 PENANG, 22 November 2018 – The International Cultural Fiesta 2018 (ICF 2018) Gala Night, organised recently by the Universiti Sains Malaysia (USM) International Mobility and Collaboration Centre (IMCC), was a fun-filled and exciting event, attended by close to 2,200 students and guests.
The Gala Night, with the theme 'Fiesta' featured a competition for performances by students from various countries including Thailand, United Kingdom, China, Pakistan, Japan, Korea, Bangladesh, Finland, Morocco and Malaysia.
In addition, a singing competition was also held for international students to sing songs in the Malay language.
Indah Ramdhanty from Indonesia, who rendered the Malay song 'Dipintu Syurga' originally sung by Dayang Nurfaizah, stole the audience's attention and was chosen as the winning performance.
A wonderful performance by a student from Vietnam, Mohamach Rouslan who sang a song originally sung by Dadali titled 'Di Saat Aku Mencintaimu' came second in the competition, and with third place won by a student from Japan, Yu Ki Konishi who sang the song sung originally by Faizal Tahir, 'Assalamualaikum'.
For the international cultural performances, Japan won the Most Valuable Performance while Korea was chosen for Best Performance, mesmerising the audience with its energetic k-pop dance routine.
Apart from Gala Night, a cultural exhibition was also held by those from the countries involved and visitors could get a closer look at the culture and traditions of students from the respective countries. The Best Cultural Booth prize was presented to Thailand.
ICF 2018 was made possible with the involvement of 57 international exchange students and 113 international students, along with 50 USM Buddies and the staff of IMCC.
Prizes were presented by the USM Vice-Chancellor, Professor Datuk Dr. Asma Ismail who attended the event along with the Director of IMCC, Dr. Muhizam Mustafa. Others who were present include the husband of the Vice-Chancellor, Professor Dato' Dr. Ahmad Zakaria; Deputy Vice-Chancellor (Academic and International), Professor Dr. Ahmad Farhan Mohd Sadullah and spouse; Deputy Vice-Chancellor (Research and Innovation), Professor Ir. Dr. Abdul Rahman Mohamed and spouse; Deputy Director of IMCC, Dr. Mohd Hafizal Mohd Isa, together with the Japanese Consul in Penang, Kenji Yamakawa and deputy, Kosuke Nakagawa.
Text: Nor Rafizah Md Zain / Translation: Mazlan Hanafi Basharudin