USM POSTGRADUATE STUDENT THE ONLY MALAYSIAN AND SOLE ASIAN TO RECEIVE THE RCA AWARD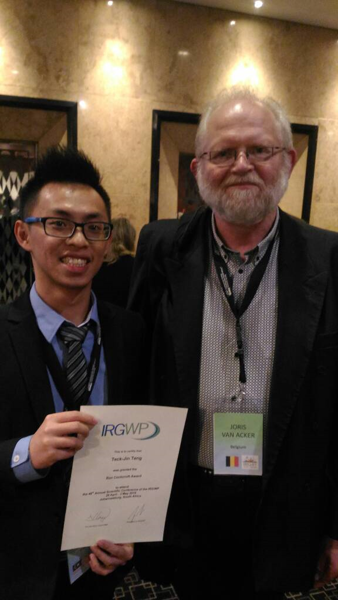 JOHANNESBURG, SOUTH AFRICA, 3 May 2018 – Teng Teck Jin, a Universiti Sains Malaysia (USM) postgraduate student in Master of Science (Chemistry) at the USM School of Chemical Sciences, has made the university proud when he, alongside other 12 recipients, won the Ron Cockcroft Award (RCA) 2018 recently.
He is the only Malaysian to win this award, along with recipients from other European countries such as Norway, Australia, Switzerland, Poland, Belgium, Austria, Slovenia, Netherlands, Portugal, Germany, Italy and also Canada, while also being the sole Asian to receive this prestigious award. He is studying under the supervision of Dr. Lee Hooi Ling at the abovementioned USM School.
The project is a collaborative work between USM and the Forest Research Institute Malaysia (FRIM) under a joint grant with Dr. Mohamad Nasir Mat Arip.
The RCA is a merit-based programme to promote international awareness on the development in research in wood protection, by providing assistance towards travel and accommodation costs to selected persons, enabling them to participate in International Research Group (IRG) conferences.
The RCA is intended to primarily assist postgraduate research students and active younger scientists, who, due to financial reasons might otherwise be unable to attend an IRG conference.

The International Research Group on Wood Protection (known until 10 June 2004 as The International Research Group on Wood Preservation) (IRG-WP) was launched as an independent research group in January 1969 to continue the work of previous group of experts on wood protection that had been set up, following an Austrian proposal in 1965 by the Organisation for Economic Cooperation and Development (OECD) in Paris, France.
Through worldwide cooperation, the IRG-WP facilitates the participation of able young scientists in the collaborative research of its Working Parties by means of the Ron Cockcroft Award scheme; facilitates contacts between specialists working on the complex problems of wood protection and durability; provides help and encouragement for scientists in developing countries to enable contributions to their research activities and to attend conferences, in addition to many other functions.
Text: Hafiz Meah Ghouse Meah