TACKLING NEGLECTED TROPICAL DISEASES THROUGH PARTNERSHIP - PROFESSOR SIMON LAWRENCE CROFT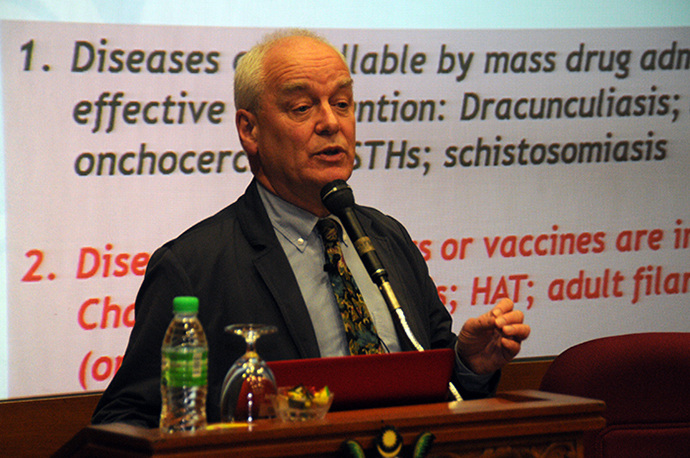 USM, PENANG, 25 January 2017 - Professor of Parasitology from the Faculty of Infectious and Tropical Diseases, London School of Hygiene and Tropical Medicine, Professor Simon Lawrence Croft gave a Public Lecture on Research and Development entitled "Neglected Tropical Diseases Through Partnership" here today.
According to USM Deputy Vice-Chancellor (Research and Innovation), Professor Dato' Dr. Muhamad Jantan, this Public Lecture is part of a series organised by the Division of Research and Innovation that gathers renowned scholars to provide insights on certain issues via public lectures.
"The focus of such a programme is to motivate young scholars within and outside of USM towards enhancing their careers and pathways from the research perspective, understanding the research ecosystem and the most important is, to create a defined future in collaboration among the scholars who attended," he said during his welcoming remarks on this occasion.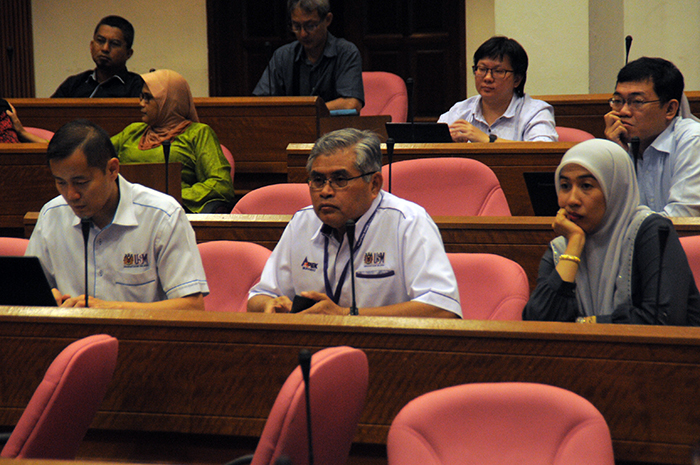 In his lecture, Simon focused on the principles for developing successful collaborative networks and partnerships, and the engagement of academia, public-private partnerships and the private sector in research and innovation.
He discussed the various interactions between those involved in the area of Research and Development (R&D) of diagnostics, drugs and vaccines, and those who are involved in the implementation of tools, policies and practices in the context of Africa, Asia and South America.
Simon has worked on the discovery and development of anti-infective drugs for over 35 years within the academia, industry and with public-private partnerships (PPPs).
His expertise and knowledge on antimicrobial and antiprotozoal chemotherapy was developed whilst working for the Wellcome Research Laboratories, Beckenham UK and, following his return to academia, he worked on projects funded by the World Health Organisation (WHO), European Union (EU), MRC, Medicines for Malaria Venture (MMV) and the Gates Foundation.
Simon's research has focused on the identification and evaluation of novel drugs and formulations for the treatment of leishmaniasis, malaria, human African trypanosomiasis (sleeping sickness) and American trypanosomiasis (Chagas disease), and including projects on miltefosine, AmBisome and topical paromomycin, all of which reached clinical trials for the treatment of leishmaniasis.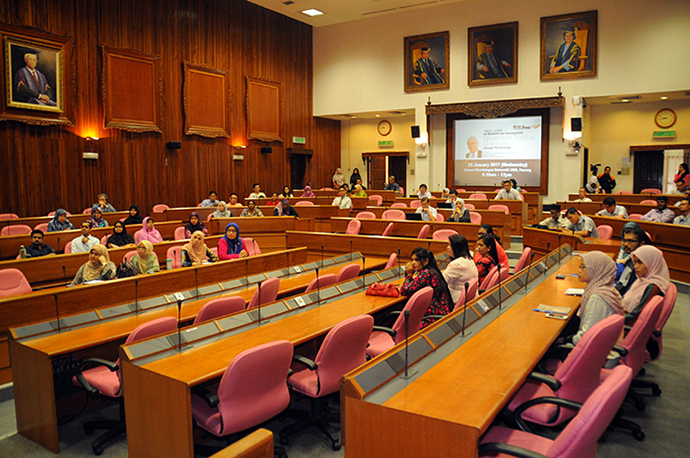 Apart from the public lecture, Simon has also met and engaged the top officers from USM Health Campus in Kelantan, Advanced Medical & Dental Institute (AMDI) and visited the USM Institute for Research in Molecular Medicine (INFORMM) as well as shortlisted young researchers from the Centre for Herbal Standardization (CHEST), Centre for Chemical Biology (CCB), and Centre for Drugs Research (CDR), School of Pharmaceutical Sciences and School of Biological Sciences, who will be presenting their on-going research projects to him.
Also present were the USM Deputy Vice-Chancellor (Academic and International), Professor Dato' Dr. Ahmad Shukri Mustapa Kamal; Director of International Collaboration, Professor Dr. Lee Keat Teong and Director of INFORMM, Professor Dr. Rahmah Noordin.
Text: Hafiz Meah Ghouse Meah / Photo: Mohd Fairus Md Isa