USM SCIENTISTS HONOURED WITH PRESTIGIOUS AWARDS IN KOREA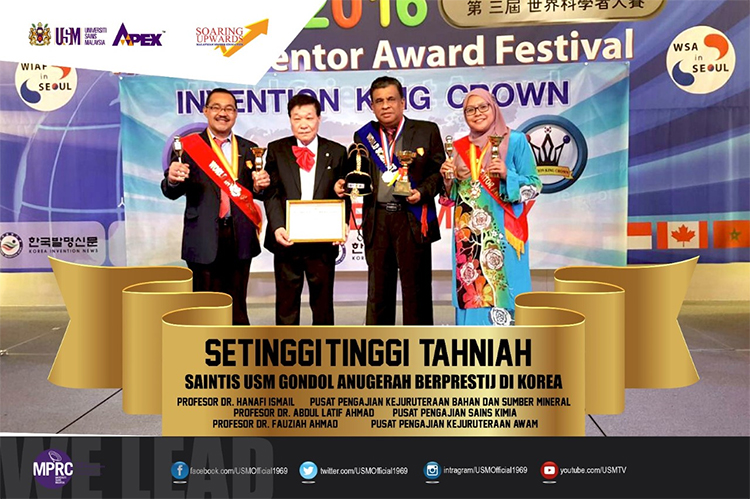 Three Universiti Sains Malaysia (USM) professors from the Engineering Campus have once again put the USM name in the limelight after being honoured with a number of prestigious major awards in Seoul, South Korea on 4 December 2016.
The trio won recognition in the 3rd World Scientist Award (WSA), the 5th World Inventor Award Festival (WIAF) and the 5th Korean Inventor Award Festival (KIAF), separate events organised by the Korea Invention News (KINEWS).
The scientists are Professor Dr. Hanafi Ismail from the USM School of Materials and Mineral Resources Engineering, Professor Dr. Abdul Latif Ahmad from the USM School of Chemical Engineering and Professor Dr. Fauziah Ahmad from the USM School of Civil Engineering.
The three scientists who were well-known among the innovation circle have previously won various innovation awards in Malaysia and also at the world stage such as in Geneva, Nuremberg, London, Brussels, Warsaw and South Korea.
According Abdul Latif, this is an annual event held by KINEWS to give recognition to new innovations developed by researchers and scientists from all over the world, which are then categorised based on how the innovations would impact and contribute through their intended functions.
He said, the innovation developed by Hanafi, titled 'Recycling of Rubber Wastes and Biodegradable Plastics,' has been awarded the World Golden Scientist Grand Award. Hanafi has also been recognised as one of the recipients of a major award which is the 'Outstanding Leaders of Global Inventors'. At the same time, he has received an official appointment as a 'Visiting Professor' by the Korea Invention Academy.
Abdul Latif, with his innovation titled 'NCMem: Indigenous Biomedical Lateral Flow Membrane' has been chosen as the winner over other entries in the same category, by winning 2 awards which are the Gold Peacock Grand Award and the World Inventor Award for the category of Applied Science.
Meanwhile, the innovation titled 'USlope: An Innovative Slope Sustainability Software' which was developed by Fauziah was also selected to win 2 awards which are the Thomas Edison Grand Award and the World Inventor Award in the Civil Engineering category.
According to Abdul Latif, more than 50 scientists and researchers were given recognition through various awards in different categories for KIAF, WIAF and WSA for 2016.
Recipients of the awards in the ceremony hailed from countries such as Hong Kong, China, Thailand, Indonesia, the Philippines, India, Egypt, Iran, Saudi Arabia and also from the host country, Korea.
"These included the young scientists ('rising stars') comprising of students from primary and secondary schools, and scientists from Malaysia representing Universiti Teknologi Malaysia (UTM), Universiti Putra Malaysia (UPM) and Universiti Malaysia Terengganu (UMT) who were also honoured in the same ceremony."
Translation: Tan Ewe Hoe & Mazlan Hanafi Basharudin