BREAKING NEW GROUNDS IN LIPASE DETECTION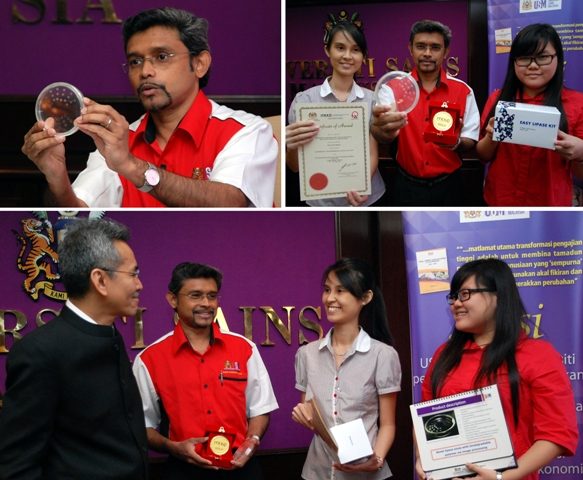 PENANG, 15 July 2013 – With the Lipase Assay Kit developed by Universiti Sains Malaysia (USM), it is possible to test any given samples for the presence of lipase, an enzyme that catalyses the breakdown of fats, at a fraction of the cost of what is now available in the market.
"Currently kits that are sold in the market are priced at about RM950," said USM Vice-Chancellor, Professor Dato' Dr Omar Osman. "The ones that are developed by USM were produced at the cost of about RM50. Both are able to test up to 50 samples for each diagnostic kit."
Lipase test is often used for diagnostic purposes by doctors to detect medical conditions such as pancreatic cancer, duodenal ulcer and severe gastroenteritis.
The test can also be used in non-medical applications to detect lipase in fatty acids and biofuel.
It is the first lipase detection kit in the world which supports the 'Go Green' concept in the field of research and diagnosis, and has already been patented.
The Lipase Assay Kit produced by USM consisted of a very thin film of a biodegradable plastic deposited on microscope slides, main researcher Professor Dr. K. Sudesh Kumar C. Kanapathi Pillai said.
If a sample containing lipase is applied on the film, it will turn opaque white and the level of lipase presence is indicated by the opacity of the area of contact. The plastic will remain transparent if lipase is absent.
For the press conference, Sudesh showed a sample of the lipase detection produced in a petri dish.
"The biodegradable plastic used to make the diagnostic kit is too costly to make it viable for the production of items such as plastic bags," he said, explaining that the completely biodegradable plastic material is produced from microorganism.
In the meantime, new applications for the bioplastics have been explored and they included the production of cosmetic films for the absorption of facial oil and slow release systems for drugs and fertilizers.
Omar added that as with other research products developed by USM researchers, USM is looking for industry partners to help in the area of improving the product for marketing and commercialisation purposes, exchange of expertise, funding which will benefit all parties involved while encouraging innovation.
"USM also hopes that their involvement will enable the local researchers to have a better understanding of potential niches and market demands," said Omar .
Also present at the press conference were Sudesh's team members Diana Ch'ng Hooi Ean who is pursuing her PhD while Mok Pei Shze, her Master. -- Text: Yong Check Yoon/Photo: Mohd Fairus Md Isa