ZULKEFLI A. HASSAN APPOINTED AS NEW USM PRO-CHANCELLOR, TAKING OVER FROM RAZALI ISMAIL
KUALA LUMPUR, 9 July 2019 – Former Chairman of Universiti Sains Malaysia (USM) Board of Governors, Tan Sri Datuk Dr. Zulkefli A. Hassan has been appointed as the USM Pro-Chancellor beginning 15 July 2019 for the next 5 years, replacing Tan Sri Razali Ismail who has completed his term in service.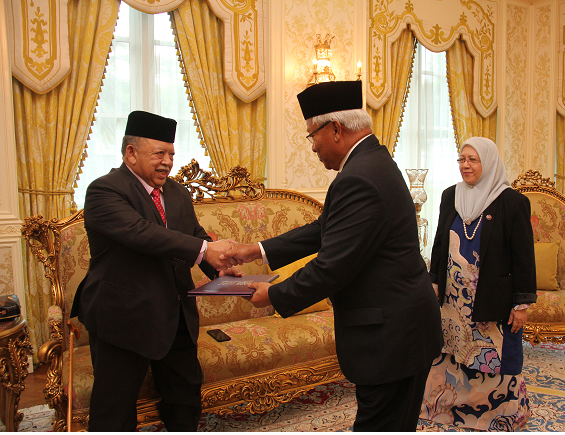 The USM Chancellor, HRH Tuanku Syed Sirajuddin Ibni Al-Marhum Tuanku Syed Putra Jamalullail was present at a simple ceremony to extend the appointment letter to Tan Sri Datuk Dr. Zulkefli A. Hassan at Istana Siraj in Kuala Lumpur recently.

Tan Sri Datuk Dr. Zulkefli A. Hassan formerly served as Chairperson of the USM Board of Governors from 2012 until 2018 before handing over the duties to the former Secretary-General of (then) Ministry of Higher Education, Tan Sri Dr. Noorul Ainur Mohd Nur in 2018.

Meanwhile, the contributions of former diplomat and art aficionado Tan Sri Razali Ismail to USM, who formerly performed the duties as the USM Pro-Chancellor for 18 years, from 2001 until 2019, have left a lasting effect on the USM community who knew him well and were close to him.

Also present at the ceremony were two other USM Pro-Chancellors, Tan Sri Datuk Mustafa Mansur and Tan Sri Dato' Dr. M. Jegathesan; USM Vice-Chancellor, Professor Datuk Dr. Asma Ismail and USM Registrar, Dr. Musa Hj Ali.
Text: Mazlan Hanafi Basharudin