REPRESENTING MALAYSIA AT LANDMINES AND ERW AWARENESS SEMINAR IN CAMBODIA: AN EXPERIENCE OF A LIFETIME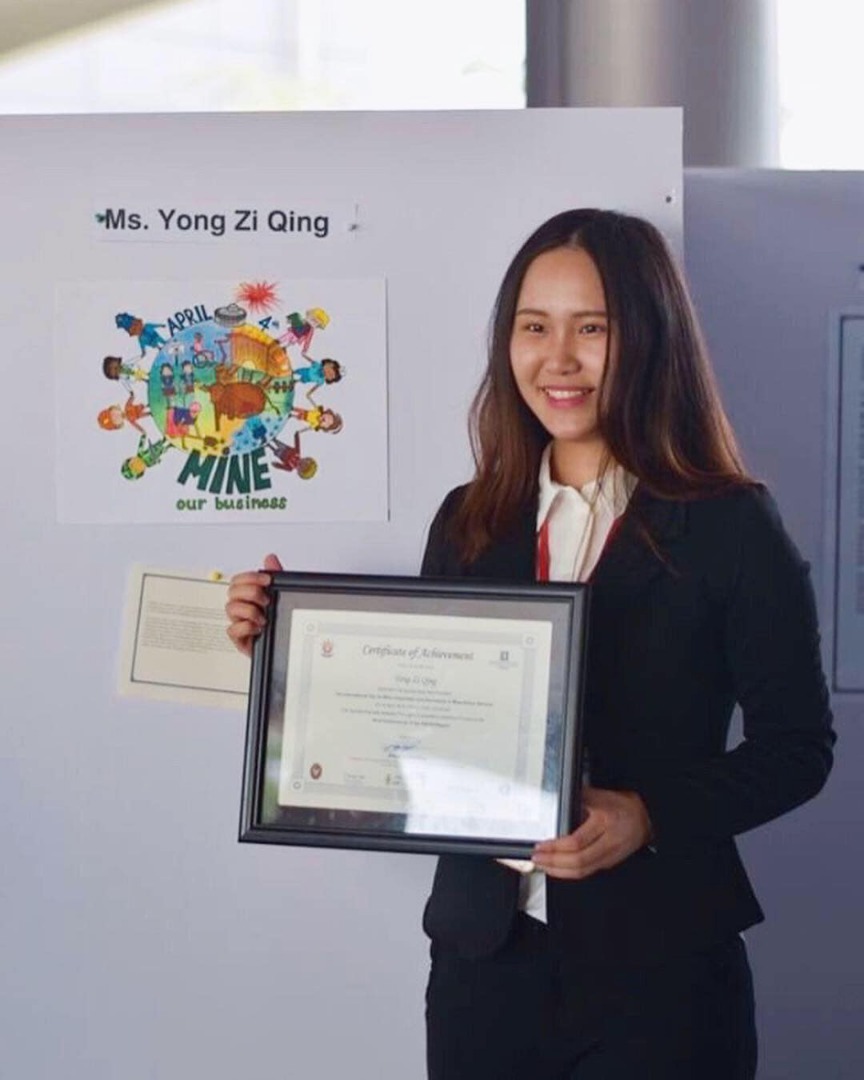 PENANG, 8 April 2019 – A fourth-year undergraduate in Health Science (Nutrition) from the Universiti Sains Malaysia (USM) School of Health Sciences in Kelantan, Yong Zi Qing was selected to represent the country at the International Mine Awareness and Assistance in Mine Action Seminar held in Phnom Penh, Cambodia from 3-4 April 2019.

Zi Qing's participation in the seminar was fully sponsored which included the flight tickets, accommodation, food and allowance.

Zi Qing was selected among more than 500 applications received by the organiser. Following that, the organiser picked 32 undergraduates ranging from 18 to 25 years old who had sent the best applications in the form of artworks, essays, poems, photos and others. Three students were then chosen from every ASEAN country.

"I am truly grateful to be selected to represent USM and the country, as well as in receiving full sponsorship to attend this seminar, even though I realised that I had to face stiff competition," said Zi Qing.
The International Mine Awareness and Assistance in Mine Action Seminar was organised by the ASEAN Regional Mine Action Centre (ARMAC) through funds provided by the governments of Norway, Thailand, Republic of Ireland and the Clearing for Results Project.
This seminar is meant to raise the awareness on the dangers of war, landmines and Explosive Remnants of War (ERW) among the youth.

"Most importantly, this seminar is intended to make us realise how important peace, stability and resilience are to all," she added.

The participants were provided with the opportunity to visit the National Centre for Peacekeeping Forces, Mines and ERW Clearance (NPMEC) Training School for Multinational Peacekeeping Forces and to experience first-hand how it feels to be amidst war zones and the dangers of landmines.

They also visited a vocational training centre for victims of landmines, especially those with disabilities, which is managed by CMAA, in addition to listening to experiences shared by forum panel members.

Landmines still pose a threat to former war-torn countries such as Cambodia, Laos, Myanmar, Vietnam and Thailand.

"Although Malaysia is not involved, the participation in this seminar would bring about the awareness on the dangers of war, permanent disabilities and long-term conflicts which should be avoided at all costs," said Zi Qing.
Translation: Mazlan Hanafi Basharudin