MATHEMATICS EDUCATION BENEFICIAL TO EDUCATORS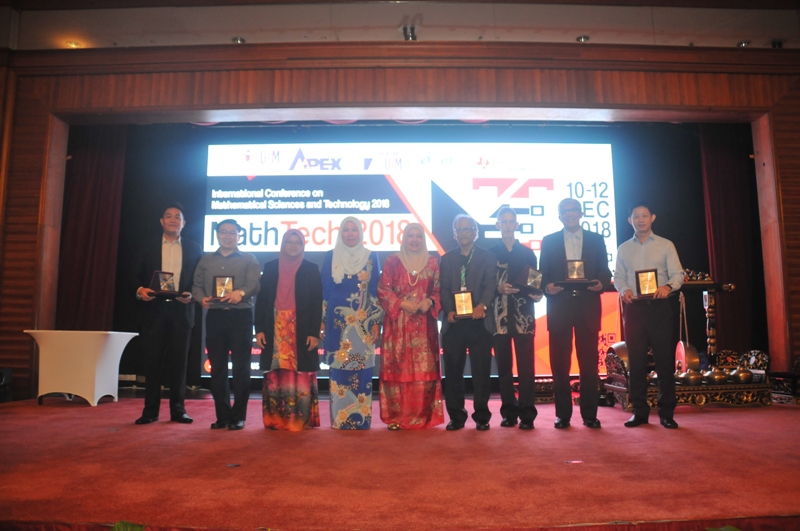 PENANG, 12 December 2018 – Mathematics, as we all know, plays an important role in the development of other research areas as well.
"The continuous growth of research in the field of mathematics has become essential for the advancement of other research areas such as Physics, Chemistry, Ecology and even Management and Financial Studies," said Universiti Sains Malaysia (USM) Vice-Chancellor, Professor Datuk Dr. Asma Ismail during the opening ceremony of the International Conference on Mathematical Sciences & Technology 2018 (MathTech 2018) here recently.
"It should be emphasized that, behind advancements in research, is the important role played by mathematics education at all levels and that is the reason that Mathematics education is an important component and would be beneficial and essential to educators, especially teachers, to develop their professional skills," she added.
"It is exciting to see how the field of mathematical sciences has grown over the past decade and I am pleased that the USM School of Mathematical Sciences has made a great effort in organizing this conference."
During MathTech 2018, STATWORKS Group, the leading Computational Analytics provider in the Asian region introduced their first Local Cloud Data Science Platform for Education known as PERCEPTRON - a Smart Data Science Platform for Education in Malaysia.
According to STATWORKS Group CTO, Rohini Sooriamoorthy, the Data Science Platform has been the buzzword since 2017 in the Asian market, but many have no clear understanding on what is a data science platform, what are the features of a good data science platform and why does an organization need a data science platform.
In recent times, the most talked about emerging technology trends, not only in Asia but also the rest of the world, are Data Science Platforms which are predicted to grow at a staggering speed and value by the year 2020.
"Statworks PERCEPTRON - Data Science Platform contains all the necessary tools required for executing different phases of Analytics workspace such as data ingestion, integration and exploration as well as model development and deployment.
"A data science platform helps data scientists enhance their analysis by helping them run, track, reproduce, share and deploy analytical models faster and more efficiently. The best data science platforms offer the flexibility of open-source tools and the scalability of elastic compute resources," she added.
Around 250 participants from more than 15 countries around the globe have gathered for MathTech 2018 in the interest of sharing their knowledge and research findings.
Also present for the opening ceremony was the Vice-Chancellor's husband, Professor Dato' Dr. Ahmad Zakaria; Dean of USM School of Mathematical Sciences, Professor Dr. Hailiza Kamarulhaili @ Harun; Conference Chairperson Dr. Yazariah Mohd Yatim; keynote speakers and participants of MathTech 2018.
Text: Nor Rafizah Md Zain