THIAGARAJAR COLLEGE OF ENGINEERING KEEN TO WORK WITH USM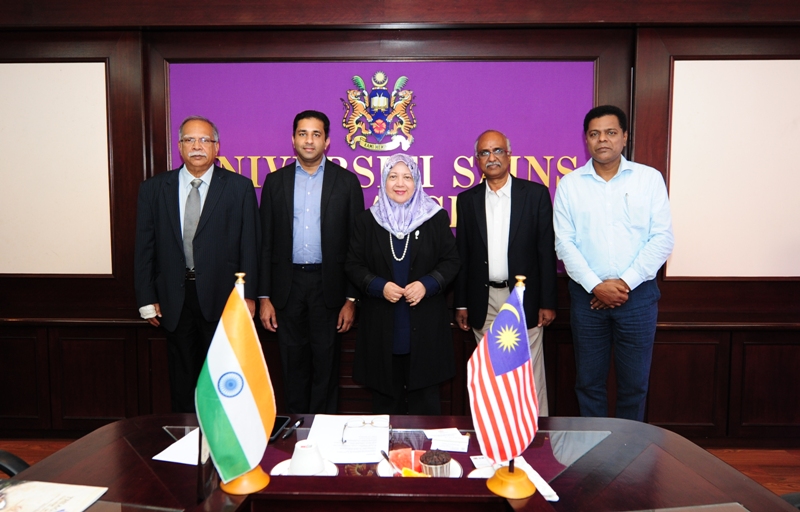 USM, PENANG, December 2018 – Universiti Sains Malaysia (USM) Vice-Chancellor, Professor Datuk Dr. Asma Ismail received a courtesy visit from members of the delegation from Thiagarajar College of Engineering (TCE), Tamil Nadu, India at the Chancellory Conference Room, recently.
The Vice-Chancellor received the TCE delegation, which comprised of the Principal, Dr. V. Abhaikumar and the Trustee, Dr. Hari Thiagarajan, and was accompanied by the Deputy Chief Minister II of Penang, YB Professor Dr. P. Ramasamy.
The main aim of TCE delegation's visit was to explore and look at the possibilities of collaboration with USM in some niche areas of research, and in establishing staff and student mobility programmes.
The USM Vice-Chancellor welcomed the intention of TCE and is also looking forward to add TCE into USM's ever growing list of strategic partners worldwide, and see how USM can leverage and work together with TCE which is well known in India and globally in the field of telecommunication, civil and mechanical engineering, information technology and textile.
Thiagarajan said: "We have heard so much about Universiti Sains Malaysia as one of the top research universities in Malaysia and in this region, and we are very keen to work with USM and we wanted to see for ourselves the expertise, facilities and environment of the campus and its strategic location as a higher education hub in the northern region of Peninsular Malaysia,"
He is also well aware of USM's location near the Penang Free Industrial Zone, which is well primed for the advancement of research and development in Engineering and IT, especially Electrical and Electronics Engineering.
Prior to calling on the Vice-Chancellor, the TCE delegation has visited the teaching and research labs and some facilities at the USM Institute for Research in Molecular Medicine (INFORMM) and the School of Physics.
Also present were the Deputy Vice-Chancellor Research & Innovation, Professor Ir. Dr. Abdul Rahman Mohamed; Dean, School of Physics, Professor Dr. Azlan Abdul Aziz; and Professor Dr. Mutharasu Devarajan from the School of Physics who had worked at TCE before taking up a position in USM.
Thiagarajar College of Engineering was established in 1957 and it is a government-aided autonomous institution situated in Madurai, Tamil Nadu, India offering eight undergraduate programmes, 14 postgraduate programmes and doctoral programmes in Engineering Sciences and Architecture.
Text: Tan Ewe Hoe / Photo: Ebrahim Abdul Manan