XU YANG PROCLAIMED CHAMPION IN MOE MALAY LANGUAGE ORATORY COMPETITION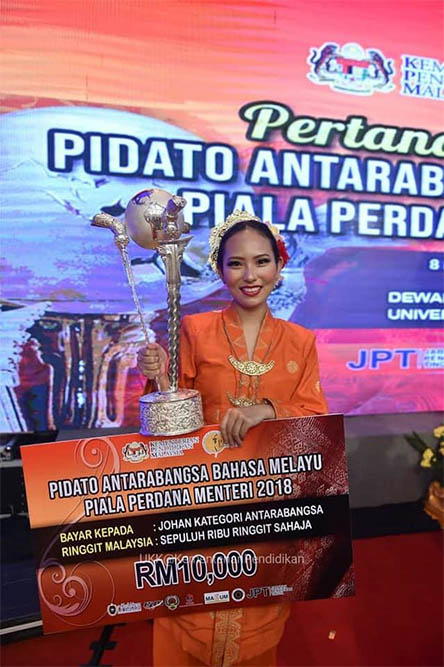 KUALA NERUS, 9 December 2018 – Being fluent in the Malay language studied at Universiti Sains Malaysia (USM) surely brought Xu Yang luck and victory to become the champion in the finals of the International Malay Language Oratory Competition (PABM 2018).
The Chinese lass, also known as 'Izzah', studies Malay Language at the USM School of Humanities programme as a Credit Transfer Student, and comes from Guangdong Foreign Studies University in China.
She won the competition under the International Student category and took home the Prime Minister's Trophy and a cash prize of RM10,000.
The competition was organised by the Ministry of Education Malaysia, and the Education Minister, Dr. Maszlee Malik was there to present prizes to the winners.
The School of Humanities (PPIK) community expressed in their social media site the feeling of pride and joy for the victory, especially to the coaches and those involved in ensuring Izzah's victory.
Besides making a name for herself, Xu Yang also made both her universities in Malaysia and China proud.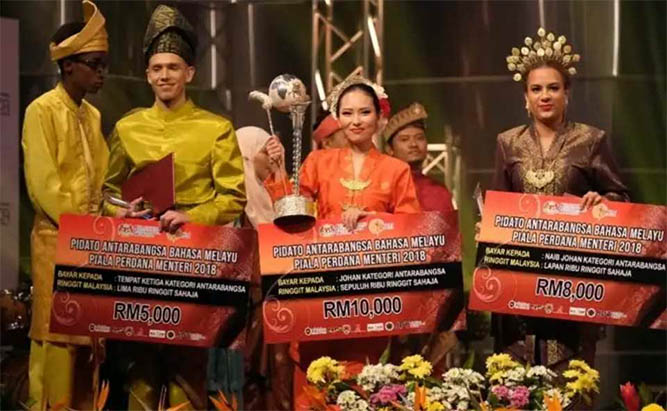 The competition was held at Universiti Sultan Zainal Abidin (UniSZA) in Kuala Nerus, Terengganu, where 9 participants from 8 countries presented their oratory skills in the finals.
50 contestants from 31 countries took part throughout PABM 2018.
Also present were the Deputy Education Minister, YB Teo Nie Ching; Secretary-General of Ministry of Education Malaysia, Dato' Dr. Mohd Ghazali Abas; and Director-General of Higher Education, Datin Paduka Ir. Dr. Siti Hamisah Tapsir.
Text: Hafiz Meah Ghouse Meah/Translation: Mazlan Hanafi Basharudin