"REUNION" SHINES IN PAAB SHORT FILM COMPETITION AT KLEFF2018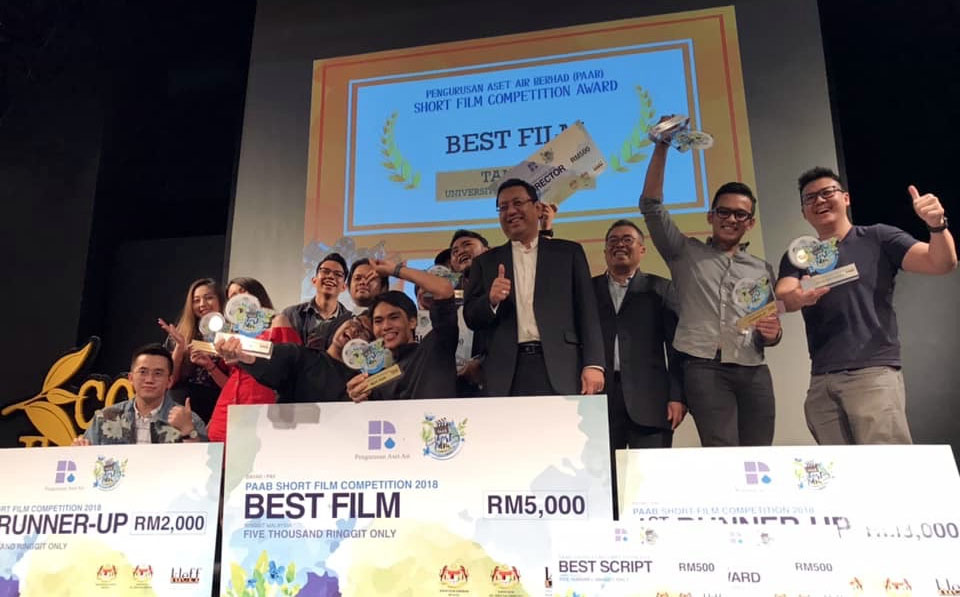 KUALA LUMPUR, 26 October 2018 – Universiti Sains Malaysia (USM) today made another mark when the USM School of Communication newly-minted graduates consisting of Bernard Manickam, Chan Chia Huey, Andrew Cheam Zi Yang, Afruz Omar and Vintz Valerie John won three awards at the Pengurusan Aset Air Berhad (PAAB) Short Film Competition, held in conjunction with the 11th International Kuala Lumpur Eco Film Fest (KLEFF) 2018.
According to the source of the school social media page, they have been selected for the Best Script Award, Special Jury Award and 1st Runner-Up Award from their Short Film entitled 'REUNION'.
The International KLEFF is Malaysia's first and longest-running environmental film festival. In the last 10 years, the Festival has reached out to approximately 100,000 Malaysians through its film screenings and programmes at selected venues all over the Peninsula.
Conceptualised and organised by the non-profit environmental organisation, EcoKnights, the Festival is a platform to facilitate in building a nation of ecologically conscious businesses, individuals, and communities through on-the-ground activities and film screenings focusing on critical environmental issues and stories such as pollution, transboundary haze, indigenous people's rights, wildlife protection, nuclear energy, climate change, sustainable food production, waste management, local environmental heroes and more.
Partnering with important sustainability leaders in the country, the KLEFF is steadfast in its efforts to pave the way in encouraging and inspiring grassroot communities to adopt a more sustainable lifestyle.
Award-winning environmental films, interactive learning workshops, and creative clusters within the Festival help to stress the urgent need to take positive actions today.
In addition, the KLEFF also works closely with Malaysian higher institutes of learning with the aim of assisting in the development and progression of environmental communication, innovative solutions to address today's environmental crises, and most importantly, the KLEFF provides a networking platform for the youths of today.
The Festival offers diverse and unique opportunities such as film screenings, workshops and talks on sustainable living, fun and creative nature craft activities for children, performances, exhibitions and fairground attractions.
Text: Hafiz Meah Ghouse Meah