EMERALD LITERATI AWARD 2016 AWARDED TO 6 USM AUTHORS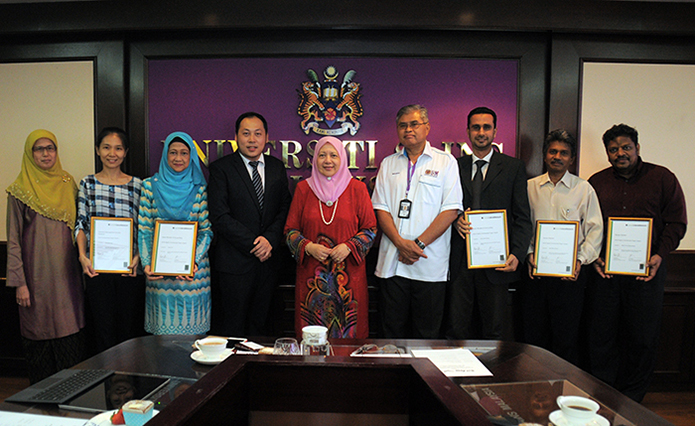 USM, PENANG, 12 April 2017 - Six authors from Universiti Sains Malaysia (USM) have been awarded the Emerald Literati Award 2016 by Emerald Publishing.
The USM Vice-Chancellor, Professor Datuk Dr. Asma Ismail said that the Key Performance Indicator (KPI) for a university is the output of the research in the form of journal publications.
"In 2016, USM has published 2326 articles in various journals and USM is always pushing for more articles to be published as it is one of the country's Research Universities," said Asma.
According to the Business Manager, Emerald Publishing, Elvin Cheah there are 78 authors in the Emerald Publishing platform and six of them have been chosen to receive the award, where two of them won the award for Outstanding Paper and the four won the award for Highly Commended Paper.
The recipients of the awards are as follows:-
The winning criteria are:-
✓Contribution of something new to the body of knowledge either in terms of approach or subject matter
✓Writing has excellent structure and presentation
✓Well-written
✓Rigour in terms of argument or analysis
✓Relevance – to practice and conduct further research, in most cases
✓Up-to-date - demonstrating that the latest/key works in the field have been cited
✓Work which is clearly within the editorial scope and remit of the journal
✓Finally, the outstanding paper should have the 'x-factor' – something that makes it stand out from the rest and which the editor and EAB can recognize and define to the rest of us.
Also present were the USM Deputy Vice-Chancellor (Research and Innovation), Professor Dato' Dr. Muhamad Jantan and Acting Chief Librarian, Engku Razifah Engku Chik.
Text: Nor Rafizah Md Zain / Photo: Mohd Fairus Md Isa